Kerry Coombs is aware of the young talent he and Greg Schiano have in front of them in Ohio State's secondary fighting to replace three multi-year starters. They recruited well to prepare for such losses, and just like any other position on the team, Coombs knows its performance revolves around it avoiding injury.
"Knock on wood — our depth is always relative to the players' health," Coombs said this spring. "You know we've had different times when we would feel like in May that we had five or six guys capable of playing. And by August that wasn't necessarily the case."
Players like Marshon Lattimore (hamstrings) and Damon Arnette (foot/ankle) are the most recent defensive backs that dealt with ailments in the immediate past but are back in the fold. Arnette made a significant jump in bowl practice and this spring, Coombs said, simply because he "had to."
Coombs felt confident in saying Lattimore, Arnette and Denzel Ward join returning starter Gareon Conley as the top four players at corner upon Ohio State's exit from spring practice. Schiano wouldn't disclose his starters at safety in April, but Malik Hooker and Damon Webb — a converted corner — lead following solid springs.
The exact depth chart won't be released for a while, but the amount of talent in the secondary beyond those already mentioned is staggering. Erick Smith and Cam Burrows remain in the fold at safety albeit coming off injuries and Eric Glover-Williams was one of four members of Ohio State's 2015 recruiting class to play as a true freshman. Glover-Williams worked at safety this spring while Joshua Norwood remains at corner.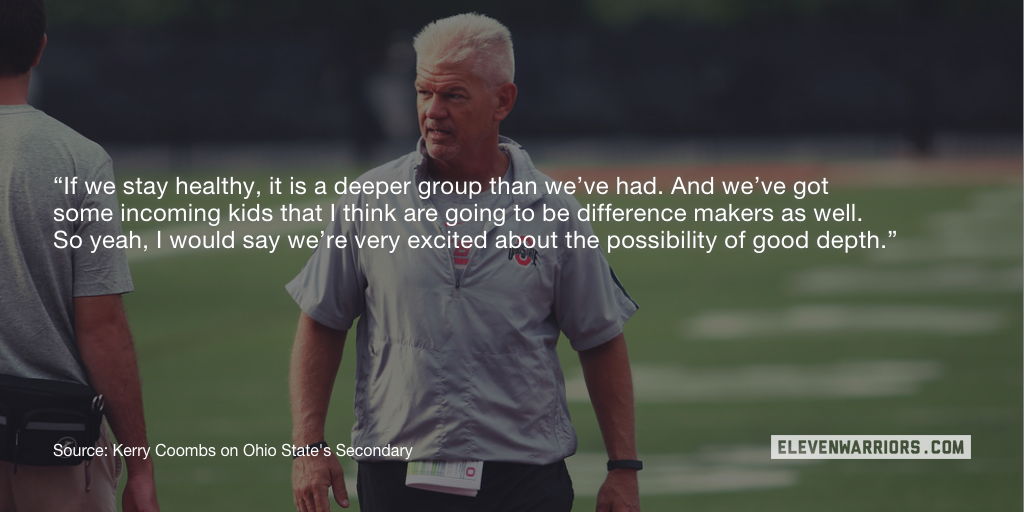 Lest we forget 2016 commitments Wayne Davis, Rodjay Burns, Jordan Fuller and Jahsen Wint. That trio might not see much time this fall due to the older guys ahead of it, but Coombs and Schiano could be in a position to rotate freely at corner and safety.
"If we stay healthy, it is a deeper group than we've had," Coombs said. "And we've got some incoming kids that I think are going to be difference makers as well. So yeah, I would say we're very excited about the possibility of good depth."
Coombs added that having Glover-Williams and Webb work at safety in spring practice came about because of the injuries to Burrows and Smith, which makes sense. He and Schiano are doing their best to see what they have — a necessary exercise with only one returning starter and a new coach in place.
"I think in the secondary there's a lot of unknowns, and I think that overall both at safety and corner some guys have stepped up," Schiano said. "Really all that does is put them in position to have a chance."
The entire roster is enduring a different feeling this summer than last, with so many starting spots available for a host of young, inexperienced players. Health and more development in the summer and during fall camp will determine the pecking order, but if everything goes according to plan Coombs and Schiano have plenty of options to pick from. And, whether or not they can choose to establish some sort of a rotation.
That hasn't been a luxury in the secondary in Urban Meyer's tenure.
"They can play Big Ten level football, they can play championship level football," Coombs said. "Do they have work to do? Sure. Are they going to get better? Absolutely."
That is the culture in place at Ohio State. Now the new faces must continue it, regardless who gets the most playing time.
"One thing that's real clear not only in our room but in every room is the way that Urban runs his program. There's not a lot of gray area," Schiano said. "This is what we do, this is who we are and this is how we're going to do it. Either climb on board and let's go or jump off board. There's no in between."