The college football season is nearly finished, with only one game remaining — the national championship featuring No. 1 Clemson and No. 2 Alabama.
Though Ohio State won't get a chance to defend its national title Monday in Arizona, the Buckeyes could see a historic haul from their 2015 team selected in the NFL Draft beginning April 28 in Chicago.
Players to Declare Early


| Draft Year | Number of Players |
| --- | --- |
| 2014 | 98 |
| 2013 | 73 |
| 2012 | 65 |
| 2011 | 56 |
| 2010 | 53 |
| 2009 | 46 |
| 2008 | 53 |
| 2007 | 40 |
| 2006 | 52 |
| 2005 | 51 |
| 2004 | 43 |
Safety Vonn Bell's announcement Tuesday evening of his intentions to forgo his senior season at Ohio State and enter the draft put the number of total early entrees from Urban Meyer's 2015 team at nine. That is an absurdly high number of players electing to leave eligibility on the table, considering the Buckeyes have only had 30 players do so in program history.
Wide receiver Cris Carter and quarterback Terrelle Pryor both could have played another year at Ohio State, but each were taken in the NFL's Supplemental Draft so they are not counted in that category.
The same goes for running back Maurice Clarett, who challenged the NFL's rule of a player needing to be at least three years removed from high school to enter the 2004 draft after off-field issues led to his dismissal from Ohio State. The Denver Broncos ultimately selected him in the third round of the 2005 draft.
Joining Bell in leaving early is fellow safety Tyvis Powell, linebacker Darron Lee, cornerback Eli Apple, wide receivers Jalin Marshall and Michael Thomas, defensive end Joey Bosa, running back Ezekiel Elliott and quarterback Cardale Jones. Each player has a varying draft stock, but should hear their name called over the draft's three-day selection period.
Bell is the most recent Buckeye to declare for the draft early after spending at least three years out of high school at Ohio State. The first player to do that in the program's history is defensive end Alonzo Spellman in 1992, though Carter was the first to leave Columbus with eligibility. He just went in the 1987 Supplemental Draft.
In addition to the nine early entrants, as many as five Ohio State seniors could get drafted. Linebacker Joshua Perry, defensive tackle Adolphus Washington, H-back/wide receiver Braxton Miller, left tackle Taylor Decker and tight end Nick Vannett all have exhausted their eligibility and have the skills to play at the next level.
The total of 14 players from the Meyer's 2015 team — which went 12-1 and beat Notre Dame, 44-28, in the Fiesta Bowl — who could get drafted would match a record. The other time that many players were picked from one school? In 2004, from Ohio State.
Last year, Florida State had the most draft picks from one school with 11. Alabama and Notre Dame tied for the lead in 2014 with eight selections and the Seminoles also had 11 players chosen in 2013.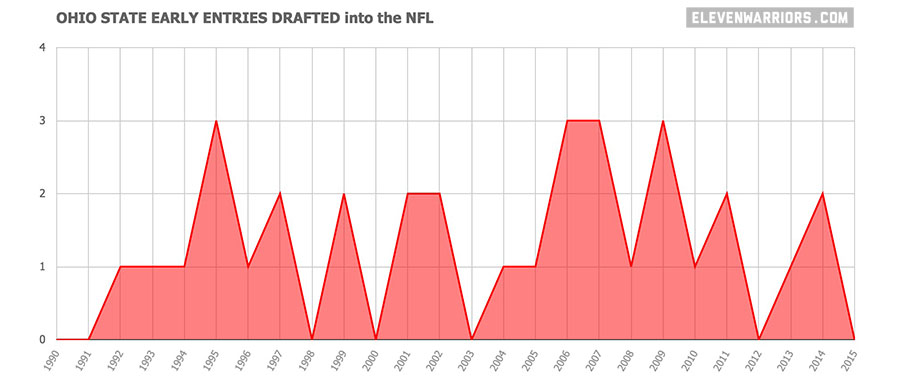 The Buckeyes could make a run at another NFL record this spring, this one for players from one school taken in the first round. That number is six, done by Miami (FL) in 2004, when Sean Taylor, Kellen Winslow Jr., Vince Wilfork and others were among the draft's first 32 picks.
Bosa, Decker and Elliott are virtual locks to be among the first 31 picks — New England forfeited their first-round pick because of Deflategate — in April, but Lee, Thomas and even Apple could also creep into that fold.
The Buckeyes narrowly miss on the chance to tie the record for most early entrants from one team heading to the NFL with nine. That record sits with LSU in the 2013 Draft, when the Tigers had 10 players leave early — 11 if you count safety Tyrann Mathieu, who was kicked off the team before the season ended for repeated incidents of substance abuse.
The Tigers had seven players leave early after the next season, setting a record for early draft enrollees over a two-year period. Ohio State has a shot at matching that total if it has a similar number of early entrants following the 2016 season.
Ohio State Early Entrees


| Year | RD | Pick | Player | Team | Position | Coach |
| --- | --- | --- | --- | --- | --- | --- |
| 1987 | 4 | SUPP* | CRIS CARTER | PHILADELPHIA EAGLES | WIDE RECEIVER | EARLE BRUCE |
| 1992 | 1 | 22 | ALONZO SPELLMAN | CHICAGO BEARS | DEFENSIVE END | JOHN COOPER |
| 1993 | 1 | 21 | ROBERT SMITH | MINNESOTA VIKINGS | RUNNING BACK | JOHN COOPER |
| 1994 | 1 | 1 | DAN WILKINSON | CINCINNATI BENGALS | DEFENSIVE TACKLE | JOHN COOPER |
| 1995 | 1 | 24 | KOREY STRINGER | MINNESOTA VIKINGS | OFFENSIVE TACKLE | JOHN COOPER |
| 1995 | 1 | 30 | CRAIG POWELL | CLEVELAND BROWNS | LINEBACKER | JOHN COOPER |
| 1995 | 3 | 77 | LORENZO STYLES | ATLANTA FALCONS | LINEBACKER | JOHN COOPER |
| 1996 | 1 | 7 | TERRY GLENN | NEW ENGLAND PATRIOTS | WIDE RECEIVER | JOHN COOPER |
| 1997 | 1 | 1 | ORLANDO PACE | ST. LOUIS RAMS | OFFENSIVE TACKLE | JOHN COOPER |
| 1997 | 1 | 3 | SHAWN SPRINGS | SEATTLE SEAHAWKS | CORNERBACK | JOHN COOPER |
| 1999 | 1 | 8 | DAVID BOSTON | ARIZONA CARDINALS | WIDE RECEIVER | JOHN COOPER |
| 1999 | 1 | 28 | ANDY KATZENMOYER | NEW ENGLAND PATRIOTS | LINEBACKER | JOHN COOPER |
| 2001 | 1 | 21 | NATE CLEMENTS | BUFFALO BILLS | CORNERBACK | JOHN COOPER |
| 2001 | 1 | 29 | RYAN PICKETT | ST. LOUIS RAMS | DEFENSIVE TACKLE | JOHN COOPER |
| 2002 | 3 | 75 | DEREK ROSS | DALLAS COWBOYS | CORNERBACK | JIM TRESSEL |
| 2002 | 4 | 122 | DARNELL SANDERS | CLEVELAND BROWNS | TIGHT END | JIM TRESSEL |
| 2004 | 1 | 28 | CHRIS GAMBLE | CAROLINA PANTHERS | CORNERBACK | JIM TRESSEL |
| 2005 | 3 | 101 | MAURICE CLARETT | DENVER BRONCOS | RUNNING BACK | JIM TRESSEL |
| 2006 | 1 | 8 | DONTE WHITNER | BUFFALO BILLS | SAFETY | JIM TRESSEL |
| 2006 | 1 | 25 | SANTONIO HOLMES | PITTSBURGH STEELERS | WIDE RECEIVER | JIM TRESSEL |
| 2006 | 3 | 70 | ASHTON YOUBOTY | BUFFALO BILLS | CORNERBACK | JIM TRESSEL |
| 2007 | 1 | 9 | TED GINN JR. | MIAMI DOLPHINS | WIDE RECEIVER | JIM TRESSEL |
| 2007 | 1 | 32 | ANTHONY GONZALEZ | INDIANAPOLIS COLTS | WIDE RECEIVER | JIM TRESSEL |
| 2007 | 4 | 107 | ANTONIO PITTMAN | NEW ORLEANS SAINTS | RUNNING BACK | JIM TRESSEL |
| 2008 | 1 | 6 | VERNON GHOLSTON | NEW YORK JETS | DEFENSIVE END | JIM TRESSEL |
| 2009 | 1 | 31 | CHRIS WELLS | ARIZONA CARDINALS | RUNNING BACK | JIM TRESSEL |
| 2009 | 4 | 102 | DONALD WASHINGTON | KANSAS CITY CHIEFS | CORNERBACK | JIM TRESSEL |
| 2009 | 4 | 108 | BRIAN HARTLINE | MIAMI DOLPHINS | WIDE RECEIVER | JIM TRESSEL |
| 2010 | 4 | 116 | THADDEUS GIBSON | PITTSBURGH STEELERS | DEFENSIVE END | JIM TRESSEL |
| 2011 | 1 | 31 | CAMERON HEYWARD | PITTSBURGH STEELERS | DEFENSIVE TACKLE | JIM TRESSEL |
| 2011 | 3 | SUPP* | TERRELLE PRYOR | OAKLAND RAIDERS | QUARTERBACK | JIM TRESSEL |
| 2013 | 2 | 49 | JOHNATHAN HANKINS | NEW YORK GIANTS | DEFENSIVE TACKLE | URBAN MEYER |
| 2014 | 1 | 15 | RYAN SHAZIER | PITTSBURGH STEELERS | LINEBACKER | URBAN MEYER |
| 2014 | 1 | 31 | BRADLEY ROBY | DENVER BRONCOS | CORNERBACK | URBAN MEYER |
| 2016 |   |   | ELI APPLE |   | CORNERBACK | URBAN MEYER |
| 2016 |   |   | VONN BELL |   | SAFETY | URBAN MEYER |
| 2016 |   |   | JOEY BOSA |   | DEFENSIVE END | URBAN MEYER |
| 2016 |   |   | EZEKIEL ELLIOTT |   | RUNNING BACK | URBAN MEYER |
| 2016 |   |   | CARDALE JONES |   | QUARTERBACK | URBAN MEYER |
| 2016 |   |   | DARRON LEE |   | LINEBACKER | URBAN MEYER |
| 2016 |   |   | JALIN MARSHALL |   | WIDE RECEIVER | URBAN MEYER |
| 2016 |   |   | TYVIS POWELL |   | SAFETY | URBAN MEYER |
| 2016 |   |   | MICHAEL THOMAS |   | WIDE RECEIVER | URBAN MEYER |