Clemson and Ohio State don't kick off for another eight days but there is never a bad time to connect with reporters that cover the opposition to get their insight on the upcoming matchup for Urban Meyer's team. On a more personal and fortunate note for myself, the matchup between the Buckeyes and Tigers allowed me to reconnect with a former colleague and friend Dan Hope, with whom we will do this quick question and answer session.
Dan covers Clemson for Orange and White as part of Independent Mail, a branch of the USA TODAY Network. I worked with him at The Lantern while we were both students at Ohio State and consider him a terrific journalist and excellent source of football information. You can and should follow him on Twitter for up to day information on Clemson ahead of the New Year's Eve battle.
But enough with the sap stories. Let's get to the questions.
---
Eleven Warriors: Deshaun Watson said earlier this week he is the best player in the country. Lamar Jackson won the Heisman Trophy, with Watson as runner-up. You saw both this year. Does Watson have an argument? He makes Clemson's offense tick — just how essential is he to what the Tigers do on that side of the ball?
Hope: My take: Jackson deserved to win the Heisman, but Watson is the best quarterback in college football. Jackson has had one of the most spectacular individual seasons in college football history. But if I had my choice of any player in college football to build a team around, I'd pick Watson. 
A skilled passer and runner and a proven leader, Watson is typically at his best when the game is on the line. No player has done more to lead his team to either of the last two playoffs than Watson has for Clemson. The Tigers might not be in the Playoff with any other quarterback.
11W: Clemson has five players with at least 400 yards receiving and six with multiple touchdown receptions. What sort of skill sets do each of them bring to the table?
Hope: Clemson's receivers possess a diverse array of skills that make them arguably the best group of pass-catchers in college football. 
Mike Williams, who leads Clemson with 1,171 receiving yards and 10 touchdowns, is a true No. 1 receiver who excels at making contested catches in jump-ball situations. He could be the first wide receiver selected in the 2017 NFL draft.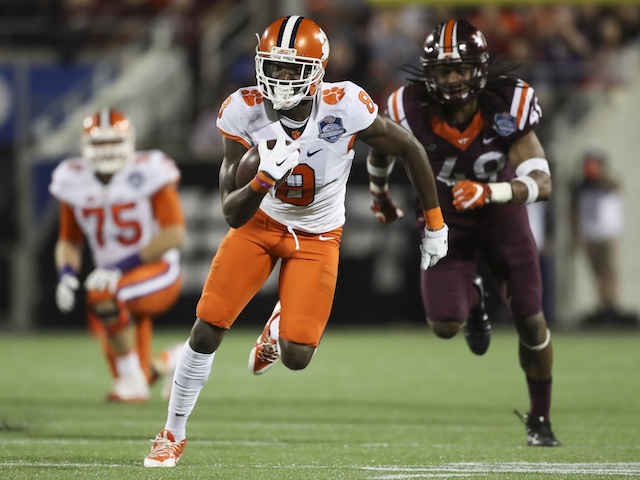 Deon Cain, second on the Tigers with nine receiving touchdowns, gives Clemson another vertical threat with big-play ability. He's faster than Williams but not quite as polished.
Artavis Scott and Ray-Ray McCloud are both elusive runners who can turn short passes into bigger gains. Hunter Renfrow also has great quickness, which makes him a dangerous weapon from the slot. And Jordan Leggett, one of the best tight ends in college football, gives Clemson another vertical threat over the middle.
11W: Watson and the Tigers have 24 turnovers this season. Is this a byproduct of throwing too much, him being too careless with the football, or something completely different? Clemson's 0 turnover margin is easily the worst among CFP teams.
Hope: Clemson has passed the ball more than all but five other Football Bowl Subdivision teams, so that's part of it. Watson will fail to recognize underneath coverages at times, which leads to interceptions, and he has forced some throws that he shouldn't have. But not all of his picks have been on him – some of them have gone off his receivers' hands. 
Turnovers have been a problem for Clemson, and they were last year too, but the Tigers were better down the stretch, losing only one turnover in each of their last three games. Turnovers led to the loss against Pittsburgh and should have led to a loss against N.C. State, but it helps having a defense that can force many turnovers of its own. If Clemson didn't, that turnover margin would be much worse.

11W: Brent Venables won the Broyles Award as the nation's top assistant. Urban Meyer seemed happy to have a month to prep for the variable looks on defense he is bound to show the Buckeyes. What exactly can we expect from that unit? How have teams had success against it this season?
Hope: A month to prepare might be good for Meyer, but it's also good for Venables, who is arguably the best defensive coordinator in college football. Venables' defenses are known for their aggressiveness and making plays in the backfield. The Tigers rank third in the FBS in tackles for loss this year and led the nation in that category in each of the last three years. Clemson has an elite defensive line, which has enabled the Tigers to consistently put pressure on opposing quarterbacks and shut down inside running games.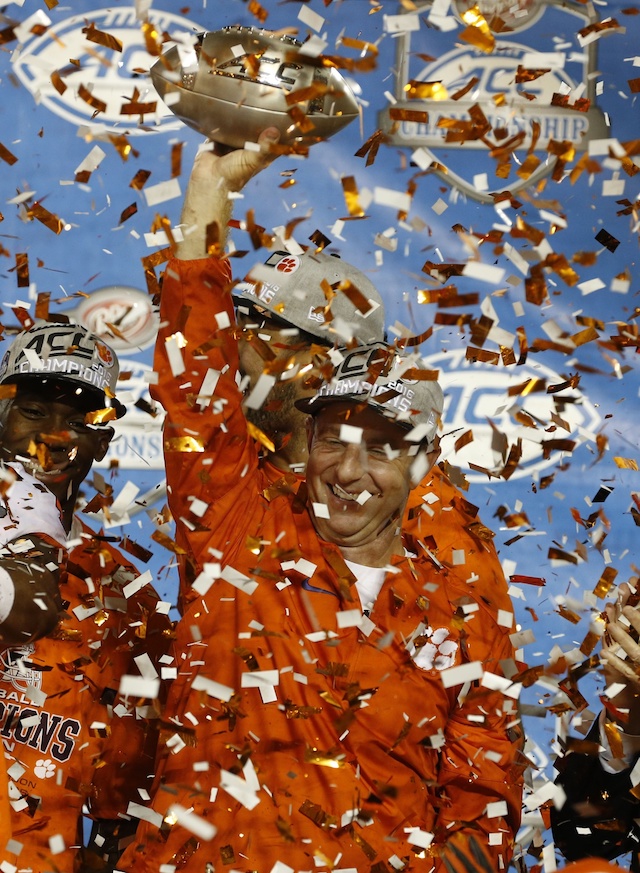 The Tigers have also been solid in pass coverage, but their Achilles heel has been covering tight ends, running backs and other unconventional receivers. That's what killed Clemson in its loss to Pittsburgh; Panthers tight end Scott Orndoff, running back James Conner and fullback George Aston combined for 214 receiving yards and five touchdowns against the Tigers. Venables was out-schemed by Pitt offensive coordinator Matt Canada in that game, but with the extra time to prepare for this game, I expect him to have a better plan in place for handling Curtis Samuel and the Buckeyes.
11W: Clemson made the title game last year and has already played 13 games this season. Any chance the fatigue and mental strain from playing so much will catch up to the Tigers? How fresh and healthy is the team?
Hope: I think the Tigers will be fine because they did it last year. It was uncharted territory for Clemson then, but not anymore. The Tigers have had their sights set all year on making it back to the Playoff, and the coaches have managed their team accordingly to keep their players in shape for the 14th and possible 15th game. The coaches and players know first-hand the challenges of playing through the national championship game, and should be better prepared because of that. The Tigers are not dealing with any major injuries and should be as healthy as you could expect a team to be after 13 games.

11W: What can you say about the way Dabo Swinney has built his program into a perennial power after that 70-33 shellacking it took at the hands of West Virginia at the end of the 2011 season?
Hope: There's a reason why the term "Clemsoning" makes Swinney's blood boil. Clemson might have earned its reputation for underachieving in the past, but that's simply not the case anymore. Through top-notch recruiting, staff continuity, player development and an "all in" approach that the entire program has bought into, Swinney has truly built Clemson into one of college football's elite.
Clemson had the second-most players selected in the 2016 NFL draft and is the No. 2 seed in this year's College Football Playoff. Those two measures indicate that Clemson, alongside Alabama and Ohio State, has established as one of the top three college football programs in the nation.
11W: Lastly, what do you think will be the key(s) to the Fiesta Bowl, and what is your game prediction?
Hope: The key to the game is whether Clemson's offense is as sharp as it is capable of being. Clemson's passing offense is much more potent than Ohio State's, and that could make the difference in the game. Ohio State absolutely could win the game, though, if the Tigers turn the ball over.
I think Clemson is the better football team in this matchup, and I think its ability to move the ball downfield will lead the Tigers to their second straight national championship game appearance. But I think turnovers, and Ohio State taking advantage of them, will keep the game close. Clemson 31, Ohio State 24