Ohio State head coach Urban Meyer called former co-defensive coordinator and safeties coach Chris Ash "an impact hire" numerous times throughout Ash's two-year tenure with the Buckeyes.
It appears Meyer has made another one.
Greg Schiano OVER the Years

| YEAR(S) | SCHOOL/Franchise | POSITION |
| --- | --- | --- |
| 1989 | Rutgers | Graduate Assistant |
| 1990 | Penn State | Graduate Assistant |
| 1991-95 | Penn State | Defensive Backs |
| 1996-98 | Chicago Bears | Defensive Assistant/DBs |
| 1999-2000 | Miami | Defensive Coordinator |
| 2001-2011 | Rutgers | Head Coach (68-67) |
| 2012-13 | Tampa Bay Buccaneers | Head Coach (11-21) |
As reported by multiple outlets Friday afternoon, Ohio State is set to hire former Rutgers and Tampa Bay Buccaneers head coach Greg Schiano to replace Ash — who was named the head coach at Rutgers on Monday — as its defensive coordinator.
While this hire may seem to some to be out of left field, it really isn't all that farfetched. Meyer has stated several times he and Schiano have been friends for quite some time. Their families are also very close. Schiano visited and observed Ohio State practices back in 2014 and it has been reported he is already on campus as the Buckeyes prepare for their upcoming Fiesta Bowl against Notre Dame.
Schiano, 49, began his coaching career at the collegiate level in 1989 when he served as a graduate assistant at Rutgers. The following year, he was in the same position at Penn State before being elevated to defensive backs coach for the Nittany Lions from 1991-95. 
Schiano then made the jump to the NFL, coaching as a defensive assistant for the Chicago Bears from 1996-98. After that, he returned to the college ranks the following year as the defensive coordinator at the University of Miami.
After a short, one-year stint with the Hurricanes, Schiano accepted the head coaching position at Rutgers prior to the 2001 season. He spent the next 11 years leading the Scarlet Knights and compiled a 68-67 record with his best year being an 11-2 season in 2006. During his final season at Rutgers, in 2011, the Scarlet Knights ranked 12th nationally in total defense, allowing 311.5 yards per game.
Schiano went back to the NFL after 11 seasons at Rutgers when he was named head coach of the Tampa Bay Buccaneers in 2012. He coached the Bucs for two seasons, and, after going just 11-21 he was fired following the 2013 campaign. Schiano has spent the last two seasons out of the coaching ranks.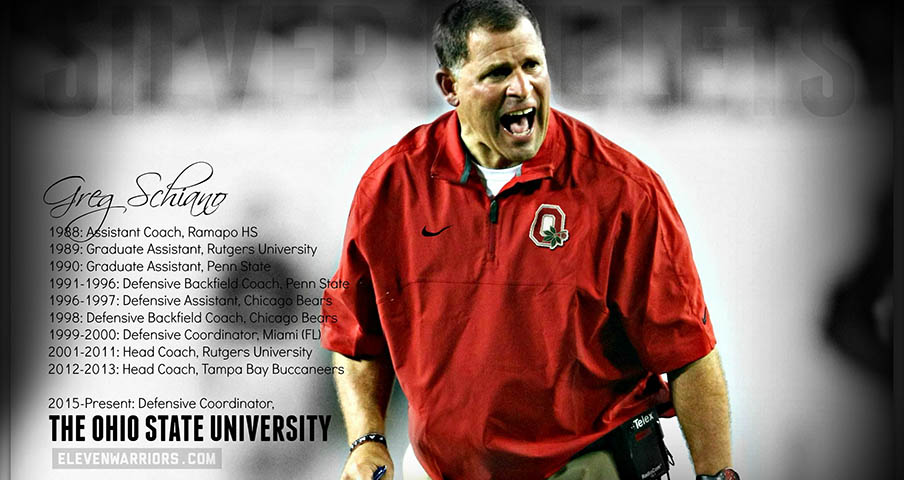 Under Ash, Ohio State saw its defense show vast improvements in just two seasons, specifically in the pass defense. In 2013, prior to Ash's arrival, the Buckeyes ranked just 47th in total defense (377.4 yards per game) and were 112th nationally in pass defense (268 yards per game). This past season, however, Ohio State was 10th in total defense (303.5 yards per game) and 12th in pass defense (176.2 yards per game).
Ash will be difficult to replace, but it appears Meyer has made that "impact hire" he so desperately coveted with Schiano.