Cardale Jones has been here before, albeit under a bit of different circumstances.
It was nearly a year ago where the 6-foot-5, 250-pound mammoth of a man took his turn in the 2014 Ohio State quarterback carousel, receiving the first start of his career against Wisconsin in the Big Ten Championship game because J.T. Barrett suffered a broken ankle a week earlier in the regular season finale against Michigan.
You know the script that followed: Jones and the Buckeyes torched the Badgers, 59-0, to earn a spot in the College Football Playoff. They then downed top-ranked Alabama, 42-35, in the Sugar Bowl and Oregon, 42-20, in the national title game, all with Jones running the show.
The great quarterback debate then ensued through spring, summer and into fall camp this year, before Jones earned the starting nod at Virginia Tech Labor Day night. A month-and-a-half later, he turned the keys over to Barrett, who appeared ready to get the offense back to its efficient, effective ways that led to him finishing fifth in the 2014 Heisman Trophy voting.
It all went according to Urban Meyer and Ohio State's plan at Rutgers Oct. 24, when Barrett accounted for five touchdowns and was nearly flawless in a 49-7 thumping of the Scarlet Knights. Jones didn't see the field until the fourth quarter when the game was decided, but remained engaged, according to his coaches.
"He was good, real good," offensive coordinator Ed Warinner said Monday. "He's a pro, and wants what's best for this team, and came to work every day, did his job at work, prepared himself, and he was ready to go when called upon."
Now, Jones finds himself in a familiar stance — called upon again to fill a massive void left behind by Barrett, though not due to injury, but instead a suspension stemming from his OVI arrest and citation early Halloween morning.
"He's a pro, and wants what's best for this team, and came to work every day, did his job at work, prepared himself, and he was ready to go when called upon."– Ed Warinner on Cardale Jones
"I feel like he's ready to do the same thing again this week," Warinner said of Jones. "Bigger role, obviously, and step in and — I think he's undefeated as a starter."
Jones is a perfect 10-0, a stat mentioned not only by Warinner Monday but also Meyer. Despite the quarterback's up and down play this season — he is 96-of-152 passing for 1,266 yards, seven touchdowns and five interceptions in 2015 — confidence in the guy who led the Buckeyes to the sport's zenith in January remains. He's not the same player he was when this quick switch happened before.
"Night and day. Cardale had a great week of practice last week, he's engaged, he handled everything like a man," Meyer said. "He threw for 300 yards a couple weeks ago at a 75 percent clip. He's 10-0 as a starter. That's not even a hesitation."
Jones did put forth the best game of his career, at least statistically, in a 49-28 victory against Maryland Oct. 10. Two touchdown passes accompanied those 300 passing yards, but a poor performance and need for a more running quarterback against Penn State left Barrett to be the better option the following week.
Meyer then was ready to run into November and beyond with Barrett at the helm, but that all changed during the bye week. Barrett could step back in and start after his suspension ends — "if he's good enough and if he's earns that right, I haven't even gone that far yet," Meyer said — but for now, Jones faces another opportunity to show the world what he can do this Saturday night against Minnesota.
"I think everybody was playing better and better," left tackle Taylor Decker said Monday. "We obviously all know that we have played really well with Cardale at times."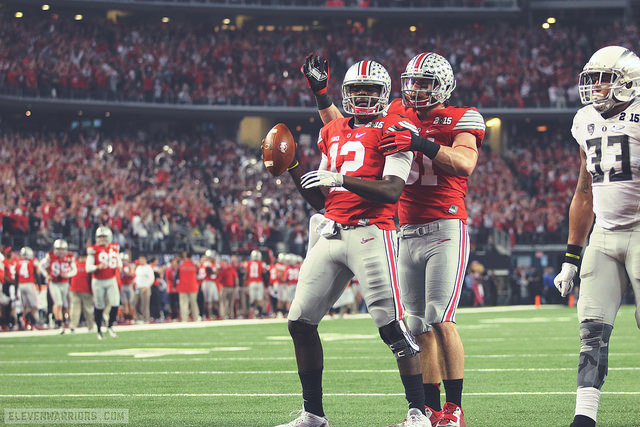 That's true, and even though Braxton Miller's moved to backup quarterback for at least this week and could see more time behind center, the crux of Ohio State's season falls on the broad shoulders of Jones once again.
Just like a year ago.
"Just knowing him and knowing how important this team is and his desire to be successful and to help us be successful, I have a great amount of confidence that he's going to prepare and play extremely high level, and we're going to do everything we can to help him do that," Warinner said. "I'm not losing sleep at night that Cardale is going to go out there and start against Minnesota.
"I feel very confident in that."