Nike is a Fortune 500 company. The shoe and clothing manufacturer is a worldwide superpower when it comes to athletic apparel, and not by accident.
Founder Phil Knight's life's work is licensed with some of the world's top athletes and leagues — the NFL, LeBron James, Kobe Bryant and Kevin Durant, to name a few — to print money. Since 2007, Ohio State has done the same.
Buckeye football is a powerful entity on many fronts, a large piece being the equipment, attire and any other gear imaginable supporters purchase. Fans want to look like the football team does on Saturdays in the fall.
Saturday night, another page in the novel between the two sport giants takes center stage. Urban Meyer's No. 1-ranked and unbeaten Buckeyes host Penn State and are scheduled to don all-black uniforms and black, matte helmets for the matchup under the Ohio Stadium lights.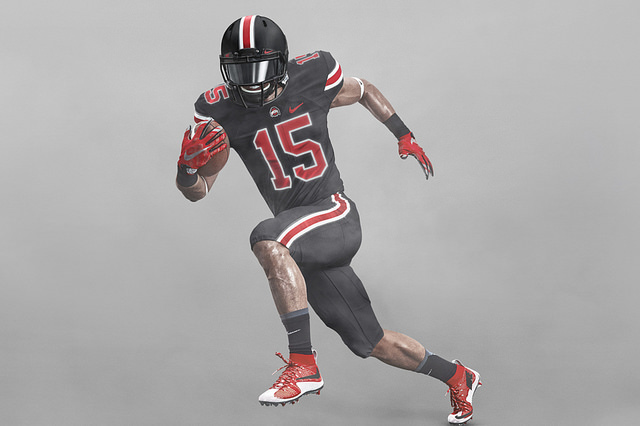 "Nike came to us and said, 'What do you think of this?' And my first reaction was, 'No way, no chance,'" Meyer said Monday. "And I looked and said 'Whoa,' and it looked pretty sharp."
Saturday figures to be one of the largest recruiting weekends of the season for Meyer and his program, and the idea of alternate uniforms is a huge selling point among the talented teenagers considering making Columbus their home for the next four years.
"Recruits are impressionable today and have a great deal of materialistic interest. So reality is we're going to respond to that," Ohio State Vice President and Director of Athletics Gene Smith said Monday. "Our job, our core mission is our student-athletes that we serve, first and foremost. And that includes the recruits we're trying to attract."
Saturday won't be the first change to the traditional scarlet and gray kit Ohio State wore for years, but it will be the most drastic. Though black is a school color, it is a secondary one. Which begs the question: How exactly does this process work?
"They'll bring a design to us," Smith said of Nike. "We'll look at the design, we'll kick it around, get some input and make some modifications based upon what we think or feel should be added.
"This particular weekend, that occurred as well," he added. "So we looked at the original design, and they have some very creative people, obviously, but we did not approve the original design, so we added some of the elements that you'll see this weekend. And that's happened every single year we've done that."
Smith said Ohio State added the stripes running down the side of the pant and on the shoulder to Nike's initial look, in addition to more of a scarlet look to the numbers.
It's certainly a new look, one that deviates largely from what many Buckeye traditionalists care for. That's a risk Smith knows he must take, though.
"I get a couple emails from people saying, We're not Oregon. You're right. We're not Oregon. We're not going to be Oregon. We're Ohio State University, and we're going to pick one game every year where we try to do this."– Gene Smith
"Some people thought our first one was drastic, just matters where you sit," Smith said.
Ohio State amended to its uniform for the 2014 College Football Playoff, wore all white uniforms last season at Penn State and has done throwback looks against Michigan since even before former coach Jim Tressel resigned in 2011.
Nike is full of brilliant people with stellar ideas, just like Ohio State, Smith said, but the process takes a significant amount of time before the school feels comfortable with signing off on the changes.
"We have turned down one of their ideas," Smith said. "I think it was maybe two years ago that (Nike) first surfaced the idea (of all black). In fact, we're looking at next year's right now. You understand the ordering cycle, we have to make decisions now on next year because of the way things are manufactured."
Smith wouldn't bite on answering a question about what is coming next season, but said he and the athletic department are currently determining if the next change is something they like and if it's something they would even want to look into.
"We go through a process first with Urban and I to look at it," Smith said. "Then we include some players, which he did, this leadership team. Then (Senior Associate Athletics Director for External Relations and Strategic Communications) Diana Sabau gets with some former players and gets their feedback. One year I actually met with Archie (Griffin) early in the process."
It's hard to deny the floundering success and money both Nike and Ohio State's earned as a result of such a drastic change, too.
"Indiana Saturday — it was announced that Friday. At 9 a.m. that Saturday — all the Nike items were sent to the stores already and available for sale at 9 a.m. that morning," Smith said. "They were gone by mid-afternoon."
Smith added Ohio State, at least from an athletic department standpoint, isn't calling Saturday's game against Penn State "Dark Night at the Shoe," even though it's been all over the Internet and in promotional packages.
All it is to him is a completion of another yearlong process to make the football team look different on the gridiron, just like any other year.
"I get a couple emails from people saying, We're not Oregon. You're right. We're not Oregon. We're not going to be Oregon," Smith said. "We're Ohio State University, and we're going to pick one game every year where we try to do this."
---
What Current Ohio State Players Said About the Uniforms
Safety Tyvis Powell: "People have been asking for these all black uniforms since I've been here, so it's great to finally get that request answered. Now we just put them on, the stadium's going to be blacked out, it's going to be a good environment. Can't wait to see how this goes for us. Good game for us. Big game at home.
"I appreciate the jersey period. Just being here to put the Ohio State jersey on is good enough."
Defensive End Joey Bosa: "I'm pretty excited. They're going to be sick. My old Mercedes back in the day had the same matte wrap on it."
Middle Linebacker Raekwon McMillan: "I wore black all four of my years in high school. Our colors were black and gold, but our main uniform was all black. I actually like it, though. It's something Coach Meyer mentioned to me when I was getting recruited. He said it was something they were thinking about, but he said they hadn't decided on it yet. It looks good."