For what seems like eons, Ohio State's coaches and players have been praising the improvement and development of sophomore wide receiver Noah Brown.
Brown dropped 25 pounds since arriving in Columbus as part of Urban Meyer's 2014 class, getting some time during Ohio State's national championship season at everything from H-back to wide receiver.
He only caught one pass for nine yards in 2014, but even though he was set to be a starting wide receiver for the Buckeyes in the opener at Virginia Tech, Brown's college career is now on hold after he suffered a major left leg injury during Wednesday's practice.
The loss of Brown stretches an already thin wide receiver unit for the game against the Hokies even more, as H-backs Jalin Marshall and Dontre Wilson in addition to wide receiver Corey Smith are suspended.
OSU now without Noah Brown, Jalin Marshall, Dontre Wilson & Corey Smith for season-opener at Virginia Tech. Not ideal vs. that secondary.

— Tim Shoemaker (@TimShoemaker) August 27, 2015
So where do the Buckeyes go from here? Well, they have options, albeit young and inexperienced ones.
Ohio State is down to 8 available 4-star WRs for season opener at Virginia Tech. Plus Braxton Miller and Torrance Gibson.

— Marcus Hartman (@marcushartman) August 27, 2015
Braxton Miller is the lone senior at the position available Week 1, but his move from quarterback was thought to have him placed as more of an H-back within the offense.
Redshirt junior Michael Thomas is still very much present and available, which will help whoever the starting quarterback is out tremendously. Thomas' size and speed is a rare combination, as he proved down the stretch in the title run last season, being able to take a slant pass to the end zone. Thomas, however, is likely to be matched up opposite of Virginia Tech's Kendall Fuller, a second team All-American cornerback in 2014. He good.
Outside of those two, left are Terry McLaurin, James Clark, Johnnie Dixon, Parris Campbell and Alex Stump and K.J. Hill. That list houses two true freshmen, three redshirt freshmen and a redshirt sophomore. Youth, youth and more youth.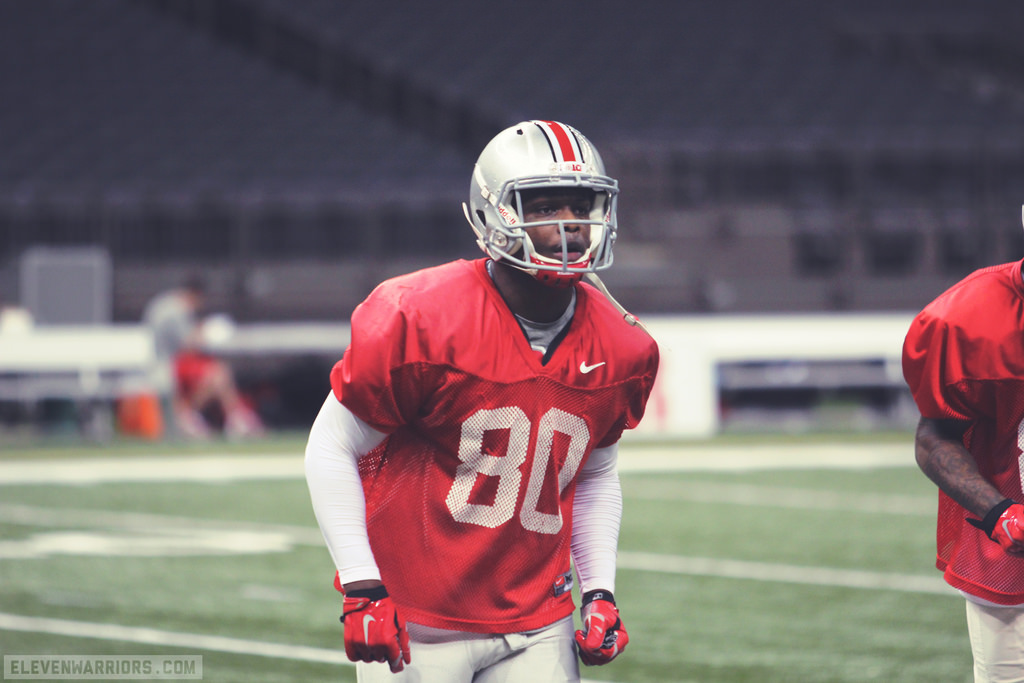 Yes, Brown is just a sophomore himself, but Clark and Dixon have battled injuries in their brief time at Ohio State and Campbell is barely 18 years old. Stump and especially Hill are highly touted recruits, but have only been on campus since June.
Brown's size (he's listed at 6-foot-2, 222 pounds) is a big reason he was pencilled in as a starter coming out of training camp. The loss of stud blocker Evan Spencer is a void that needed to be filled from the title team, and Brown was believed to be the guy who could do it.
That void now remains empty.
It could be filled by another true freshman, Torrance Gibson, who until recently had his heart set on playing quarterback. He also has missed some time with an injury to his right ankle that required him to wear a boot, though Ohio State said it isn't serious (Gibson was without the boot after Tuesday's practice).
The bodies are there to provide depth, but they are inexperienced.
And, come Sept. 7 against Virginia Tech— one of the top defenses in the country and the unit that shut down Ohio State last season — the concern is growing.
If the Hokies and Bud Foster jump to their 46 Bear Cover 0 in a hope to sell out against the Ohio State rushing attack and Ezekiel Elliott like they did in Ohio Stadium a year ago a depleted Buckeye wide receiver corps could struggle.
Without Marshall, Wilson, Smith and Brown — four starting-caliber players — available, the young skill guys on the outside will be tested.
Prior to Brown's injury Wednesday, Meyer had his starting rotation of wide receivers set in stone.
"Mike Thomas, Noah Brown, Parris Campbell, Terry McLaurin, Johnnie Dixon and Torrance is scratching the surface now," Meyer said Saturday. "Curtis (Samuel) is in there, too. He's up in the top five."
Playmakers are everywhere for a loaded offense later in the season, so the loss of Brown won't hurt too much once the suspended guys regain their eligibility. For Week 1, though, his absence will hurt.
Then again, this time around against Virginia Tech Ohio State's offensive line is immensely better, Elliott has a pair of healthy wrists and both Cardale Jones and J.T. Barrett are improved by a huge margin.
Elliott and tight end Nick Vannett should figure largely into the passing game, either out of the backfield or in the flat against linebackers. If the Hokies sell out in their Cover 0, Ohio State's quarterback will need to make quick, correct decisions. If he does that, Ohio State should still have success.
There's plenty of gamesmanship and personnel planning both Ohio State and Virginia Tech have to put in place between now and Labor Day Night, but the absence of Brown is a pretty significant peg in the Buckeye offense that was humming at the end of 2014.