With 15 of last season's starting 22 (excluding special teams where everyone returns) along with a slew of reserve contributors back for a shot at a repeat national title there aren't a ton of unanswered questions for Urban Meyer's Buckeyes.
The largest question hovering over the team obviously won't be answered until Ohio State runs out of the tunnel in Blacksburg – led by their starting quarterback – whether it be J.T. Barrett or Cardale Jones and even then there's no guarantee that quarterback will still be The Guy once the Buckeyes enter the stretch run starting with Michigan State on November 21.
That storyline has been talked and typed to death and I've already said my peace so we'll instead focus on four other significant questions still requiring answers with just a dozen sunrises between this article and kickoff.
can the defensive line be as stout this year as it was last year during the postseason run?
Arguably the most important departure from last year's roster is none other than Michael Bennett. The senior defensive tackle was a monster down the stretch teaming with Adolphus Washington to lock down the interior defensive line with Joey Bosa and Steve Miller doing work off the edges.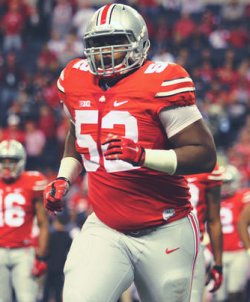 In past years when Ohio State couldn't get over the hump against elite competition, losing the battle in the trenches was often front and center. Last year, that trend was decisively reversed in large part to Bennett's stellar play when it mattered most and the result was a national title.
That simple fact underscores the importance of having an elite defensive line thus magnifying the need for Meyer to effectively replace Bennett and the also-departed Miller.
Semantically speaking, it is Washington that will replace Bennett as he slides over to defensive tackle creating a hole at nose guard. Senior and former five-star prospect Tommy Schutt is expected to get first crack but with more hype than substance to his game at this point – despite Meyer touting Schutt's fall camp progression – the reality is that names like Donovan Munger and Michael Hill will also see early season snaps with the coaches looking for at least two of those three to prove they are rotation worthy.
My gut says Munger eventually challenges for the starting spot and at minimum figures heavy into the nose guard rotation while Hill might be more suited to spell Washington from time to time at defensive tackle.
On the outside, Tyquan Lewis has quietly solidified his starting spot though guys like Sam Hubbard and Jalyn Holmes could also push for time. Specifically, Hubbard will likely start for the suspended Joey Bosa in game one and make a case for rotational reps at either end spot.
Whether or not these guys can combine to be as good or better than last year's unit remains to be seen but there doesn't appear to be any shortage of capable talent.
WHO STARTS OPPOSITE ELI APPLE over the long haul AND IS THERE ENOUGH CORNER DEPTH TO OVERCOME ANY INJURY WOES?
Of the players who moved on from last year's championship team, if Michael Bennett is the biggest loss then cornerback Doran Grant ranks second. Grant gave the Buckeyes a guy that could go toe to toe with the opponent's top receiver and allowed Eli Apple time to grow into his own starting role. By season's end, Apple was a seasoned guy and has all the tools to be an eventual day one draft pick.
This year, Apple slides over as the primary corner and while that will be a new responsibility for him that brings its own set of concerns the real issue for Ohio State is developing another dependable corner to play opposite Apple.
That guy has been Gareon Conley since Meyer proclaimed him the starter following spring ball and the tune hasn't changed as Urban recently called Conley was one his most improved players in fall camp. All that talk is encouraging but for some it doesn't overshadow his less than stellar play in limited time last year, most specifically his poor showing in East Lansing. Further, in limited video of practices and in observations from those in attendance, he's been the guy in coverage for some highlights generated by Ohio State's receivers.
Even with Conley earning Urban's trust, it still feels like an early season rotation of sorts will be in order and true sophomore Damon Webb could end up stealing some of Conley's snaps or even move in on the little used nickel back spot currently occupied by Cam Burrows.
Even if Webb doesn't overtake Conley as the starter he has to provide serviceable depth. This need becomes magnified if the supremely talented by oft-injured redshirt freshman Marshon Lattimore can't shake his most recent hamstring issue. 
SPEAKING OF DEPTH CONCERNS, HOW DOES THAT SITUATION SHAKE OUT ALONG THE OFFENSIVE LINE?
There's no debating Ohio State's starting offensive line is one of the truly elite units in the nation. Four starters return led by left tackle Taylor Decker and right guard Pat Elflein and new right tackle Chase Farris is a guy Ed Warriner feels has all the tools to be a formidable replacement to last season's first-time starting right tackle in Darryl Baldwin.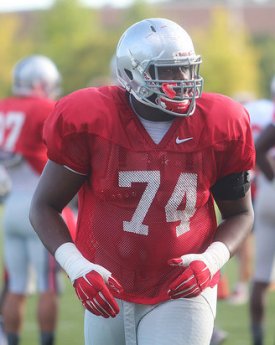 Center Jacoby Boren and left guard Billy Price round out the group and it could be argued Price has the highest ceiling of all of them considering he's a third-year sophomore entering just his second season as a starter and is easily the strongest of the bunch.
Despite all that good news along with the fact there are a number of highly touted reserves on the roster, the reality is that none of the backups have proven much, if anything, at the collegiate level. 
As such, there aren't necessarily true backups for every position as of yet. Instead, should any of the existing linemen miss time due to injury, it's likely Chase Farris would slide over to fill the void for Elflein, Price or Decker with sophomore Jamarco Jones – who did actually log 112 snaps last year – moving into the right tackle spot vacated by Farris. Similarly, if Boren were to go down, Elflein would likely slide to center and the same Farris/Jones dominoes would fall.
Beyond that, multiple losses up front would create significantly more heartburn for Warriner and Meyer as they'd be leaning on talented but green guys such as redshirt freshmen Brady Taylor and Demetrius Knox along with sophomore Evan Lisle and true freshmen and future star Isaiah Prince .
WHO STEPS UP WIDE RECEIVER TO COMPLEMENT MIKE THOMAS?
For clarity, I'm not focusing on the H-back as part of this conversation. It's a good bet Braxton Miller will lock down that spot though Jalin Marshall is still obviously very much in the fold with guys like Dontre Wilson and Curtis Samuel less certain to log significant snaps at the position.
At the wideout spots not claimed by Mike Thomas, it might take a while for the pecking order to be defined. Conventional wisdom says Noah Brown is the guy who emerges as a season-long starter and breakout contributor. He showed limited flashes as a blocker last year and has looked great in fall camp, to the point Apple recently tabbed him "uncoverable" though he continues to fly a bit under the radar as some fans are seemingly more interested in Miller's role, Marshall's suspension and the hype surrounding unseen talents like Torrance Gibson, Johnnie Dixon, K.J. Hill and Terry McLaurin, among others.
Considering the lack of clarity on exactly how Marshall will be used, it's a bit of a guess but logic says he'll see at least half his snaps at wideout giving Ohio State a top three of Thomas, Brown and Marshall leaving scraps for the others.
Based on noise in camp, it's easy to see Gibson getting a few looks on the outside but with Corey Smith returning from suspension for game two along with Marshall, snaps for guys like McLaurin and Hill might be hard to come by. Dixon could also be on the outside looking in as he struggles to stay healthy.