There's a loud segment of Ohio State's fan base that groans at the premise of alternate jerseys. While we take no stance on the utility of these jerseys and what they mean for tradition, we can only relay what we know about Ohio State's alternate jersey plans in 2015.
For one, our sources have confided in us that Ohio State is planning on wearing a black jersey for the prime time tilt against Penn State on 10/17. We should clarify that we've only been told that the Buckeyes will wear black that night and have not been shown any photos or drawings of what those uniforms may look like.
Two, an Ohio State graduate and columnist for the Tidewater News in Virginia is reporting these might be a glimpse into what these jerseys look like.
Source tells me these nine Nike black T-shirts are, in fact, designs to be worn this season: pic.twitter.com/zyVjSYQ5l7

— Andrew Lind (@AndrewMLind) August 2, 2015
Former Ohio State offensive tackle, Kirk Barton, who served time as a graduate assistant and is still very close to the program, seemed to confirm the Buckeyes will trot out black jerseys for Penn State:
I'm excited for the black jerseys versus Penn State this year. I think they'll we sweet. It is 100% happening. No need to doubt #truth

— Kirk Barton (@Kirk_Barton) August 2, 2015
The eight other schools, besides Ohio State are: Alabama, Florida, Georgia, LSU, Oregon, Texas, Oklahoma and Oklahoma.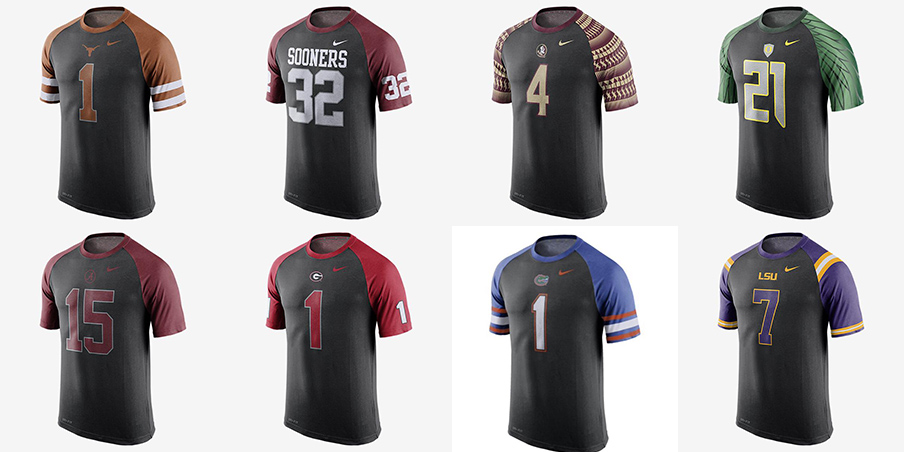 Spokesmen for the Georgia Bulldogs and Oklahoma Sooners later refuted reports of their school's involvement with this reported black jersey rollout.
Georgia will not be wearing any alternative uniforms this year, per A.D. Greg McGarity. Stand down, Georgia fans.

— Seth Emerson (@SethEmersonAJC) August 2, 2015
There is no new uniform coming for @OU_Football this season. #Sooners

— Kenny Mossman (@Kenny_Mossman) August 2, 2015
We should offer additional caveats on this report.
One, it seems highly unlikely that the Alabama jersey will faithfully approximate whatever alternate jersey Nike gives to the Crimson Tide this season. In recent years, Nike has been gentle with Alabama's alternate jerseys since the sensibilities of the Alabama fan base on this issue are quite delicate. 
Two, recall that these are t-shirts and have been in official fan shops for some time. As such, these should be interpreted as t-shirt approximations of whatever alternate jersey Ohio State may get this season. After all, not a lot of teams wear something that is a glorified three-quarter-sleeve baseball shirt for football contests.
All that said, this report conforms well to what whispers we have heard here at Eleven Warriors already.