To say Urban Meyer and Ohio State have an embarrassment of riches on their hands would be a downright understatement.
If there ever was a way for the defending national champions of college football to get even better, it seems to have happened Thursday night.
That's when Sports Illustrated's Pete Thamel revealed star quarterback and two-time Big Ten Player of the Year Braxton Miller plans to make the switch to wide receiver and H-back for the Buckeyes, putting an end to at least one chapter of the three-way dilemma Meyer had at signal caller.
"For the most part, it's going to be H-Back and punt return," Miller told Thamel Thursday night. "It's a long process to get back totally to throwing and throwing every day. This is the smarter thing for right now, God blessed me with a lot of talent and different opportunities. I'm going to have fun with that and still score a lot of touchdowns and help the team out and be dominant at that."
Miller's already scored a ton of touchdowns to help his team during his three seasons in Columbus (84, to be exact), but now he gets to do it from an entirely new position — one that could even further utilize his spectacular God-given abilities.
But what else does it mean? Let's take a look.
---
Miller had his future in mind when making this decision.
It's hard to find a more dynamic athlete in the realm of college football than Miller, but it's even harder to believe he would have been a starting NFL quarterback.
Miller's athletic ability outweighs his prowess as a passer and has throughout his whole career. He's also an intelligent human being.
Finally got a NFL scout on the phone to talk about Braxton's position change to WR. First word out of his mouth? "Smart." #OhioState

— Dane Brugler (@dpbrugler) July 24, 2015
When Miller saw former Ohio State quarterback Terrelle Pryor — an extremely gifted athlete in his own right — flame out as an NFL quarterback and recently make the switch to wide receiver, his mind probably started churning. Coming off a pair of labrum surgeries to his throwing shoulder — and still being two months away from properly being able to throw again, according to Thamel — Miller took the opportunity to use his athleticism in a different way.
Thamel reports he's been participating in late night workouts as a receiver with quarterbacks J.T. Barrett and Cardale Jones, watching film on top NFL wideouts and working with a JUGS machine to further prepare him. He wants to make money playing football. He knew what he was doing.
"At first it was an awkward feeling," Miller told Thamel. "But for the past eight weeks I've been on top of things."
"It's going to be electric. We had a great season last year, but we didn't see anyone do off-the-wall type stuff. I'm sure guys miss seeing an explosive, 60-yard shake-and-bake run every once in a while."– Braxton Miller to SI
The Buckeyes are even scarier on offense than they were before.
Even when Miller was part of an unsettled quarterback derby, Ohio State's playmakers rivaled the best in the country.
Jalin Marshall, Dontre Wilson, Michael Thomas, Corey Smith, Nick Vannett, Ezekiel Elliott, Curtis Samuel, Noah Brown ... you get the point. The list doesn't even end there, either, and now adding a guy the caliber of Miller into the fold makes the Buckeyes even deeper.
Sure, the problem might be that there aren't enough footballs to go around, but Miller also said he plans to return punts — something he hasn't done since high school.
We knew Meyer was planning to exploit the self-proclaimed "best athlete in college football" during his final season of collegiate eligibility, but the reality doesn't seem too fair for opposing defenses.
Miller could take a handoff and throw the ball downfield. He could take a handoff and use his shiftiness to try and make it to the end zone on his own. He could take a shotgun snap and run, throw or hand the ball off. Or, he could beat a defense from the slot and catch a pass from either Barrett or Jones and then run. Just putting him in motion will cause defenses to think twice about how to stop the Buckeyes.
"It's going to be electric," Miller told Thamel. "We had a great season last year, but we didn't see anyone do off-the-wall type stuff. I'm sure guys miss seeing an explosive, 60-yard shake-and-bake run every once in a while."
Ohio State's chances at repeating took another bump in the right direction.
Having either Miller, Barrett or Jones playing quarterback with the stable of offensive talent and four returning starters on the offensive line made Ohio State's offense ridiculously skilled on paper, but now that Miller has bought into the idea of not touching the ball every play, its chances at getting back to the College Football Playoff look even brighter.
Think about it: Miller was named the best player in the Big Ten as a quarterback. Now that he only has to really worry about how wide receivers fit into Ohio State's offense — something he already knows well from playing quarterback for three years — he can solely focus on perfecting his route running and cuts to become even more dangerous. If he is able to stay healthy and play well, even if another wide receiver or two goes down, he adds depth to an offense that frankly didn't really need it at the skill positions.
With so many starters coming back from a team that ripped through the post-season last year and adding Miller back in, Ohio State looks primed to make another run.
This story is by no means finished.
Multiple news outlets reported late Thursday that Meyer has not finalized his star player's change in positions, mainly because he supposedly hasn't seen him play wide receiver.
"We won't know enough until practice starts how we can use him and what he can do," Meyer told Cleveland.com's Doug Lesmerises. "I just don't know. He's a great athlete, but he's never caught a pass for us."
"I haven't made those decisions yet," Meyer said to Bill Rabinowitz of the Columbus Dispatch. "It seems like it's a little bit jumping the gun. Braxton came to see me. ... He's been talking to me about it. We've been working at it. But I'm not ready to say exactly how we're going to use him yet."
Meyer's statements are probably because of where we are in the calendar. Coaches cannot work with players until fall camp begins in a few weeks, so he's claiming to not have really seen Miller run routes or catch passes in traffic against defenses.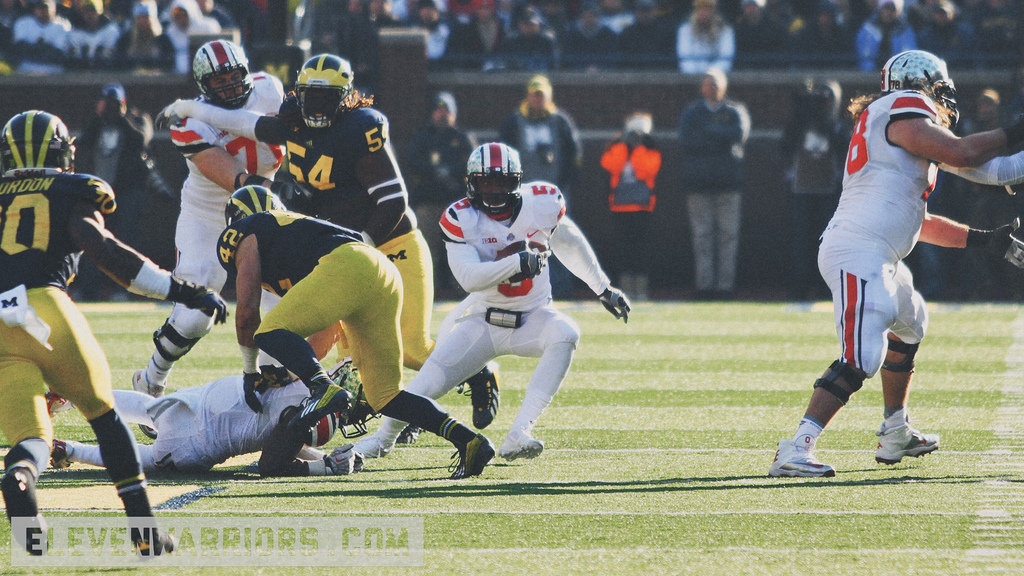 Making a switch to a position you didn't grow up playing is going to take quite the learning curve, but Miller is athletic and determined enough to try and make it happen. He told Thamel he plans to spend 80 percent of his time in camp with the wide receivers and the other 20 percent at quarterback.
"Braxton Miller can play wide receiver as long as he wants to play it," Ohio State receivers coach Zach Smith told Thamel. "His speed, strength, talent, commitment and, really, lifestyle will allow him to be like Joey Galloway. It's going to be a matter of how quickly he grows into the position, but the sky is the limit for him."
---
While the conflicting reports are out there that the man in charge isn't 100 percent sold on the idea of moving Miller to wide receiver or H-back, the redshirt senior's disclosure to SI is pretty telling.
There's a good chance Miller enters camp still working with the quarterbacks before he ultimately deciding his shoulder isn't where it needs to be to properly compete for the starting position. If that's the case, the Buckeyes undoubtedly will welcome his skills on the edge and elsewhere.
Either way, it looks like he's been preparing himself for this for a while now and if it comes to fruition, one leg of the quarterback quandary is put to rest and Ohio State's offense just added another whole page of interesting possibilities.