Powered by a career high and Sugar Bowl record 230 rushing yards from Ezekiel Elliott, a defensive effort that suffocated its opponent on third down while generating three turnovers, and a top-to-bottom roster belief that they would emerge victorious, Ohio State shocked the world last night in a 42-35 win over Alabama to earn a spot in the  inaugural College Football Playoff National Championship game. 
The win improved Ohio State to 13-1, extending the nation's longest winning streak to 12 games and moved Urban Meyer to 8-2 in career bowl games and 39-3 when he has more than a week to prepare for a game. 
The Buckeyes actually trailed this one 21-6 with eight minutes left in the 1st half but reeled off 28 straight points to take a 34-21 lead with just over three minutes left in the 3rd quarter thanks to an Elliott run, an Evan Spencer toss to Michael Thomas for six, a 47-yard strike from Cardale Jones to Devin Smith and a 41-yard pick six from Steve Miller. 
The Buckeyes held on from there and now face Oregon a week from Monday for a chance to win their first national title since the magical 2002 season. Before we go all in on the Ducks, here's a look at Five Things from last night's sensational dumping of Nick Saban and the Crimson Tide. 
EZE IS HIS NAME...
Running behind an inspired and impeccably coached offensive line, Ezekiel Elliott scorched a Crimson Tide defense yielding just 88.7 rush yards per game with a 20 carry, 230 yard, two touchdown performance that not only set a career high but also the Sugar Bowl record. 
That's 11.5 yards per carry, folks, against the nation's 2nd-ranked rush defense that had nearly a month to prepare. The effort marked the first time this season Bama allowed a 100+ yard rusher and Elliott also racked up the two longest runs against them this season with a 54-yard appetizer followed up by an 85-yard main course.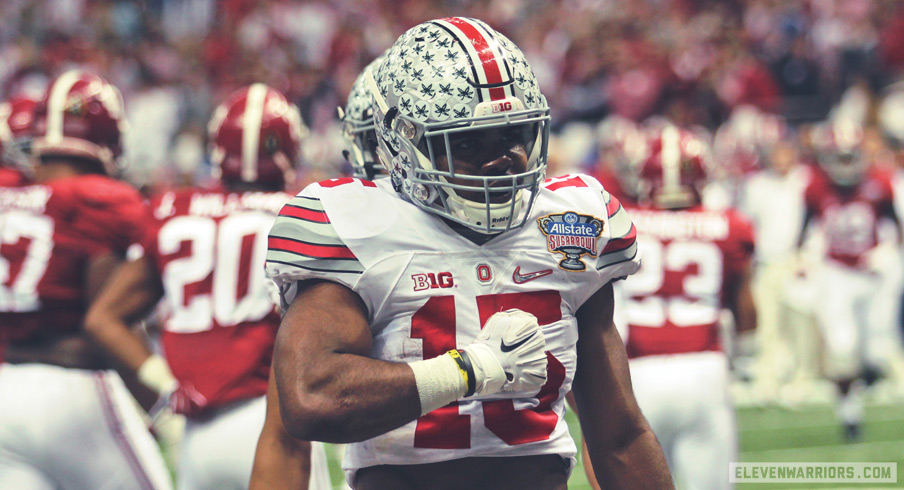 On Ohio State's opening possession, Elliott patiently swooped wide before cutting up field and leaping a defender on the 54 yard run leading to a field goal and an early 3-0 lead. 
After a 3-and-out by the Bullets, Elliott busted a 17-yard gainer on 1st down but fumbled at the OSU 33 and Bama answered with a touchdown two plays later to take a 7-3 lead. Undeterred, Elliott ran for 11 yards on his first post-fumble carry and the Buckeyes went on to kick another field goal trimming the deficit to 7-6. 
Three possessions later, down 21-6 and the game potentially hanging in the balance, Elliott hauled in a key 13-yard catch before a 3-yard touchdown plunge cut Bama's lead to 21-13 with 2:55 left in the opening half. 
Elliott's biggest play of the night occurred as Ohio State nursed a 34-28 lead with five minutes left in regulation. With the offense sputtering after three straight 3-and-outs and backed up to its own 5-yard line, Elliott first gave OSU some breathing room with a 4-yard run then three plays later, he burst through the left side of the line for an 85-yard scoring burst to put Ohio State in front 42-28 with 3:24 left in Alabama's season. 
The run served as a Tide back breaker although it would've been even more decisive if not for Urban Meyer's curious decision to throw deep (and incomplete) stopping the clock and saving Alabama not only a timeout but a chunk of game clock after they had cut the lead to 42-35 with less than two minutes to play. 
Whatevs. Hat tip to Elliott for such a determined performance. He's been a boss in the last two games as it shouldn't be forgotten he outdueled Melvin Gordon with 220 yards on 11 yards per carry with two touchdowns in the B1G championship game. 
OWNING THIRD DOWN
Ohio State dominated both sides of the ball on 3rd down but for this Thing, we're going to look at the offensive side. 
Though Alabama came into the game allowing just a 36% conversion rate, good for 31st nationally, Ohio State – specifically Cardale Jones – shredded the Tide on 3rd down converting 10/18 opportunities (56%) including 7/10 in the first half. 
OHIO STATE OFFENSE ON THIRD DOWN

| poss | down and distance | description | drive result | score (osu-ala) |
| --- | --- | --- | --- | --- |
| 1 | 3RD AND 6 | JONES 12 YD RUN | FG | 3-0 |
| 1 | 3RD AND GOAL @ 5 | JONES INC PASS | FG | 3-0 |
| 3 | 3RD AND 8  | JONES 20 YD RUN | FG | 6-7 |
| 3 | 3RD AND 9 | JONES 41 YD PASS (D. SMITH) | FG | 6-7 |
| 3 | 3RD AND GOAL @ 4 | JONES INC PASS | FG | 6-7 |
| 4 | 3RD AND 20 | ELLIOTT 12 YD RUN | PUNT | 6-14 |
| 5 | 3RD AND 10 | JONES 14 YD PASS (M. THOMAS) | INT | 6-14 |
| 6 | 3RD AND 10 | JONES 26 YD PASS (MARSHALL) | TD | 13-21 |
| 6 | 3RD AND 9 | JONES 26 YD PASS (MARSHALL) | TD | 13-21 |
| 6 | 3RD AND GOAL @ 3 | ELLIOTT 3 YD TD RUN | TD | 13-21 |
| 8 | 3RD AND 8 | JONES 47 TD PASS (D. SMITH) | TD | 27-21 |
| 9 | 3RD AND 3 | JONES 12 YD RUN | PUNT | 27-21 |
| 9 | 3RD AND 1 | BROWN -4 YD RUN | PUNT | 27-21 |
| 10 | 3RD AND 3 | JONES -5 YD RUSH | PUNT | 34-28 |
| 11 | 3RD AND 13 | JONES INC PASS | PUNT | 34-28 |
| 12 | 3RD AND 14 | JONES INC PASS | PUNT | 34-28 |
| 13 | 3RD AND 1 | JONES 1 YD RUN | TD | 42-28 |
| 14 | 3RD AND 9 | JONES -11 YD RUN | PUNT | 42-35 |
Jones was a respectable 5/9 passing on 3rd down but what jumps off the page is those five completions combining for 154 yards and a touchdown with all five completions moving the chains. 
On the ground, Jones ran six times for 29 yards on 3rd down, picking up four 1st downs, meaning he was responsible for nine of Ohio State's 10 conversions on the evening. Not bad for a kid making his 2nd career start in a game of that magnitude against a Total Defense ranked 11th in the nation. 
saluting a senior
I hate to single out just one senior when guys like Mike Bennett and Jeff Heuerman and others give so much leadership and/or production to this team but after last night, Evan Spencer deserves a special mention. 
Trailing 21-13 late in the 1st half, the wide receiver was the centerpiece of a trick play as he took the ball on what looked like a reverse only to stop and toss a 13-yard touchdown pass to Michael Thomas cutting Bama's lead to 21-20 causing a tidal shift in momentum. 
The trickery capped a six play, 77 yard drive that left just :12 on the clock and put a cherry on top of a two touchdown barrage over the final three minutes to get the collective ass of Bama Nation puckering. 
Later, with Ohio State clinging to a 34-28 lead from its own 15 yard line, Spencer sprung Elliott's 85-yard touchdown run that sealed the deal with a textbook block on freshman linebacker Shaun Dion Hamilton. The block created all the gap EZE needed to give OSU a two touchdown lead with 3:24 left. 
After an Amari Cooper touchdown cut the lead to 42-35 with 1:59 left, Saban tried an onside kick and Spencer was ready as he high-pointed the football and snatched the ball out of the air with Bama defenders converging. 
The play was a little lost in the aftermath thanks to Meyer's noted crazy decision to throw the bomb and stop the clock on 1st down ultimately giving Bama another possession with more time than they deserved but the significance of the play should not be overlooked. 
Spencer's receiving numbers will never jump off the page but make no mistake that his contributions have been of major significance. 
THE BULLETS ARE BACK
After the Buckeye defense rocked Wisconsin in the B1G championship game, I was pretty sure the Silver Bullets were back but I admittedly still had concerns based on Alabama featuring a more balanced attack than Bucky and remained curious as to how they would back up the amazing performance in Indy.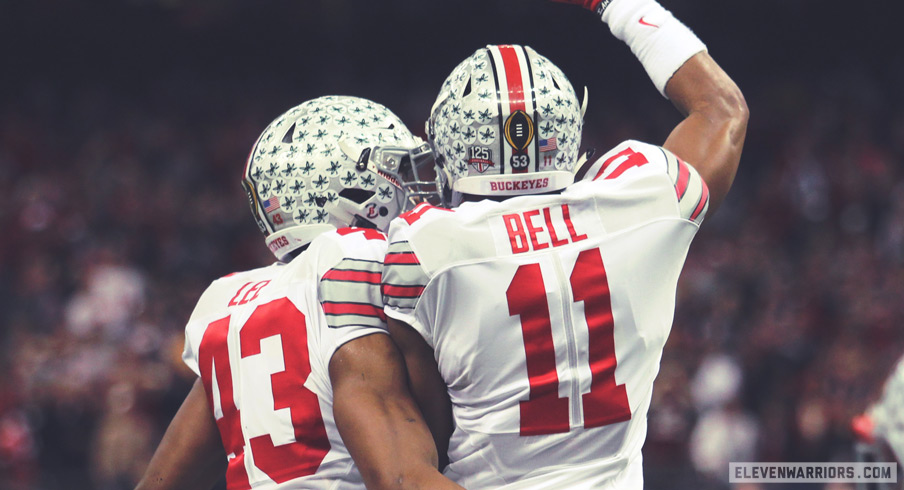 The way they went about their business in the 1st half versus the 2nd proved a little different but in the end, the Bullets held Alabama 83 yards below their average total yardage (407 vs. 490) and straight up owned 3rd down stopping the Tide on 11 of 13 opportunities. That 15% conversion rate on 3rd down was Alabama's lowest of the season for a team ranked 2nd nationally with a 54% conversion rate. Even better, the Buckeyes yielded just 20 total yards on the critical down with two interceptions including a pick six. 
In the 1st half, Ohio State forced 3-and-outs on four of seven possessions, held Bama to 1/6 on 3rd down, gave up just eight 1st downs and 139 total yards while largely holding Cooper in check (6/39, TD). 
In the 2nd half, the Bullets intercepted Blake Sims three times and all of them were huge. The first was Steve Miller's pick six that put OSU in front 34-28 late in the 3rd quarter. The second came as Vonn Bell thwarted a Bama possession starting at the OSU 23 yard line with a pick at the eight yard line to preserve the six point lead. The last came on the final play of the game as Tyvis Powell denied Sims' effort to tie the game. 
Darron Lee, that's redshirt freshman Darron Lee, continued his development into Ohio State's next all-american linebacker with a seven tackle, three TFL, two sack performance to earn defensive MVP honors while Vonn Bell, that's true sophomore Vonn Bell, Ohio State's next all-american safety, chipped in eight stops and the noted interception. 
On the day, the Bucks racked up three sacks against a team who had given up just 13 all season (8th best nationally) to go along with those three interceptions. 
AUSSIE IS BOSSY
Make no mistake, Alabama punter JK Scott is a bad ass and he was Bama's biggest weapon last night as he boomed seven punts for a 55 yard average with five of those landing inside the OSU 20 yard line. 
But, also make no mistake, Ohio State's punter, Cameron Johnston, is also a weapon and his effort last night should not be lost in Scott's shadow. 
The sophomore from down under punted six times for a 46.5 yard average with three kicks of 50+ yards and two dropping inside the Bama 20 yard line. 
His first boot came with OSU trailing 14-6 and backed up to its own 14 yard line and went for 57 yards. Uncharacteristically, the kick was returnable but still came out with a net 47 yards to flip the field to Alabama's 39. The Tide would go 3-and-out. 
Johnston's second try came with Ohio State protecting a 27-21 lead in the 3rd quarter and was his best effort of the night as he uncorked a 60 yarder pinning Alabama at their own one yard line. Six plays later, Miller went all pick six and it was 34-21 good guys. 
His third put came on the second play of the 4th quarter and went for 47 yards with no return to flip the field from the OSU 27 to the Bama 26. The Tide would punt seven plays later still trailing 34-28. 
Johnston's next punt was shank city, a 21-yard brick that gave Alabama the ball at the Buckeye 23 but Bell rescued his teammates with an interception inside the 10 yard line to preserve the six point lead. 
With the Buckeye offense specializing in 3-and-outs at that point and backed up to its own 4, Johnston was called upon again and blasted a 51-yarder to at least push Bama to their side of the field at the 45 yard line. The would punt six plays later. 
Finally, with less than two minutes to play and OSU facing 4th and 20 at its own 39 but leading 42-35, Johnston dropped an unreturnable 43-yarder to the Bama 18. Powell picked off Sims seven plays later to set off a wild celebration in the Super Dome.