J.T. Barrett's been in this situation before. He didn't like it, because it didn't provide him with all the snaps at quarterback for Rider High School in Wichita Falls, Texas.
He was in the situation again (in a somewhat lesser capacity) during his redshirt freshman season at Ohio State, pitted against Cardale Jones for the right to backup Braxton Miller at quarterback in 2014. He won that battle, eventually thrust into the spotlight once Miller's throwing shoulder failed him again 12 days before the season opener against Navy.
"The offense moves better when he's in there," former quarterbacks coach Tom Herman said of Barrett, even before Miller's injury. "You can throw all the completion percentages – he's probably completing more balls and making more of the right reads in the run game."
That's not a knock on Jones, it was just fact at that time. Jones has since changed his tune, led Ohio State to its three biggest wins under Urban Meyer to date and is working to make his own case to be named starting quarterback.
This is about Barrett, though. This is about the first quarterback Herman and Meyer went after once they signed their Ohio State contracts prior to the 2012 season. This is about the guy who endured all the pressure, all the scrutiny of losing a game, all the expectations to be just like Miller in Ohio State's offense, then went on to break some of his program records, in addition to setting a new Big Ten record with 45 total touchdowns in a season.
"I thought Kenny Guiton was one of the best I've been around as far as getting the ball out rather quickly and distributing to playmakers and letting them make plays," Meyer said Aug. 20, 2014, the first day he addressed the media after Miller's injury. "That's what … my initial evaluation of J.T., he's very good at that."
Oh, and by the way, Barrett set all those records in fewer than 12 games.
Barrett suffered a broken ankle on the first play of the fourth quarter of Ohio State's annual battle with archrival Michigan. It was a very rare misread of an option play by the quarterback, followed by a pile up of Michigan defenders and his own offensive linemen that did him in.
Barrett didn't yell though, he didn't scream, nor did he even cry. He just took it in stride and told his teammates to go win the game without him, before coming out of the tunnel to sit in the stands and watch the remainder of the fourth quarter with his ankle heavily wrapped in a padded air cast.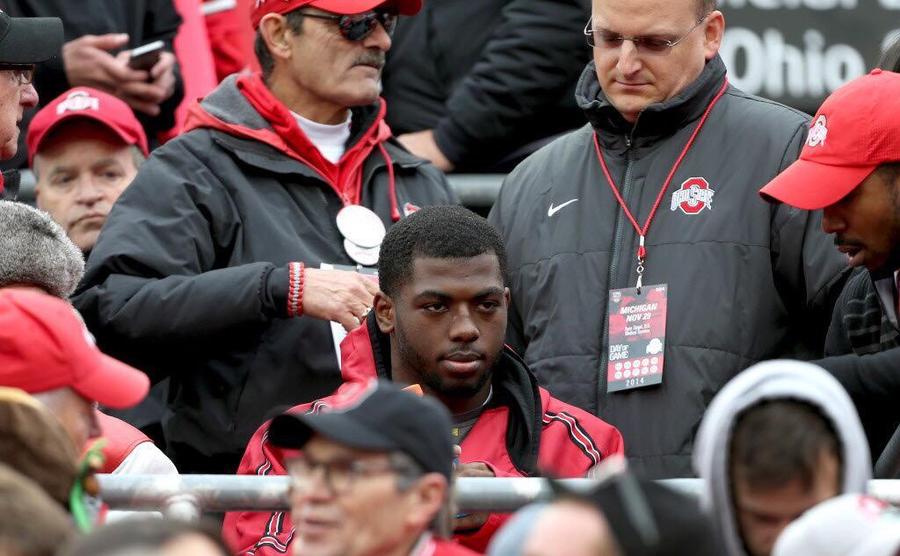 "I wasn't in that tremendous, horrible pain and I wanted to see the end of the game," Barrett said in December, after undergoing surgery on his ankle. "Even if I was in some crazy horrible pain I was still going to watch the end of the game so it wasn't that big of a deal I didn't think.
"I just wanted to watch the end of the game. I see everybody turn around, take their phones out start taking pictures and I was just like, 'Man you know the game is still on?' But everybody just started turning around and then people started to walk by and give me high-five or talk to me or whatever but I didn't think it was, it wasn't that serious I didn't think. I was just trying to watch the game like they were watching the game, but it was cool."
It was cool. It wasn't that big of a deal. It wasn't that serious I didn't think. How many college-aged kids think that way?
That is Joe Thomas Barrett IV in a nutshell. Cool, calm, chill, simple — whatever primitive term you use likely describes his approach to life and the game of football, except that he is also a fierce competitor and the only man to be named to the Ohio State Leadership Committee as a true freshman in Meyer's career.
It all adds up to one of the best seasons a quarterback has ever put forth in Meyer's offense: 203-for-314 passing (or 64.6 percent, a school record for career completion percentage), 2,834 yards passing,  34 touchdown passes (school record), 171 rushes for 938 yards, 11 rushing touchdowns, 3,772 total yards (school record), 45 total touchdowns (Big Ten and school record), 236.2 yards passing per game (school record), seven games with at least 300 total yards (school record) and one with 400 total yards (ties school record), 189 yards rushing at Minnesota (school record) in addition to his 86-yard score through the snow, breaking Miller's old mark of 81 yards.
You get the drift. Barrett had one of the best single seasons in school history in 2014, and his evisceration of Michigan State hasn't even been mentioned.
The Buckeyes sauntered into Spartan Stadium on a chilly night Nov. 8, set to tee off with the team who sat atop the Big Ten in what ended up being a de-facto conference championship game.
For lack of a better word, Barrett was magnificent that night. He finished 16-for-26 with 300 yards, three touchdowns and no interceptions, while also gaining an efficient 86 yards on 14 carries for two more scores. Let's not forget the 43-yard strike he delivered beautifully to speedster Devin Smith on 3rd-and-23 from his own territory at the start of the second quarter and Ohio State trailing 14-7, either.
Or, the 44-yard bomb he tossed to Smith with less than a minute to play in the first half that gave Ohio State a 28-21 lead it wouldn't relinquish and more importantly the momentum heading into the locker room.
Ohio State trailed at three separate times in that game, on the road, under the lights against a top-10 team and one of the nation's top defense, yet Barrett kept coming. He kept leading his troops back into the fire, with only one thing on his and their minds: Win the damn game.
"Last year, they got us in the Big Ten Championship. That was really what we rallied around in the offseason," he said that night. "This is what we talked about, being that we were going to see them again in East Lansing and we were going to make sure that we took advantage of the opportunity."
Ohio State did that, and never looked back on the way to a storybook season. Barrett eventually finished fifth in the Heisman Trophy race, and though he didn't earn an invitation to the ceremony in New York, he put the nation on watch as just a redshirt freshman.
"I don't know if my endorsement matters, but I do statistically — been fortunate to coach some guys that have been in New York — and he's a Heisman candidate," Meyer said Nov. 17, two days after Barrett's 189-yard rushing day in Minneapolis. "J.T. is a Heisman candidate that knows that he could have played much better Saturday."
That's what separates Barrett — he's never satisfied with where he's at. The same could certainly be said about Jones or any other member of Ohio State's team. But remember, it was the rehabbing quarterback, who, instead of getting upset that he didn't make the trip to Hollywood and the ESPY Awards, played it cool and did what he always does: Worked.
Lol Mrs. Apple, let's just relax, there's no need to be upset I'm not, thank you though, just know I'm working https://t.co/PzkMzu3Hgl

— Jt Barrett (@JT_theQB4th) July 14, 2015
Barrett got better as the season wore on, becoming more comfortable in the offense led by then-quarterbacks coach and offensive coordinator Tom Herman. He yearned to be better for the sake of his team, led by example and kept it moving forward throughout practice.
"It's practice man, I wasn't really a practice player. I guess I didn't appreciate it as much. I did practice hard but just knowing that practice, practice, practice — then you get to the game and things become so much easier and you have that confidence to go out there and play, make the plays," Barrett said after the Michigan State win. "Because you've seen it so many times in practice. You think there's something else I'm trying to tell you, it's practice."
It seems so simple, yet is so effective. That's also what makes Barrett's game great, whether it be in the read-option game, his sneaky good ability as a runner, laser sharp accuracy or since-improved deep ball. It's hard to find a hole.
Barrett pushed through a second-degree MCL sprain to score the decisive overtime touchdowns at Penn State in 2014 — "He looked at me in the eyes and said, 'I'm not coming out of the game'" Meyer said at Big Ten Media Days in July. That takes guts, determination and a love for your teammates so fulfilling you would do anything not to let them down.
Though Jones possesses a bigger arm than Barrett for throwing the ball down the field, the loss of Smith on the outside is sure to hurt him. Yes, Ohio State has speed to burn that will help fill the void, but the remember the offense also took a leap forward in the postseason due to there being so little film on him. Defenses didn't know what they were in for, and Jones thrived.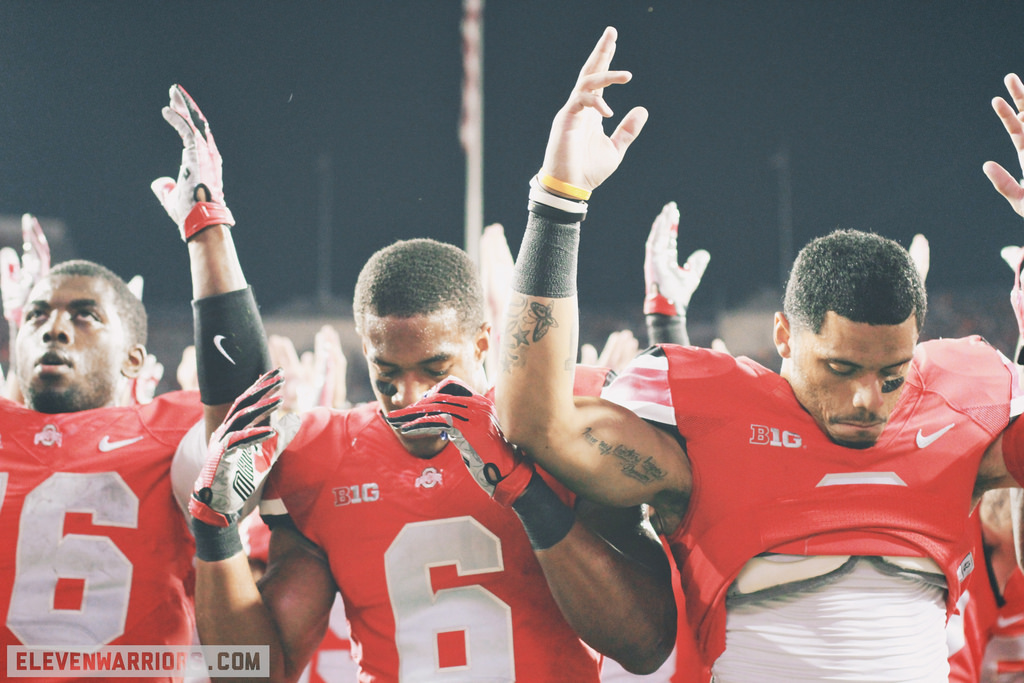 Barrett provides more threat to defenses, is quicker than Jones and a more accurate passer. He makes better decisions with the ball in hands, which is why Herman's quote about the offense moving more efficiently when he's in still is pertinent.
Jones led Ohio State to the promised land against their toughest competition last season. Barrett, though, put the Buckeyes in position to have that opportunity with Jones calling the shots by rising from the ashes of the dumpster fire that was their performance against Virginia Tech.
His statistics, leadership skills and simplistic, yet effective way to man the offense is hard to look away from if you're the coaching staff.
It's only for our imagination to consider what he would have done hadn't he gotten hurt.
Who's to say he shouldn't get that chance in 2015?