Ever since Ed Warinner's been at Ohio State, Urban Meyer and the other members of the Buckeye coaching staff haven't really had to worry about his work.
OK, that's not entirely true. Meyer worries about everything — and gets paid a handsome salary to do so — and the amount of turnover Warinner's handled in his now three-year tenure as the leader of Ohio State's offensive line, or "The Slobs," is initially worrisome for anyone.
One of those times was prior to the 2014 season, when Warinner was tasked with replacing four starters up front after the departures of Corey Linsley, Jack Mewhort, Andrew Norwell and Marcus Hall. Three of those guys started for NFL playoff teams last winter, by the way.
It was a tall task, but Warinner had the confidence of his cohorts.
"It's a big concern," former offensive coordinator Tom Herman said in April 2014 of the line. "I'd be a lot more concerned if I didn't believe that the talent was there and I didn't believe in Ed Warinner."
The talent was there, and after a few speed bumps to open the season, the big boys assisted Ezekiel Elliott and the rest of the offense in shredding defenses late in the 2014.
Maybe that's why fans shouldn't hold any worry about the Buckeye offense now with Herman gone and Warinner in to replace him and call plays. His track record is a direct representation that he'll be successful in whatever he does.
"My job is to make sure we continue to operate at a high level and then to enhance the offense as we move forward," Warinner said this spring. "So I'm not going to try to do anything other than continue to carry the banner of execution."
Though Meyer's offense is of the spread variety, it always will be first and foremost a power rushing attack. Once Cardale Jones took over for an injured J.T. Barrett last December at starting quarterback, that principle shined through more than ever.
Elliott ran for 696 yards and eight touchdowns in the postseason as the line improved each game. Ohio State still threw the ball (primarily down the field), but kept feeding the beast that was Elliott to win the national title.
With Herman gone, Warinner's reiterated often that there won't be any changes with Ohio State's offensive philosophy.
One thing that is already set to be different, though, is the location of the man calling the plays during games. Herman did that in the press box. Meyer intends to have Warinner stay on the sideline to fulfill his duties as offensive line coach.
"You take that one out now, you've got a problem," Meyer said.
The idea makes sense on paper, but Warinner's still (obviously) going to have more responsibility.
"I still focus on the offensive line when we're split apart, but when we come together as a big picture and in meetings it's a little bit different," Warinner said Aug. 12. "Just organization and management of the staff and how to distribute jobs.
"I don't want to pit one against the other, but the thing that Ed brings is his organizational skills are a perfect 10. Most organized guy I've ever been around."– Urban Meyer
"But there's a real big decision to be made down the road so I gotta kind of keep an eye on that, too."
Ohio State's quarterback battle is naturally what Warinner was alluding to, but even with the added responsibility of watching it, the new offensive coordinator has the trust of Meyer.
"He's a very good manager," Meyer said Sunday at Ohio State Media Day. "One of his strengths obviously he's a heck of a coach, but he's an organizer, but it's not this guy does this and all those other guys below, it's a team concept and he's done very good."
Meyer, Warinner and Herman all bounced ideas off each other throughout the course of three seasons, which finally culminated with a Big Ten and national championship in 2014. Herman called the plays, but not without the input of the other two. The same plan is in place now with Warinner in the driver's seat and Tim Beck at quarterbacks coach.
"It's really not, it's not a dictatorship," Meyer said. "It's never been that way."
"I'm not going to steer this thing in a different direction, I'm going to steer it down the path that he wants which has been a real successful path and my thing is, I guess my deal is always like perfection and toughness will be the two things that I've always harped on and will continue to do that," Warinner added.
Warinner and Beck had great success in 2007 at Kansas, instrumental parts of a coaching staff that led the Jayhawks to a 12-1 season and Orange Bowl victory. That was Warinner's first season as offensive coordinator. Kansas averaged 291.0 passing yards per game.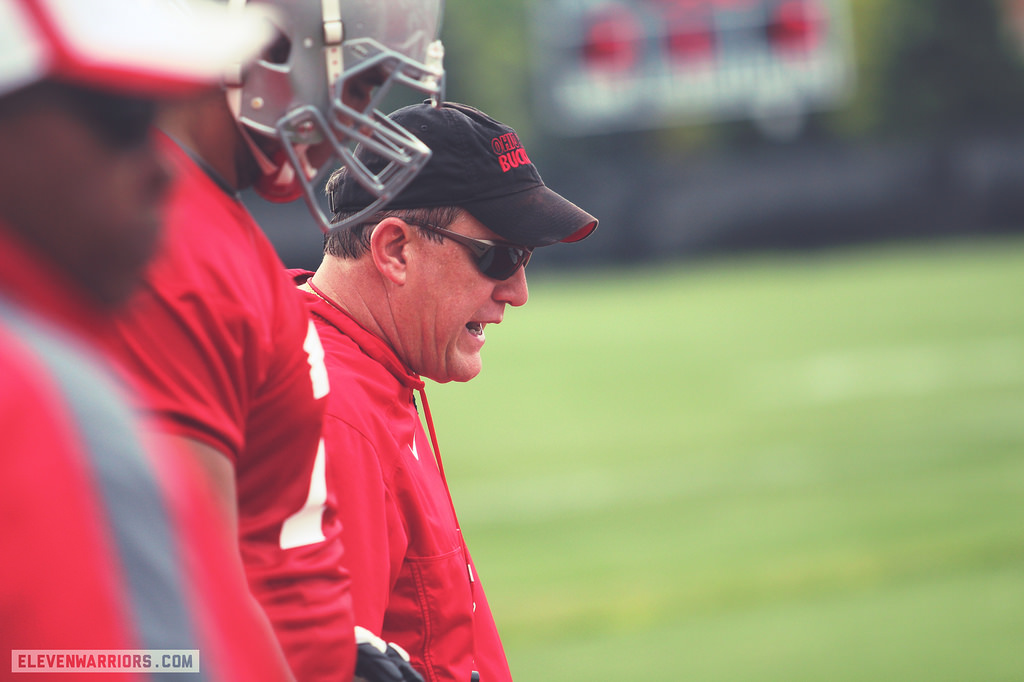 He didn't have the horses to work with at tailback like he does now with Elliott and others, proving how his mind works: Whatever is the best way to gain yards with the personnel available, he's going to lean that way.
"I'm not seeing anything I haven't seen," Warinner said. "We're driven to try and be really good and demanding and get this team ready to have a good season."
Elliott is primed for another big year, finally with the chance to use both hands effectively after offseason wrist surgery. Ohio State's offensive line is setting up already as one of the best in country — under Warinner's watchful eye — and the Buckeyes have more than enough playmakers get the ball to on the outside.
Because he's an offensive line coach Ohio State could become more run-oriented like they were in the postseason, but Meyer has been very blunt when prompted with the question of if an how the offense will change now with Warinner calling the shots.
"Not at all," he said.
Herman and Warinner are different in their own ways and how they go about their business, but Ohio State's head coach couldn't be more positive about the offense staying consistent.
​"I don't want to pit one against the other, but the thing that Ed brings is his organizational skills are a perfect 10. Most organized guy I've ever been around," Meyer said. "He's also grasped, a lot of times his line guys get pigeon-holed as just a line guy, or I'm just a quarterback guy.
"Tom Herman had a very good knowledge, Dan Mullen was excellent at that as well. The entire run, pass, I'm not just a throw guy and you handle the run. Ed Warinner's not that way at all. He was a quarterback in college, he coached quarterbacks at Kansas and Army and he's an excellent line coach. So we're very well-versed on balanced offense."