With the slaying of another in-state foe, it's time to turn our gaze to conference play. Normally the Buckeyes would be traveling to a familiar stadium, but in this the age of conference expansion, Saturday will be decidedly unfamiliar for Ohio State. The Buckeyes hope to welcome Maryland to the B1G with a good old fashioned whoopin' but standing in their way will be the most athletic defense the offense has seen in 2014. To break it all down I've tabbed Michael, DJ and Ross. GET IT ON.
Give me your thoughts immediately following the Cincy game.
Michael: I loved the offense, obviously, and the toughness and power that Ezekiel Elliott ran with. It was great to see J.T. Barrett continue his maturation process. He's only four games into his career and there is just so much to be excited about with him. I even liked the defense, those three plays aside, and I'll live with Vonn Bell's error on the first touchdown, because his positioning was perfect. He just needs to locate the ball and Chris Moore made a great play to take it off his helmet. There wasn't much to not like, aside from the continued dropped passes by the receivers.  
DJ: The thing I liked most was Ezekiel Elliott finally having himself a game. There have always been flashes, but we haven't had a bell-cow game from him, until Cincinnati. I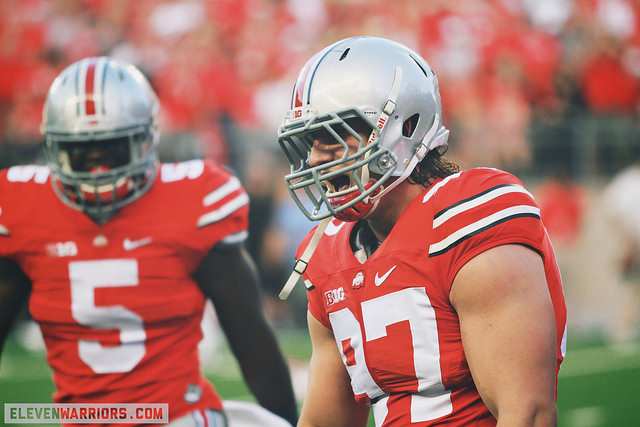 questioned if Curtis Samuel is better — and he might still be — but it was nice to see Elliott put the offense on his back at times.
I wasn't a fan of some of the ball-skills displayed by the secondary at times. I guess that's to be expected, however, as Ohio State is in the process of radically altering their scheme from the last two years.
Ross: My article this week has my thoughts in more detail. But in short I liked the way the coaching staff has adjusted to the Bear defense, the cohesiveness of the inside/outside approach, the offensive line technical soundness, Ezekiel Elliot's running, and the defense outside of 3 plays. What I didn't like was the individual breakdowns on those three plays.  
When it comes to the secondary do you believe the company line about 2-3 bad plays that need to be ironed out? 
DJ: I buy the company line, because Urban Meyer knows how to recruit talented assistants. There's literally no reason not to trust him.
Ross: Again, I hashed this out in pretty extensive detail. But if its the "company line" I suppose I am singing from the same hymnal. The stats tell the tale. The defense was very solid against a good passing attack other then those big plays. And those big plays did not result from coverage breakdowns or schematic issues. Instead, they involved good calls/plays by the Bearcats and individual mistakes. Individual mistakes can be fixed.
Michael: I actually agree that they only made a few of mistakes and all are correctable. Bell needs to locate the ball better, Apple will learn not to bite hard on a double move, and Doran Grant will be coached up on not peeking into the backfield and losing his man. Joey Bosa also created a problem on a long Gunner Kiel run by not setting the edge. Overall, I like where the defense is headed.
Has the offensive line officially jelled after the Va Tech debacle?
Ross: You can't discount the level of competition, but the technical performance is much improved. By that I mean the line is working together and is not having assignment breakdowns. Navy's defensive front was not stellar either, but the line had difficulty picking up stunts and blitzes. Those problems weren't apparent Saturday. I still have concern about how center Jacoby Boren and guard Billy Price will handle better competition, but I don't expect the same sort of wholesale breakdowns we saw early. 
Michael: That's hard to say. I did like the way they fired off the ball and moved guys, but Cincinnati's defense is a dumpster fire, so it's not a true barometer. We'll know more after the Maryland game.
DJ: I think it's a little bit of both, but from my simple understanding, mere confidence can go a long way with the offensive line. The good news is the performances can only improve from the debacle against Virginia Tech.
Give me your state of the B1G conference thus far.
Michael: The conference doesn't seem notably different from last year, much to my chagrin. There are some good teams, a lot of mediocre ones, and a few real disasters. I was pretty shocked that Northwestern beat Penn State on the road after the Wildcats looked like hot garbage through the first few weeks. And I know I probably shouldn't be surprised by how bad Michigan is, but I am. They are…not good, and the coaching staff may have lost the locker room completely.
DJ: The Big Ten is awful, and honestly it pains me to associate with the conference, even if through fandom. The Big Ten had it's chance, and Ohio State, Michigan, and Michigan State all got waxed. Pardon me if I don't care about Indiana beating Missouri.
Ross: Although it has certainly not been a banner September for the Big Ten, the conference contenders are largely who people expected (MSU, OSU, Wisconsin, Nebraska). The biggest surprise has to be how bad Michigan has been. I suppose a pleasant surprise is that Rutgers and Maryland have played solid football thus far.
OSU's secondary vs. Maryland's receivers. Discuss.
DJ: I think Stefon Diggs will get busy, because that dude is the truth. I just don't think he'll be able to outgun the Ohio State offense. It'd take a performance greater than Sammy Waktins' Orange Bowl clinic, and I like this year's defense a lot better than last year's.
Ross: I do not believe that OSU will give up so many big plays. I do expect Maryland to gain some yards and score some points. But I believe you will continue to see gradual improvement from the Buckeye back seven.  
Michael: Maryland's wide receivers are on par with Cincinnati's. Actually, their best three might be slightly better than what the Bearcats have, but I think Cincy has a deeper corps. They may hit a big play or two, but if Ohio State cleans up the errors it made last week, the Buckeyes should be OK. Communication will be important, as will the defensive line getting more pressure on the quarterback. That aspect hasn't been consistent enough for me and the absence of Noah Spence has been a problem. It might be time to unleash Jalyn Holmes, who looks dynamic off the edge.
Michael Thomas has officially supplanted senior, Devin Smith, on the depth chart...your thoughts?
Ross: A total non-story. Ohio State plays two groups at the three wide receiver positions (six players). The first and second group play the same amount. Smith and Thomas also bring different skill sets to the table. Other than a critical drop Smith had one of his best games last Saturday. The depth chart is more about the coaches sending some type of message. 
Michael: Meh. It's nice for Michael Thomas, but ultimately doesn't mean much. Tom Herman was liberally substituting receiver groups all night against the Bearcats. That will likely continue. Who takes the first snap might be a nice ego stroke for someone, but the playing time will not change much, if at all.
DJ: About damn time. Look, I like Devin Smith, I just think he's a limited player. You know what you have in him, and that's fine because he's not a scrub. Michael Thomas is the much more polished receiver, and offers a lot more. Frankly, I'm a little perplexed Evan Spencer has held onto his spot as well, but I guess that shows you how much Urban Meyer values wideouts willing to block.
Beyond Stefon Diggs, who will be the player to watch for the Terrapins this Saturday?
Michael: C.J. Brown, if he is healthy, he can create problems running the football, and he can sling it a bit too. Diggs' fellow receivers Marcus Leak and Deon Long are also pretty good. Brandon Ross can run or catch the ball out of the backfield equally well. Defensive back William Likely out of Belle Glade, Fla., has three interceptions already this year and is tied for the team lead in solo tackles, with 30.
DJ: Cole Farrand. He posted 19 tackles last week, and I always enjoy whirling dervish-like linebackers. Hopefully Ohio State can use his aggressiveness against him.
Ross: CJ Brown -- assuming he plays. He is Maryland's primary rushing threat. As Kyle previewed yesterday, the Terrapins struggle running the football without him.  
Will there be a QB controversy in 2015?
DJ: It depends on who the offensive coordinator is, and what kind of system he wants. Braxton Miller is ridiculous, but I really, really like what I've seen from J.T. Barrett. So honestly, I have no clue. It will be a great problem to have, however.
Ross: This is an even sillier debate then the Smith-Thomas starting situation. Braxton Miller is a two-time Big Ten MVP and the pre-season Heisman favorite next year if healthy. If Miller plays against Virginia Tech OSU wins by multiple scores. 
That is not to take anything away from Barrett, who has played well. But Barrett still misses open receivers, is sometimes too quick to run, and his stats have been padded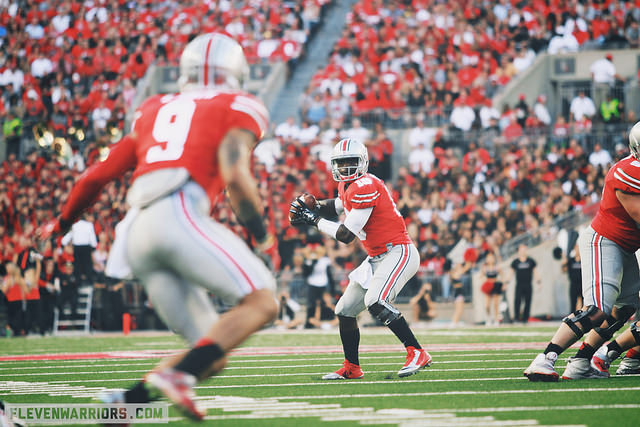 by OSU's extensive use of touch passes as fancy jet sweeps. OSU should be very excited about Barrett's development and his future with the Buckeyes. But you don't sit perhaps the most explosive player in college football.
Michael: It's up to J.T. Barrett to make that decision tougher when next season rolls around and so far he doesn't look like he's going to make it easy on Meyer. We don't even know if Miller will be recovered sufficiently to be able to play the position. I envision both playing next year, provided the surgery fixes Braxton's shoulder.
Give me your final score prediction
Ross: This is a tough one to gauge.  Maryland may be OSU's second toughest regular season game after Michigan State. That being said, I see OSU pulling away 35-21. 
Michael: Ohio State 38, Maryland 24, and the time is right for a defensive or special teams touchdown for Ohio State.
DJ: Ohio State 37 Maryland 24. Close game throughout but I think Ohio State extinguishes them in the end.
Is this Michigan's bottom, or will it only get worse?
Michael: Every time I think they can't fall any lower, they somehow find a way. You have to admire that. It will get worse in that I no longer expect them to become bowl eligible this season. In fact, if Michigan loses to Rutgers, it's not out of the realm of possibility that they don't win another game this season. The Wolverines don't get to play Purdue or Illinois. After the trip to Rutgers, they have Penn State, Indiana and Maryland at home, and Michigan State, Northwestern and Ohio State on the road. Indiana might be their best bet, but the Hoosiers won at Missouri, so who knows?
DJ: Can they get worse? Or just continue to dwell at rock bottom? I'm not sure, and while I don't like giving Michigan good advice, I will say Dave Brandon must be fired. Look at Domino's stock post-Dave Brandon. It's truly that simple, and if they don't get rid of him, I suspect 1) elite coaches won't come and 2) the next coach will flounder as well. Look at Rich Rod: the guy has won everywhere except Michigan. Makes ya think, huh? #KermitTeadotJPEG
Ross: It would be hard to get worse. Not only have they been putrid offensively, but the Shane Morris concussion controversy has added insult to injury. I do not think it will get better until Dave Brandon and Brady Hoke are let go. But Hoke has recruited well and I think a good coach would have the chance to make the Wolverines competent fairly quickly.