While the Ohio State offense grapples with finding new starters, the Buckeye defense is implementing an entirely new scheme under new co-coordinator Chris Ash. The installation began this spring, but must intensify and become more complex this August.
Below I examine five schematic questions Ash and his fellow defensive coaches will try to answer.
How is the Cover 4?

It is by now no secret that Ash's primary change is basing the defense from cover 4. Cover 4's benefit is its versatility.
With two safeties sitting at ten yards, the defense can defend four vertical routes. But if the safeties see the inside receiver block, they can come downhill against the run, providing the defense a nine-man front.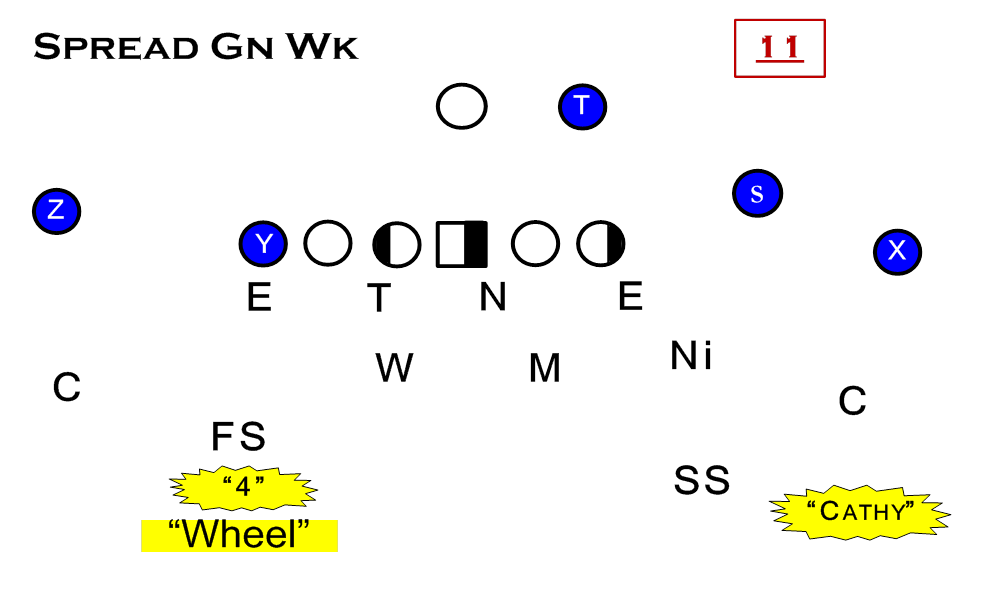 Cover 4's popularity has grown in response to spread-to-run offenses. The multi-faceted play by the safeties provides the defense a method to meet multiple wide receivers and the quarterback as run threat.
But the Ohio State defense tried to utilize cover 4 in Meyer's first season, with minimal success. The primary measure of how successful the Buckeyes defense will be this season is how quickly and smoothly the players grasp Ash's cover 4 scheme.  
So we know you Press – What else you got?

The most talked-about feature of Ash's cover 4 scheme is press corner coverage. Ash deploys press techniques to limit and identify routes available to the offense and contest easy throws.
But press coverage is a technique, not a coverage. And like any other technique, it has its limits. In Spring, the Buckeyes emphasized cover 4 press coverage since it is new and requires repetition. But Ash must now install the remainder of his defense.
For instance, against pro 21 personnel (2 WR, 2 RB, 1 TE), Ash generally eschews cover 4. He switches to a middle of the field single-high safety look such as cover 1 robber, bringing the other safety down to create an eight man front. 
The Buckeyes must utilize preseason camp to implement – and more importantly understand – all necessary coverages. 
How Ya Blitz?

Another aspect that must be established this fall is the Ohio State blitz package. Again, much of spring practice was spent repping Ash's press cover 4. So it remains to be seen how frequently the new-look Buckeye defense deploys blitz packages.
Ash has discussed using fire zone blitzes to stymie the zone read. And at prior stops his defenses feature a variety of man and zone pressures. Ash likes his defense to cycle between both looks to create quarterback uncertainty.
With zone blitzes, Ash will generally deploy a three deep, three under coverage behind the blitz. But he will also zone blitz with cover 2. 
For instance, an Ash favorite is also a staple of Pat Narduzzi's 4-3, cover 4 Michigan State defense – the double A gap blitz. The Mike and Will cross into the opposite A gap. The weakside defensive end drops into flat coverage. (H/T: Blitzology).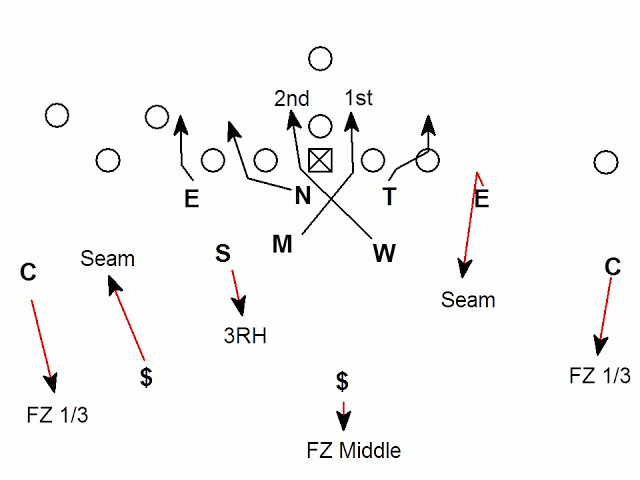 Behind the blitz, the free safety drops into the underneath hole as a robber, with three deep defenders. The goal is to create a 2 v. 1 matchup with the center and get immediate pressure in the quarterback's face. Then, if the quarterback tries to throw hot over the middle the robber is waiting.
Fall will provide a better sample of how frequently Ash intends to mix man and zone blitzes.
How Much Nickel?

Another pressing matter is how frequently the Buckeyes utilize a nickel defender. In recent years, Ohio State utilized a hybrid nickel defender whenever an offense presented 11 personnel (1 RB, 1 TE, 3 WR). In practice, that meant that the Buckeyes played nickel defense far more frequently then their base alignment. 
Under Ash, the linebacker responsibilities have flipped. The Sam linebacker – currently a competition between Darron Lee and Chris Worley – functions as a hybrid player.
Against spread offenses, Ash aligns his defense's strength to the multi-receiver side. This results in the Sam linebacker walking out over the slot defender and the Will linebacker – Josh Perry, aligns toward the tight end.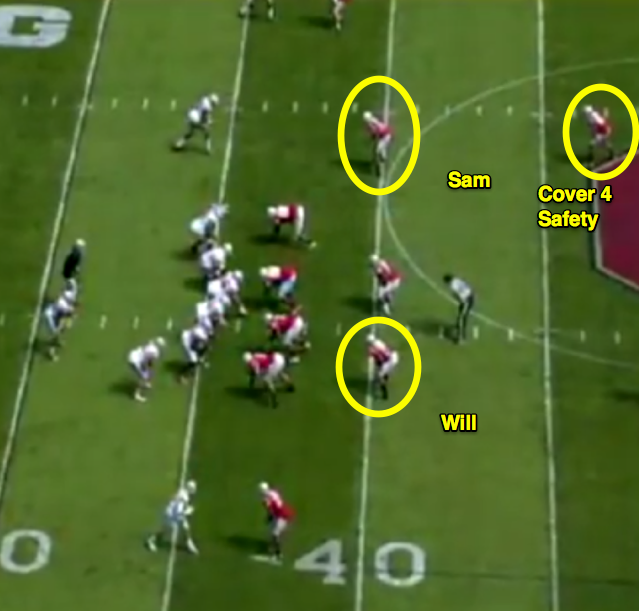 The nickel, meanwhile, will be a third corner. As such, it is likely that Ohio State will play nickel far less frequently. But it remains to be seen in what situations Ash utilizes nickel.
How Much Rotation Up-Front?
If there is one position group the Buckeye coaching staff does not have to worry about, it is defensive line. Ohio State may have the best starting defensive line in the country. And they have depth.
The only outstanding issue is who plays. Under Mike Vrabel, the defensive line rotated far less than in previous seasons. New defensive line coach Larry Johnson has made it a point of emphasis to rotate more frequently to keep his defenders fresh. But how frequently such rotation takes place – and how many linemen play consistent minutes – remains to be seen.
In sum, fall practice is critical for the Buckeye defense to fully implement Ash's new defense. But at least the Ohio State defense will have a identity and consistent scheme for its defenders to buy into – putting the Buckeye defense ahead of where it was last season.