Urban Meyer is from Toledo, Ohio, and grew up in Ashtabula, as we all know. He went to college in Cincinnati. He is the head coach of the Buckeye state's signature college football team.
If anyone knows anything about football in Ohio, it's Meyer.
So how have the Ohioans in his first two recruiting classes fared against those not blessed enough to be from the nation's greatest state?
To review, here are the two subsets we're discussing. Which team would you take between these groups?
Ohio: Warren Ball, De'van Bogard, Jacoby Boren, Taylor Decker, Kyle Dodson, Bri'onte Dunn, Pat Elflein, Frank Epitropoulos, Cardale Jones, Najee Murray, Se'von Pittman, Tyvis Powell, Luke Roberts, Blake Thomas, Adolphus Washington, Cameron Burrows, Gareon Conley, Darron Lee, Evan Lisle, Jalin Marshall, Donovan Munger, Josh Perry, Billy Price, Corey Smith, Tracy Sprinkle, Jayme Thompson, Christopher Worley.
Not Ohio: Jamal Marcus, Joey O'Connor, David Perkins, Armani Reeves, Tommy Schutt, Ricquan Southward, Noah Spence, Michael Thomas, Camren Williams, Eli Apple, J.T. Barrett, Marcus Baugh, Vonn Bell, Joey Bosa, James Clark, Ezekiel Elliott, Tim Gardner, Michael Hill, Trey Johnson, Cameron Johnston, Tyquan Lewis, Mike Mitchell, Dontre Wilson.
It's kind of a trick question, because first we have to toss out all the guys who left the program.
From the Ohio team, that means Murray, who shuffled off to Kent State; Pittman, who left for Akron); Roberts, who got all academic and transferred to Harvard; and Thompson, who left for JUCO ball at Iowa Western Community College. That leaves 23 Ohioans from Urban's first two classes.
The non-Ohioans lose the recently departed Marcus, O'Connor (Colorado State), Perkins, who tackled Brutus then got in trouble in Bowling Green and is now at Illinois State, Southward (the moon? Seriously, where is that guy? After a year at Arizona Western the last news I found was an unofficial visit to Arizona in April.), Tim Gardner (Indiana), and Mike Mitchell (Texas Tech). It only leaves 17, but we can bump that up to 19 with the transfers of Jeff Greene and Chad Lindsay into the program.
Then again, Team Ohio gets a boost from Rashad Frazier.
Numbers are one thing, but you're probably more interested in performance, so let's take a look at that.
The Ohioans have easily been paced by the play of Washington, Decker, Powell and Perry thus far. Decker overcame a rough opener against Buffalo last season to play solidly at right tackle on one of Ohio State's best offensive lines ever. Washington posted 45 tackles, 7.5 tackles for loss and five sacks in two seasons, with one forced fumble (against Michigan) and a blocked kick. Perry became a starter in 2013 after spot duty (and five tackles) in 2012. He finished fourth in tackles (64) with two TFLs and a sack a year ago.
Ball, Dunn and Elflein have been a solid second tier of contributors who figure to become more important in 2014. The rest haven't done much so far, although Lee is on the verge of becoming an important cog in the OSU defense. Dodson, Price and Lisle should make the two-deep on offensive line. Worley, Conley and Burrows could make an impact on defense.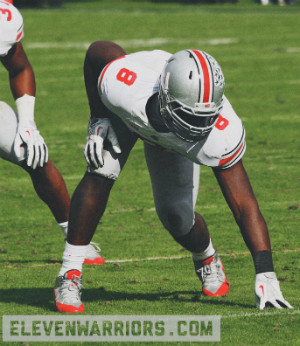 Despite a higher transfer rate, which is always riskier with out-of-state kids, Meyer has shown that plucking recruits from outside the Buckeye state can pay big dividends. His non-Ohioans have out-shone their Buckeye in-state counterparts overall, even if you don't consider Johnston's punting heroics of last season.
Spence, Bosa and Schutt have been beasts on the defensive line—an area where Meyer's two recruiting classes really shows its strength. Spence has 64 tackles, 15.5 TFLs, nine sacks, a forced fumble and a fumble recovery in two seasons. He's become an all-conference talent and could become one of the nation's best at his position.
Schutt became a starter early but has battled injuries. He's been effective when healthy, posting seven tackles and half a sack while eating up blockers in the trenches. Bosa took the B1G by storm last season as a freshman, with 44 stops, 13.5 TFLs, 7.5 sacks, six quarterback hurries and a fumble recovery for a touchdown.
Reeves also started on defense in 2013, turning in 26 tackles, an interception, seven pass breakups and a forced fumble. He also became a lightning rod for fan criticism, which is unfortunate because the way the secondary (dis)functioned the last couple of years, it may not have been his fault.
Ezekiel Elliott and Dontre Wilson flashed on offense last season. Elliott is the favorite to replace Carlos Hyde as the starting tailback after his 262 yards on the ground last year. He averaged an impressive 8.7 yards per carry and scored a pair of touchdowns. He also caught three passes for 23 yards and another trip to the end zone.
Wilson was electrifying as a kick returner, always on the verge of breaking one. He didn't fare too badly out of the hybrid position either. He caught 22 passes for 210 yards and two scores and rushed for 250 yards and another touchdown.
Many other non-Ohioans are threatening to have a big season in 2014—Bell and Lewis especially, but also potentially Apple, Thomas, Clark and maybe Baugh.
It appears that Meyer's imports have produced more uniformly than his native sons so far. But that only proves the value of his out-of-state selections and why national recruiting is important. His Ohio boys haven't done too badly either, though, and figure to only get better.
Ohio-born or import, all are Meyer's Buckeyes, and all are making their mark on the Buckeye football program.