Spring football is a time for hope. For fans it's the first time in months they get to see their favorite team back on the gridiron. For players it's a chance to show off what they've been working toward all winter.
There's no denying the spring game is a glorified practice, but performing anything in front of thousands of people is always a big deal. That's why spring games are so exciting to take in. Everyone is looking for the next big thing and with so many young and/or unproven players taking the field anyone can have a breakout game.
So, let's take a look at some of those standout performers. Here are the spring game MVPs over the last five years (you know, the guys that gave us hope).
2009 Terrelle Pryor

In 2009 unseasonably warm 80 degree weather brought a record 95,722 fans to Ohio Stadium. Most were there to see sophomore quarterback Terrelle Pryor follow up his strong freshman campaign with an equally impressive spring performance.
Pryor and head coach, Jim Tressel, came into the game with a plan to showcase Terrelle's arm. Much was written about Pryor being a run-first quarterback following the team's loss to Texas in the Fiesta Bowl. Allowing Pryor to air it out in front of a record crowd was the Buckeyes' way of keeping some of the doubters at bay.
Terrelle didn't disappoint going 13-18 for 191 yards and two touchdowns including a 44 yard toss to Taurian Washington and a 42 yard pass to Ray Small.
The two long throws proved Pryor (who cut his teeth tossing mostly short routes his freshman season) had an arm that was ready for showtime. Never one to shy away from the camera, Pryor had this to say after the game:
"You saw it today. The world saw it today. I can throw the ball. I'm a quarterback that can run. That's how we're doing it."
2010 Kenny Guiton

In an effort to protect his Rose Bowl MVP, Tressel played Pryor sparingly in 2010. The move opened the door for a little known redshirt freshman from Houston to shine. With just 55 seconds left on the clock, third string quarterback, Kenny Guiton, tossed a 45 yard touchdown to Taurian Washington to defeat the Scarlet team 17-14.
The last second throw helped pad Guiton's stats, going 11-21 for 167 yards and two touchdowns.
Washington had this to say about Guiton following the game:
"Kenny Guiton has proven it every day up through the spring. For being the last guy picked, he's done extremely well during the spring. He's a great kid and in the future he's going to do great things."
Washington has a future as a tea-leaf reader, because truer words have never been spoken. Fans didn't know it then, but they had just gotten their first taste of the smooth sensation. Three years later, Kenny G would become a household name.
2011 Braxton Miller

The 2011 spring game played more like a funeral than a celebration. With the program embroiled in an NCAA scandal, worry about the future weighed heavily on both the team and fans.
Still, the game was played and true freshman, Braxton Miller, took the opportunity to shine. Four quarterbacks were competing for the chance to play the first five games of the season (the length of Terrelle Pryor's suspension) and each would get the opportunity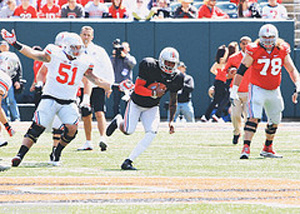 to play with the first team.
Of the four, Braxton had the best day, going 7-12 for 73 yards and a touchdown while also making some solid plays with his legs.
Following the game, Tressel had this to say about the Huber Heights product.
"I thought Braxton probably played a little more relaxed and had a little bit more fun than he has, in part because we really limited what we were doing today. Joe and Kenny showed they've been around and are able to manage our offense and know what's going on. Taylor had a big home-run throw, but he took a couple too many minus-yard plays."
It's been a while since we've had to decipher Tressel speak, but that's the senator saying Braxton had the most impressive outing...and so forth.
2012 Michael Thomas

Unlike it's 2011 predecessor, the 2012 spring game brimmed with hope and anticipation. For the first time, new head coach, Urban Meyer would be roaming the sideline and with him came an up-tempo spread offense tailor-made for sophomore phenom Braxton Miller.
The day was full of firsts for fans including the now famous circle drill as well as a marathon kick-off clinic put on by Drew Basil. There were hundreds of potential storylines, but the one no one saw coming was wide receiver, Michael Thomas.
The true freshman put together a masterful day catching 12 balls for 131 yards. The feat put Thomas on the map, but it also signaled a new direction for the Ohio State Buckeyes. In 2011 the team's leading receiver had 14 receptions TOTAL. Here was a true freshman coming in and nearly eclipsing that mark in one game.
The emergence of Thomas helped kick-start a unit in dire need of a jolt, and probably woke-up starting receivers Philly Brown and Devin Smith.
Though Thomas only tallied 3 receptions for 22 yards during that season, his 2012 spring game performance still gets fans excited about his potential, even if he has a Twitter outburst from time to time.
2013 Braxton Miller

In 2013 Ohio Stadium construction moved the spring game to Cincinnati's Paul Brown stadium. The venue change drew 37,643 fans to watch the Scarlet defeat the Gray 31-14.
Braxton got the party started with a 49-yard pass to Evan Spencer on the first play from scrimmage and never looked back going 16-25 for 217 yards and two touchdowns while adding another touchdown via a 5-yard scramble.
The outing was impressive considering Miller was going against the first-team defense for the majority of the day. After the game Coach Meyer had this to say about Miller's performance:
"It was a pass-heavy game, an area that we weren't very good at last year, an area that we have to get better in. I thought at times that Braxton Miller and a couple of the wideouts, Philly Brown in particular, did very well. It's been a continuation of what started all spring."
The game started the way-too-early Heisman hype for Miller and helped him kick off one of the most prolific offenses in Buckeye history. Not too shabby for a day's work.
---
Spring games bring hope, and the hope is another Buckeye will steal the spotlight this Saturday. As we've seen in the past, huge performances in the spring can often identify future stars. What player will you be watching?