Like it or not, Braxton Miller's successor will be named after the 2014 season. Much has been written about the ascension of J.T. Barrett or even the not-yet-committed Torrance Gibson to the throne, and that makes sense. Both were/are highly touted high school recruits at the quarterback position.
But, spilling so much ink on Barrett or Gibson marginalizes one player who's looked incredibly impressive in spring practice thus far: Cardale Jones.
Time and time again Jones' name has come up in spring ball pressers. He's grabbed the attention of head coach, Urban Meyer, and he's been running with the first team since Miller's surgery. It's not Jim Tressel's team, so Jones isn't the starting field marshall by veteran default. Meyer is rolling with Jones because he's earned it. So it begs the question: why not Cardale in 2014 and beyond?
Everyone knows about Jones' tweet. The 118 character train wreck now serves as a textbook example (literally) of how NOT to conduct yourself on social media. Cardale was reprimanded and the situation slowly faded into the background of a magical undefeated season. After-all, Cardale was the third string quarterback. Who cared? He was a lifetime away from starting (if ever).
Well, that lifetime's run it's course. With the graduation of Kenny Guiton, Jones is the only Ohio State quarterback beyond Miller with any in-game experience. Suddenly, Cardale is an injury away from potentially leading the Scarlet and Gray in meaningful minutes, and in an unscientific poll of dudes at the bar it's not sitting well with Buckeye Nation.
No one wants a perceived knucklehead leading their team. That's why many have been quick to pass on Cardale in favor of anyone else capable of throwing a football. But a snap judgement isn't the way to go here. The tweet was dumb no doubt. But, previous Buckeye legends have committed worse (in the NCAA's eyes) and were given second chances.
That's exactly what Urban is willing to give Cardale: 
"Talk about a changed guy. He was a guy that couldn't get out of his own way before. You know about the tweet. He's a completely different guy." 
Meyer believes in Jones because he's seeing the work-ethic on the field. If Jones has indeed gotten "out of his own way", the results could be terrifying for the Big Ten.
The kid already has the frame to be successful at the college level. Coming in at 6'5'' 250 lbs that's one inch taller and 17 lbs heavier than Terrelle Pryor. Anyone remember what Terrelle was able to do with that size?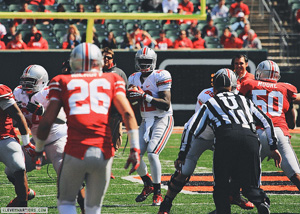 That's bowling ball stuff, but Jones isn't just a running back playing QB. Reports out of practice state Cardale's arm strength has been impressive, with the Cleveland Glenville product consistently putting the deep ball on the money. For anyone who's followed Jones' high school career, that shouldn't be surprising. As the starting quarterback for the Tarblooders, Jones tallied a 24-3 record and passed for 1,689 yards and 22 TDs in his senior season.
Size is there, mechanics are there and knowledge of Meyer's system should be there as well. Jones redshirted in 2012 and played sparingly in 2013. As a redshirt sophomore this season Cardale will have as much experience with Meyer's playbook as Braxton. That's something Jones should hang his hat on.
Buckeye Nation will get a good look at Jones soon. With Miller's rehab underway, Cardale and presumably Barrett will battle it out in the spring game. The performance of either could go a long way in determining who will be the next man up in 2014.
So don't let 118 characters taint your perception of Jones. Not giving him a second chance would be almost as stupid as the tweet itself.