Ohio State's Pro Day has one spectacular trait: equality.
At every level, football is a sport defined by competition. Players scratch and claw to show they deserve to be the man, so one would expect the tryouts leading up to the NFL Draft to be especially competitive. Seventeen Buckeye athletes, ranging from first round locks to hopeful practice squad members, took the field yesterday to demolish that notion.
The top attraction was Ryan Shazier, who gave dozens of scouts the fireworks show they were hoping for. Shazier ran 4.36 40 yard dash at 237 pounds, making the whispers that he was out of shape or not bulky enough look comical.
The bad news: on the run, Shazier reaggravated a hamstring injury that limited him at the NFL Combine a few weeks earlier.  Shazier characterized the injury as "blowing a tire" and downplayed its importance. "I'm not really concerned about it because I was trying to rush it back so I can run for everybody, and they were telling me I shouldn't rush things," Shazier said. "I knew I wanted to run a 4.4, around there in that range, and I got what I wanted."
When asked if OSU's pro day had upped his stock, Shazier said, "I feel like it helped out a lot, I'm just going to put it in God's hand. I know at the end of the day he'll put  me in the right position to put it in the right position and I'll go to the best team and the team that wants me the most. I feel like today was a really big day, I feel like I did exactly what I needed to do, and I couldn't even sleep the night before really, but I did what I needed to do."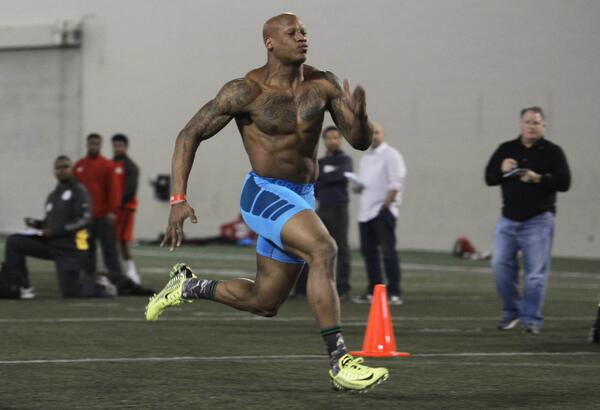 Of anyone, Ryan Shazier has the least to worry about. Five other athletes who appeared at the NFL Combine took part in Pro Day. For several of them, their destination is up in the air.
Jack Mewhort had the opportunity to compare pro day and the Combine, and decided that familiarity rather than importance made OSU's pro day the more enjoyable event. "I wouldn't say importance, I think you're just more comfortable here in the environment, and being back here is great," Mewhort said. At a time when he could have been freaking out, Mewhort sounded calm, even collected.
That left eleven athletes whose didn't get to go to the NFL Combine, looking for whatever attention they can get from scouts. One of them was the smooth jazz king himself, Kenny Guiton.
Guiton was relegated to a backup role his entire career, the curse of playing behind Terrelle Pryor and Braxton Miller. Matt Cassel, who had to sit behind Carson Palmer and Matt Leinart before becoming an NFL starter, served as Guiton's inspiration.
"I look at guys like him, I look at guys like Brady, that's one of the biggest ideas I have right now because he was a guy not big going in and he just worked to the top and that's one thing I want to do," Guiton said. Judging by his private workout with the New England Patriots, he has a chance of repeating history.
In some respects, Guiton has it easier than the other borderline draft prospects. If his pro career doesn't pan out, Guiton has a safety net as a graduate assistant in Columbus, allowing him to not stress over expectations. "Expectations? I just want a shot. I mean, I don't mind where I'm picked up, free agency or late rounds, it doesn't matter. I just want the shot, and once you get into camp it's all on you."
There's a common theme to what Shazier, Mewhort, and Guiton said: all of them are letting go of the tension that accompanies draft selection, and they won't let where or if they are selected affect them.
Odd as may sound – believe me, it does sound odd – the best analogy for these players' outlooks comes from a medieval art motif called the Danse Macabre.
The Dance Macabre, an artistic genre resulting from the rather unpleasant sickness known as the Black Death, paints skeletons of kings and peasants alike dancing together in a graveyard. The point of the motif is that no matter a person's societal status in life, they eventually are made equal once that time is over. The same idea applies to the Buckeyes (albeit with less bubonic plague).
Yesterday marked the end of seventeen players' collegiate careers; from now on, everything evens out. They have all the same wins and trinkets, most of the same memories, all the same reunions and anniversary celebrations to look forward to. 
No matter if they end up a Super Bowl MVP or an accountant, they are united as former Buckeyes. Their attitude reflects that; rather worry about where their career takes them, or the status that accompanies a draft selection, they're focused on the here and now.
The seventeen participants at OSU's Pro Day experienced the final step in their journey as Buckeyes; now they go into the unknown of their careers, equal as former Buckeyes. No matter their status, they ought to be credits to the university.