Zen Michalski and his dad, Lennon, already had a strong inkling this was going to be the place for them.
As soon as he was offered by Ohio State on Sept. 8, the Indiana offensive lineman knew the wheels were in motion for a flip from his Louisville commitment to becoming a part of the Buckeyes' 2021 class.
But they still needed to know. Needed to see up close for themselves what this place was all about.
So on Tuesday, Sept. 22, Michalski and his father planned a trip to Columbus for the following Sunday, an itinerary filled with the same types of things that Bennett Christian and his dad had lined up when they visited in August.
Five days before he took that visit, Michalski told Eleven Warriors he was searching for "almost a gut feeling" when he toured campus and the city.
"Kind of just when I get there, I'm looking for, I wanna be there and just feel that it's the right spot for me," Michalski said. 
Check mark.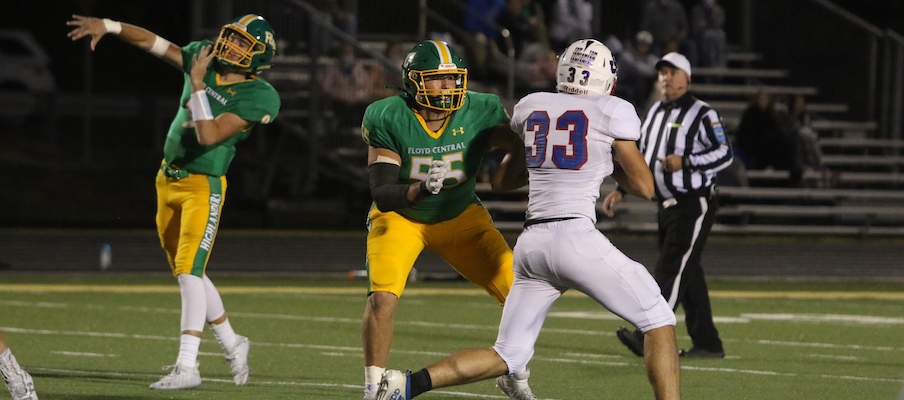 Again, just like Christian told us when he raved about the campus and city and said, "I just had a feeling," so it was with Michalski.
"Definitely got that (gut feeling) there," Michalski told Eleven Warriors on Monday, the day after his visit. "It was really cool being there with my dad. I definitely got that feeling. It's somewhere I can call home. I definitely got the experience of what it'd be like to go there.
"It was like nothing I've ever seen. The stadium, it's unreal being that close to that thing. I can't even explain it. It's like a spaceship, it's huge. The campus is beautiful, the city's amazing. We went and saw the Woody Hayes statue outside the trophy building, and that was awesome. It was just an extremely fun visit."
The art gallery and museum on campus, plus Mirror Lake, the student center and the Ohio Stadium Rotunda, all impressed Michalski and his dad.
But what was the kicker?
One final trip down High Street, a busy and eye-opening stroll and car ride that got the job done. 
"High Street is crazy," Michalski said. "There's so many restaurants and places to go there. It's really cool how the campus, it's basically like a college town but then three minutes away you have the actual city of Columbus. It's just a really neat area."
Obviously, there are a lot of other reasons for someone to pick Ohio State over Louisville or many other programs. We've been over them ad nauseam – the chance to be developed into a pro prospect, strong relationships with staff members, the opportunity to win a national championship – and they're all important. But there's usually a cherry on top. This one was it for Michalski.
The two of them had a meal at Bareburger (with Michalski eating a fat double-bacon burger and "a bucket of fries," as his dad puts it), took in everything on High Street – including riding around on the electric scooters set up all over Columbus – and around 7:30 p.m., they zipped their way into Buckeye Donuts to grab some dessert to-go to cap off a four-hour visit.
The donuts, Michalski says, were amazing. So was it the donuts that got him to commit to Ohio State? No. Probably not.
But that's still the moment when they knew for sure that this was going to be their home away from home for the next four years.
"Me and my dad were just sitting in the car, like, 'I think this is where we're gonna go.' Pretty much right then and there, and on the car ride home we were calling everyone and telling them. It was a lot of fun," Michalski said. "We just talked about it for a moment, and it just seemed like the perfect option so we just went for it."
So Michalski proceeded to make the series of calls that every Buckeye coach loves to get and that almost always leads to a boisterous reaction. The first one was to assistant offensive line coach Kennedy Cook to make sure he had the go-ahead and that the other coaches weren't busy. 
"Me and my dad were just sitting in the car, like, 'I think this is where we're gonna go.'"– Zen Michalski on his decision to commit to Ohio State
Then came Tony Alford, then Ryan Day. Eventually, as Michalski put it, he "saved the best for last," by calling Studrawa.
"They were just hooting and hollering over the phone and yelling and stuff. It was awesome. It was a really cool moment with everybody," Michalski said. "I called Coach Stud and we talked for like 30 minutes. It was awesome. Coach Day was super excited too. It was nice. It's weird to think that only a month ago I got an offer from them, and now I'm gonna be going there. It's crazy. It didn't feel real at first. After a little bit, we realized (Ohio State) was the perfect spot."
And that, as Jon Hamm once said, was that. Michalski was and is a Buckeye. He let some of the Buckeyes' 2021 commits know the news, and he was almost instantly added to their group chat with open arms.
"I'm actually already really good friends with a lot of them already," Michalski said. "I'm already in the group chat with the commits (since Sunday night). I talk to Ben (Christman), TreVeyon (Henderson) and Evan (Pryor) a lot. I already love all those guys. I told Ben and everyone, and I told Coach Stud and Coach Day and all of them.
"Now we're just ready to roll."