In the months leading up to the start of the 2001 season, Ryan Day had been given full reign of the keys to the Chip Kelly-led offense at the University of New Hampshire, and the star quarterback was met with lofty preseason expectations.
"I really believe Ryan holds the key to our success for this football season," Wildcats head coach Sean McDonnell told Seacoast Online's Frank Coppola in August 2001. "When he plays well, we play well. I feel very comfortable with him leading us, and he is very good at what he does."
Day did not lead New Hampshire to the playoffs. But chosen to be a senior captain that season, in his final year he was the driver of one of the nation's best offenses, setting career highs in completions (233) and passing yards (2,605) while throwing 26 touchdown passes, and he left the program as its record setter in completions (653), touchdown passes (53), completion percentage (59.9 percent) and total offense (8,492 yards).
If you take a closer look at that story by Coppola from almost two full decades ago, the resemblance of what those around him believed about him as a quarterback and a leader serve up remarkable parallels to how he's been perceived as a head coach and recruiter at Ohio State.
McDonnell: "I mean, this year he's got to be better than he's been. He's gonna be the guy making all the decisions back there and getting everybody in the right places."
Mallette: "Ryan's just a natural leader. He just knows how to go up there and make things happen. He may not be the fastest guy or have the strongest arm, but he's so competitive and so determined. He wants to get things done, and he does it. It means a lot to us. Everybody leads off him. They see how he goes out there and how competitive he is."
Running back Stephan Lewis: "He just knows what he's doing at all times; he makes the right reads. He just makes my job a lot easier."
He was the unquestioned leader of that team and had endless respect among his peers. As the face of the Buckeyes, it's been almost the exact same.
"He's a stud," said athletic director Gene Smith in October, sounding off on Day's leadership in handling the mess of Chase Young's suspension. "All the things we thought he was capable of have come to fruition. The things I wasn't sure of with managing the staff in this building, he's been off the chain."
That leadership showed then, and it showed in the first days during the unprecedented shutdown this spring and in the weeks afterward. Especially on the recruiting trail. 
"It all starts with Coach Day. He works extremely hard at it, and we follow his lead," Ohio State director of player personnel Mark Pantoni said in April when asked about the Buckeyes' culture relating to their recruiting success. 
"The more I talk to him, the better feeling I have about him. The closer I am with a head coach, the more I wanna compete for you."– 2022 linebacker target Dasan McCullough on Ryan Day
During that time, the Buckeyes were still the hottest recruiting program in the country and weren't done yet. Over the previous three weeks, they had landed three defensive backs (including potential five-star Jakailin Johnson) and two running backs – including five-star TreVeyon Henderson – and would soon add a borderline five-star defensive end (Tunmise Adeleye) less than two weeks after that Pantoni teleconference. 
We talk all the time about how impactful the position coaches are in each player's recruitment because they are incredibly crucial to the entire operation – more on that in a moment – but every recruitment starts and ends with the field general. It's that way with most college head coaches, but Day has been adding a personal touch that's made waves with the vast majority of recruits and sources we've spoken with.
That hands-on approach is something Day needed to do from day one after taking over from a legend, so that's exactly what he did. For instance, he spent hours just talking football with three-star in-state lineman Jakob James and his coaches in Cincinnati when he was still new to the job, and he hasn't really slowed down in that approach. He's had a knack for making an impact – over the phone, on Zoom and in-person – with priority and non-priority recruits in the 2020, 2021 and 2022 classes.
"That's what you need. Very few coaches have it," Deon Glover, father of five-star cornerback Tony Grimes, told Eleven Warriors when asked about Day's hands-on approach. "I guess most coaches get wrapped up in the day to day and the duties and they forget that, look, I need to start connecting with my players. … I think Ryan Day has that quality."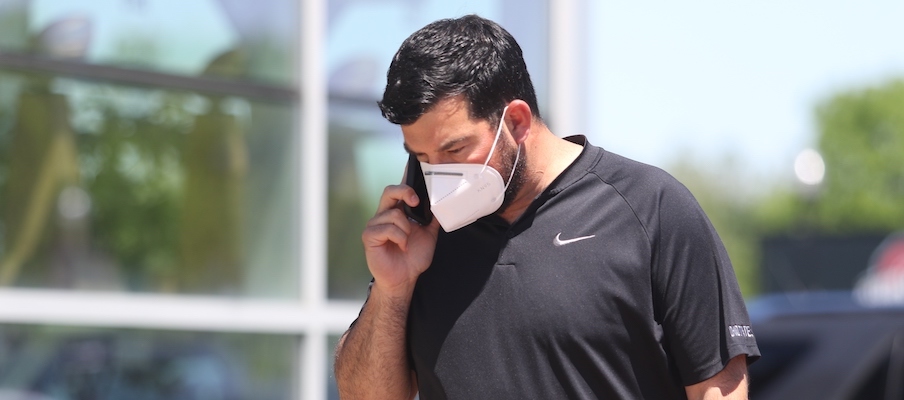 We've had several recruits detail how involved and impactful Day has been with them, but none encompasses what it's like to be recruited by him – and why it's important to be recruited so hard by him – than from the words of 2022 priority linebacker Dasan McCullough. 
"Just talking originally, Coach Day was actually the one that offered me at the end of my virtual tour I had with them," McCullough said. "Obviously, that's real. That's the head coach that's giving you the full scholarship offer. That's bigger than the position coach doing it because that's the head coach. I've been in contact with him a lot. He's a real cool dude. Definitely someone I could see myself playing for, especially in Ohio.
"The more I talk to him, the better feeling I have about him. The closer I am with a head coach, the more I wanna compete for you. It's kind of how it is. The better relationship we have, it's just gonna make me wanna work harder for him and the program. That's why our relationship is so important. And they know all that. They know I've been around coaching and all this recruiting for so long because of my dad (his dad, Deland McCullough, has been a running backs coach since 2011 at Indiana, USC and now for the Kansas City Chiefs). They know that I get it. They don't sugarcoat anything."
That's bigger than the position coach brings us to a crucial point. Day's not doing this alone. As we wrote in April, arguably Day's best accomplishment as a coach was building the staff he has now, and the Buckeyes use that team recruiting approach as one of the keystone pillars to build its program.
"As far as recruiting by position, there's never just one coach recruiting a guy," Pantoni said. "The area coach is always involved, the head coach is always involved, the coordinator is involved, and I may be involved in a lot of them. As much team recruiting we can do, the better."
But, like Pantoni said, it all starts with Day. A championship-capable team needs its all-star quarterback or a transcendent leader overseeing it all. In Day, Ohio State has both. 
Those same qualities were obvious 20 years ago.