Last June, Devonta Smith had to watch as his best friend and teammate Jaylen Johnson wowed the Ohio State coaches during a one-day camp that was followed with a full-ride offer to Johnson.
Smith had been at a Minnesota satellite camp the night before, about three hours from his home on the west side of Cincinnati. Smith left that camp with an offer from the Golden Gophers, but the work he put in that day left him sore (especially in his Achilles and hamstring) and too physically drained to participate in the Buckeyes' camp that was held in the morning after that trip. 
Smith was far from resentful of Johnson, telling Eleven Warriors that, "I was just wishing the best and hoping the best for my boy, hoping he got (an offer), and he got it."
But still, even though he was proud of his fellow defensive backfield mate (who in January committed to Ohio State), it left Smith playing the What If? game for weeks and months afterward.
"I really wish I would've (gone to that camp)," Smith said. "I was like, 'Dang, if I would've went, I probably could've gotten one too. We could've been on the same (timeline). I kind of was (disappointed), but I'm not that kind of guy. I'm the worker to where if I don't have something, I'm gonna go get it. I definitely threw myself on the field this year; produced a lot on film."
And yet, even after a very successful junior season in which he and Johnson led the Lancers' defense to a Division II state championship victory, Smith was still feeling spurned by the Buckeyes and Jeff Hafley, whom he did not have much of a relationship with during his tenure in Columbus.
But just as he was beginning to give up hope that Ohio State would ever come calling, Smith's fortunes turned when Hafley left to take the Boston College head-coaching job, and in came Kerry Coombs, a man from the same area as Smith, as each grew up on the west side of Cincinnati.
Smith's emotional moment
Their connection was instant, as Coombs visited Smith and Johnson on his first day after being hired again at Ohio State, the three sharing a ton of laughs together as Coombs cracked jokes and showed his typical enthusiastic side in La Salle football head coach Pat McLaughlin's office.
But Coombs didn't want to offer Smith just yet. He hadn't yet watched Smith's film, but Ryan Day had visited Smith and Johnson back in December and told Coombs that Smith was a player to look out for. Coombs met Smith, and he liked his physical stature and Smith came off as a good kid with a great head on his shoulders. But he needed to build a relationship with him before offering. 
Smith already had a close relationship with Buckeye assistant Tim Hinton, and Smith began talking to Coombs and Hinton almost every day, sending them workout videos so that they could assess what Smith did well and what needed to be improved.
"(Coach Hinton) was just telling me don't worry about it. The offer's coming," Smith said. "And they were building that relationship with my mom, my coaches and my close friends around me – just trying to get the insight around me, making sure I wasn't done with Ohio State 'cause they're not just gonna throw an offer out.
"They're a family-oriented program. They're not just gonna offer anyone. They wanna have a relationship first so they know you're all in and that you really like them and that you're not playing or anything. I really respected that."
Day visited La Salle again about a week after Coombs' first visit, telling Smith that he wanted to get him back on campus for a visit. But still no offer. 
In February, though, after Smith began getting discouraged again, the Buckeye coaches realized that enough was enough. With Alabama and Oregon offering Smith, it was time for the home state school to give him an offer of their own. Knowing how much the offer would mean to Smith, they put together a plan behind the scenes for a big presentation when Smith and Johnson were set to visit on March 28. Johnson was in on the surprise.
"They had this incredible plan," said Smith, who admits he still doesn't know what that original plan entailed exactly because Johnson won't spill the beans. "They were gonna do it big when they offered me because they knew how special it was gonna be for me."
But when the coronavirus outbreak in the U.S. and Ohio forced recruiting cancellations across the board, Coombs pulled the trigger.
So on Thursday afternoon, as Smith went to work on loaded burritos stuffed with chicken fingers and a bunch of other carbs and proteins in the La Salle cafeteria, a text came across his phone from Coombs:
CALL ME IMMEDIATELY!!!!!!
Smith was confused. Maybe a bit nervous. So he sat in the lunch room, answered the call, and Coombs dropped the heart-pounding news.
"He just said I earned it. He said, 'I'm not playing. This is a committable offer. We really want you. You're a priority for us,'" Smith recalled. "He really wanted it to be on the 28th so he could show me how high I was on his board. He really wanted to show me they weren't playing and how high I was on their cornerbacks board."
As soon as he got off the phone with that staggering news, Smith broke down in tears. In front of a group of five of his best friends and his strength and conditioning coach, tears fell from his face as the weight of that moment came crashing down.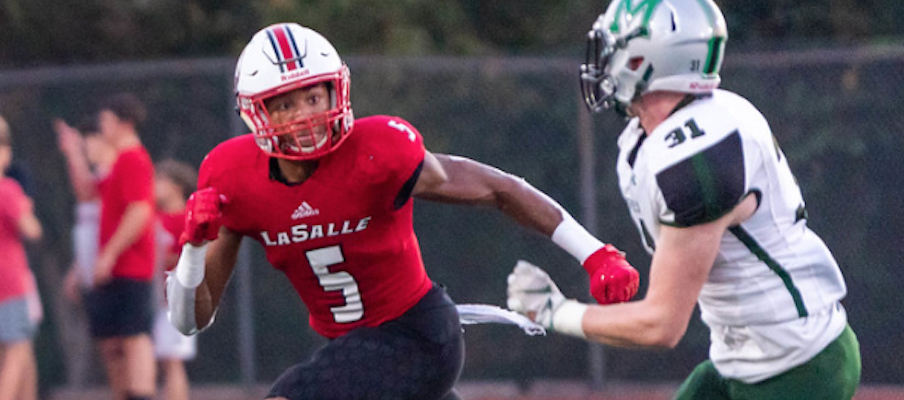 "I didn't care if it was crowded or not because I was crying for a reason," Smith said. "I'm not just crying for nothing. I'm crying for a very, very good reason. It just came a long way. I came a very long way, so I just had to let it out."
Ohio State offers mean something to every recruit, especially in-state players. But even for in-state players, Smith's reaction was a rare one that is indicative of just how special it was. And over the phone, it's easy to feel the positive energy Smith was exuding when detailing that moment he found out.
"I just really cried because I was thinking about everything that I've been through and just focusing on myself and putting my head down and going to work – all those long days, long nights and early mornings," Smith said. "Just putting in so much work, seeing it pay off and other people are seeing it. It's just a blessing."
Quick commitment
Despite all of that emotion, Smith did not commit on the spot and discussed his options with his mom, Stacy, plus McLaughlin, cornerbacks coach Mike Koenig, his stepfather and his sister. 
The decision became clear pretty quickly after those discussions. They told him if he was ready, don't hesitate. If Ohio State's committed to you, show them that you're committed to them as well. Don't take any other visits or anything like that. Show them you're serious. And perhaps the biggest talk came when he talked with Stacy.
"I was talking to my mom about it the day I got the offer, and I was telling her, 'Mom, this is the chance. This is what I've been wanting. This is what I've been waiting for. Ohio State might not be my dream school, but I've dreamed of times like this,'" Smith said. "It was just a blessing, and obviously having that chance to play for Ohio State and get developed by one of the best defensive backs coaches is too much to pass up. Plus, going to one of the most prestigious universities, just academic-wise, it's unbelievable what the kids are doing there so it's great."
"I just really cried because I was thinking about everything that I've been through and just focusing on myself and putting my head down and going to work – all those long days, long nights and early mornings."– Ohio State Cornerback Commit Devonta Smith on his emotional reaction after earning an offer from the buckeyes
Coombs and Smith got on the phone with each other on Friday night, and as Coombs was surrounded by his own family in Arizona, Smith told him the news, and Coombs got animated and began shouting. Coombs' wife got on the phone with Smith to congratulate him, and the entire family congratulated Smith in the background.
"He was fired up like it was the best news he got that day," Smith said. "He's very excited. He said this class is gonna be one of the best classes to come to Ohio State and we're gonna do big things."
The next day, Day spoke with Smith on the phone, telling him that Smith is "gonna be a steal, and good things are gonna come at Ohio State in the future."
Smith, Johnson to continue legacy
Smith was finally (though not officially until he signs, of course) a Buckeye, joining Johnson in their 2021 class, as the two will be able to continue building a legacy together that they have been creating for years. 
Everything we been through proud of you I love you man @Prince_Tay_ pic.twitter.com/7w74mS5QEG

— Jaylen.Johnson (@JaylenJohnson21) March 16, 2020
They have played on the same football team since their days of Pee-Wee football, climbing the middle school and high school ranks together, and they dreamed of playing at the same college. That dream will soon be a reality.
"It's crazy, man," Smith said. "We were just talking about this, too. It's really just crazy. We're gonna shock the world. We really are."