The Hurry-Up is your nightly dose of updates from the Ohio State football recruiting trail, keeping tabs on the latest from commits and targets from around the country.
For the first time since the Buckeyes lost to Clemson in the College Football Playoff semifinal, Ryan Day took the podium at the Woody Hayes Athletic Center to meet with the media, and he shared several thoughts on recruiting and the 2020 class on Wednesday afternoon.
Signing another 2020 RB?
About 48 hours before budding star running back Jahmyr Gibbs was set to make his official visit to campus on Friday, Day was asked about whether or not the Buckeyes would be looking to sign another RB in the 2020 recruiting class. 
He didn't sound optimistic. On Thursday, we found out one of the reasons why, as 247Sports' Steve Wiltfong reported that Gibbs would not be making his official visit to Ohio State after all.
"The numbers are pretty tight right now. So probably not," Day said on Wednesday. "But we'll kind of see how things go."
As of right now, with Alex Williams transferring on Wednesday, there are 86 scholarship players on the roster, as 2020 kicker signee Jake Seibert will not be on scholarship until 2021, and Cameron Martinez is still waiting to sign. If Martinez signs with the Buckeyes, there will be 87 scholarships accounted for out of the 85 allowed. 
It's starting to get tight for Day and company. Assuming Martinez signs, it's starting to look like at least two players will have to transfer out of Ohio State. Otherwise, the Buckeyes will have to get creative to get their number down to 85. If Ohio State signs another running back or defensive back via signing or transfer, things could get even dicier. 
"I think it's changed just with the different transfer situations and portal situations that are out there nowadays," Day said when asked his philosophy on handling the scholarship situation heading into spring ball. "So you have to be able to adjust and move. But it's tight. We'll do the best we can, try to project."
Single-high safety
Ohio State's biggest weakness in 2020 could end up being a secondary that is undergoing a massive overhaul with the loss of three starters. Jeff Okudah will likely be a top five pick in April's NFL Draft, so he gets a lot of the shine, but replacing safety Jordan Fuller might end up being the biggest challenge of them all. 
Day used a one-safety, three-cornerback look for the majority of defensive snaps this season, so finding someone to replace Fuller is critical. That projects to be Josh Proctor, who struggled during the loss to Clemson. 
Regardless of who the Buckeyes' new secondary coach is, and regardless of the loss of Fuller, Day says the single-high safety look is a defensive philosophy he wants to continue.
"Yeah, that's kind of our base," Day said. "We definitely can get to a two-high look, and we will. We're going to diversify a little bit more this year, but certainly we don't want to change our philosophy. We kind of built that this year. We thought we made some great strides there. Certainly not perfect. But we're going to keep the structure of what it is now, but we're going to diversify a little bit as we move forward."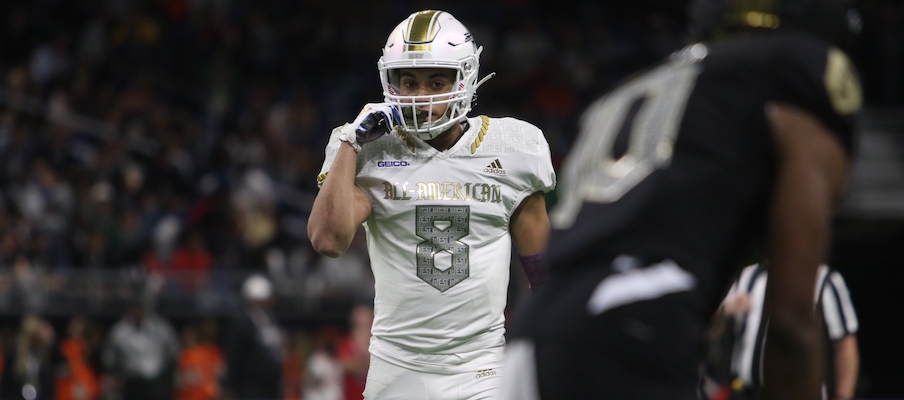 In the future, that means four-star safety signee Lathan Ransom looks like he will have plenty of opportunities to be the next man up for the Buckeyes down the road. If they wind up going with two safeties on the field at the same time, Ransom's opportunity for playing time doubles.
"Proctor's about to go into his (third) year, so I'm just trying to learn as much as possible from him since he's been there for so long and see what he did, the challenges he faced and what helped him be as successful as he is," Ransom told Eleven Warriors. "At the end of the day, I'm trying to go in there and play as much as possible."
Confidence in QB room
The lack of depth in the quarterbacks room was a major concern for Ohio State in 2019. If Justin Fields went down, there was no one the coaches could confidently turn to and say here are the keys to the car.
Truthfully, the situation in the short term is still shaky, as CJ Stroud and Jack Miller will be true freshmen with zero college experience. But the fact that Day has two young, up-and-coming potential stars to turn to if Fields gets injured gives him confidence moving forward.
"That's what we're hoping," Day said when asked if he believes the QB situation will be stronger next season. "And that's why we brought CJ and Jack in here is to compete for that job. That room's stronger at this point than it was last year, that's for sure. Now those guys will have an opportunity in the spring to learn and grow. And hopefully we can develop some depth there."
Stroud and Miller will be having to play a difficult line of being 18-year-old freshmen who need to learn how to soak up knowledge from longtime Buckeyes but also prove their leadership to veterans and young guys alike.
"I think you set a standard, first off, about how you go about your business, because if you're not doing that then no one's going to follow you," Day said. "I think you start to build a rapport with the guys you come in with, because the thing that's unique about this class there's 14 other guys in that room or came into that class. So you can build a little bit of leadership with that group."
C.J. Stroud showed his elusiveness on two runs and this scramble, though it falls incomplete on fourth down pic.twitter.com/CdEMwnZrdt

— Zack Carpenter (@Zack_Carp) January 4, 2020
Day added: "Then there's little ways you can do that. Even if – let's say we call a tempo play. He can be barking at the guys, come on, let's get lined up, let's do those things – as opposed to giving them real intricate, you should run the route like this. We're not there yet now. And you have to prove you know what you're doing before you start doing those type of things.

"But there are certain ways to build credibility and to show leadership. And a lot of it is just setting a standard of work ethic and making sure you know what you're doing. And those are all ways to get started."
Mum's the word on Coombs
It took 35 minutes for Day to be asked directly about Kerry Coombs during the 40-plus-minute press conference on Wednesday. As expected, when asked if Coombs was going to be the next Ohio State defensive backs coach, or if he was on Day's list of candidates, Day was tight-lipped. 
"No, we haven't hired anyone yet," Day said. "Still going through it all. Just go from there. I'm not going to go through that right now."
Buckeyes in two final lists
Since it looks like Ohio State is getting an additional running back in the 2020 class, landing a two-back class in 2021 will be an even heavier area of focus. 
That includes one of the Buckeyes' top targets in four-star RB Lovasea Carroll, the nation's No. 7-ranked running back and No. 101-ranked overall recruit out of IMG Academy (Fla.). 
On Friday morning, Carroll released his list of his top five final schools. It features Ohio State, Auburn, Georgia, Florida and South Carolina, the school he decommitted from on Sept. 1.
Please Respect Top 5@Hayesfawcett3 pic.twitter.com/Lq3z4luUt6

— Lovasea Carroll (@LovaseaC) January 17, 2020
Carroll has visited Ohio State multiple times and has said he hopes to visit again, either in the spring or summer.
Later on Friday afternoon, the Buckeyes found themselves on another list of top schools, as TreVeyon Henderson, the nation's No. 9-ranked athlete and No. 102-ranked overall player in the 2021 class, put Ohio State on his list of top 15 programs he is focusing on going forward.
These are the schools I feel our best for me at the time.. Edit made by my guy @Hayesfawcett3 pic.twitter.com/mDfP0HEtBh

— TreVeyon Henderson (@TreveyonH15) January 17, 2020
Henderson is a 5-foot-10, 190-pound star out of Hopewell High School in Virginia, where he is the state's No. 2-ranked overall player. 
Alabama, Clemson, Oklahoma, Penn State, Virginia Tech, Georgia and LSU are among the top programs making a push for Henderson, a 2021 Under Armour All-American who amassed more than 3,000 all-purpose yards, 53 touchdowns, 48 tackles and three interceptions during his junior season.