The Hurry Up is your nightly dose of updates from the Ohio State football recruiting trail, keeping tabs on the latest from commits and targets from around the country.
2020 DE Carlton heading to Columbus
Four-star strong-side defensive end Xavier Carlton confirmed with Eleven Warriors that he is making an official visit for this weekend's showdown with Penn State.
With that news, Carlton becomes arguably the weekend's biggest visitor, with 2020 running back Miyan Williams also being able to lay claim to that title.
In order, the biggest needs for Ohio State to polish off an already stellar 2020 class are running back, a second quarterback and an explosive pass rusher at defensive end. 
Carlton fits the description of the latter.
At 6-foot-7, 262 pounds, Carlton is a huge presence along the defensive line, he showcases clean, hard hits on film, some explosiveness off the edge, and he has the capability to become a run-stuffer. He would be the exclamation point for this strong defensive class.
With all that being said, it still sounds like Utah and a handful of other Pac-12 programs are in the driver's seat for Carlton's commitment. But perhaps this weekend could help sway his opinion on whether or not the Buckeyes are a top option. 
OL Benny set for visit
Ohio State this weekend is welcoming in a heavy throng of visitors, and Eleven Warriors has put together a list of those who are planning on coming. It's a list we will continue updating through Saturday.
There are plenty of headliners on that list, including Carlton, Williams, junior RB Evan Pryor and junior offensive linemen Donovan Jackson and JC Latham. 
What also stands out about that list is the 12 confirmed visitors along the offensive line who are planning on making their way to the Shoe. That includes 6-foot-4, 270-pound junior OT Rayshaun Benny out of Oak Park (Mich.) High School, who is excited to experience Saturday's atmosphere.
"I wanted to come down to see the Shoe, and I'm in contact with all the coaches," Benny told Eleven Warriors. 
Benny says he is pretty tight with Buckeye offensive line coach Kennedy Cook and co-defensive coordinator and former Michigan coach Greg Mattison, in addition to Ryan Day and Mark Pantoni.
Benny, who is the No. 8-ranked 2021 recruit in the state of Michigan, the No. 30 offensive tackle nationally and nearing a ranking as a top 250 junior recruit, says the main reason he's coming down is to see what the electricity is like for a major Buckeyes game.
That's the reason most recruits are coming down this weekend. They know they aren't going to get much face time with the coaches, as we discussed a bit yesterday, so it's not their main concern. Benny, however, is still hopeful to get to build relationships with the coaches a bit.
"I figured that so I'm gonna be down there early in the morning so I can touch base with them," Benny said. 
Adding to visitor list
Thursday is apparently the day this week for recruits to let their visit intentions public via Twitter. 
Here's a sampling of some of the announcements, including from Rocco Spindler, Michigan's No. 2-ranked 2021 prospect and the country's No. 7-rated offensive tackle. Spindler is a major target for Greg Studrawa and the Buckeyes.
These are some pretty cool graphics dished out by the program, and Bryce Steele's isn't shabby either.
Heading to THEE Ohio State Buckeyes this weekend!! -H!! pic.twitter.com/J7Knbz2jb3

— Rocco Spindler (@RoccoSpindler92) November 21, 2019
Buckeye Nation where ya at Be there in days @CoachStudOL pic.twitter.com/rEqPfD5QNG

— JC Latham (@_JClatham_) November 21, 2019
I will be at Ohio State this weekend #gobuckeyes pic.twitter.com/glZ2TEhnlT

— Bryce Steele (@bryce_steele1) November 21, 2019
Introduction to 2022 QB Denegal
We have talked about Ohio State's future quarterback situation over the last week, especially on Sunday when we discussed Malachi Nelson and Maalik Murphy. 
Today, we'd like to introduce you to fellow 2022 QB Jayden Denegal. 
Denegal is another passer who trains with Danny Hernandez out of STARs Gym in Anaheim, Calif. He is a strong, 6-foot-4, 215-pound sophomore who holds early offers from Georgia, Auburn and Utah. 
He does not, however, have an Ohio State offer, but he's hoping he can drum up interest from Ryan Day, Mike Yurcich and company from one of the program's he has the most respect for. It's an offense that Day has been running smoothly this season, able to balance both J.K. Dobbins and Justin Fields with a host of great pass-catchers.
"What I love about OSU is the passing game and how they spread the ball out to the great receivers," Denegal told Eleven Warriors. "I also love the balance they have to be able to run the ball and get the defense to come up, then air the ball deep."
Denegal has not yet received much interest from the Buckeyes, but he certainly believes he has the talent, especially having trained with Hernandez and the rest of the QBs at STARs.
"Danny is the best ever," Denegal said. "He cares about how we play and develop. I've learned a lot and plan on getting much better. ... My training at STARs has been the best thing ever in my development as a QB. Danny puts me in a position that when I'm in a game, I go right to what he trained in live speed and it slows down the game to me."
Denegal is a basketball player and was one of Apple Valley High School's top scoring guards and defenders last season. He's developed spatial awareness and quickness on the court, which has aided in making him a more polished QB that could be an asset for the Buckeyes.
"I believe (Ohio State) should be recruiting me because I feel like I'm a good fit to the offense, and I can get the ball to the great receivers," Denegal said. "My main strength is getting the ball down field to the receivers and escaping the pocket and continue to look down field and, if all fails, get the first down."
Martinez a finalist for Mr. Football
Cameron Martinez is arguably the most underrated recruit in Ohio State's 2020 class. He's a versatile, dangerous threat whose main potential lies in either being a defensive back, running back or perhaps even an emergency quarterback.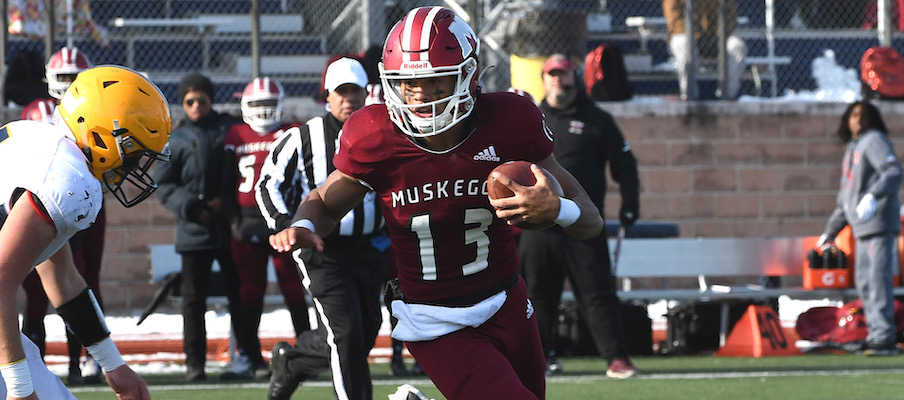 He was recently named a finalist for Michigan's Mr. Football Award. If he wins, it would be his second consecutive year winning the award.
Martinez broke Muskegon's rushing yards record (2,526) and rushing touchdowns record (38) last season en route to a state championship. This season, he has dominated once again and has Muskegon in the state semifinals on Saturday.
VIDEO: Congratulations to @OhioStateFB commit Cameron Martinez (@CM240) from Muskegon High School (@OnMuskegon) on making the Final Four in the STATE CHAMPS! Mr. Football Award presented by @hungryhowies pic.twitter.com/8slBzBfBGW

— STATE CHAMPS! Michigan (@statechampsnet) November 21, 2019
Ohio State 2021 running back target Donovan Edwards is another of the four finalists for the Mr. Football award. 
Edwards had a leg injury that limited his sophomore season to just seven games, but he has bounced back with a vengeance this season.
Fifth star for Scott and JSN?
Ohio State's 2020 receivers class is a star-studded group, and it's possible that two of them could literally add a star next to their names.
A pair of #OhioState commitments headline the 2020 wide receivers in consideration for fifth stars in the next @Rivals rankings update

https://t.co/Gdlkmc7h7r pic.twitter.com/a2ImttyQJK

— Sam Spiegelman (@samspiegs) November 21, 2019
Gee Scott Jr. and Jaxon Smith-Njigba are each four-star receivers loaded with talent, and Rivals' Sam Spiegelman has both Scott and Smith-Njigba as receivers who could become five-star prospects by the time they graduate.
That's only for the Rivals ranking system, but if they both earn an extra star in the 247Composite rankings, that would give the Buckeyes three five-star receivers (Julian Fleming) in the 2020 class.