Somewhere, Urban Meyer is smiling as if he just won the Powerball.
In some ways, he did. Ohio State landed a trio of four-star recruits before the clock hit 5 p.m. Monday, when wide receiver Binjimen Victor, quarterback Dwayne Haskins Jr. and linebacker Keandre Jones all pledged to Meyer and the Buckeyes.
Understandably, the commits from the three players are also felt nationally. The Buckeyes entered Martin Luther King Jr. Day with the third-ranked recruiting class according to each Rivals, 247Sports and Scout. That changed after Victor, Haskins Jr. and Jones all gave the nod to Meyer, and the Buckeyes will now (likely) go to bed owning the nation's top-rated class.
Ohio State's 2016 haul now sits at 21 commitments. According to Scout, the Buckeyes have one five-star, 16 four-stars and four three-stars to put them ahead of Florida, LSU, Michigan and Ole Miss.
According to Rivals, Ohio State has a pair of five-star commits, 14 four-stars and four three-stars to lead LSU, Ole Miss, Notre Dame and Michigan. The fine folks at 247Sports have the Buckeyes with one five-star, 15 four-stars and five three-stars, putting Ohio State ahead of LSU, Michigan, Florida State and Ole Miss.
Conversely, ESPN still has Ohio State sitting at No. 5 in its markup of recruiting classes, trailing No. 1 LSU, No. 2 Ole Miss, No. 3 Florida State and No. 4 Michigan. Those numbers are likely to change very soon, but at least we'll always have this: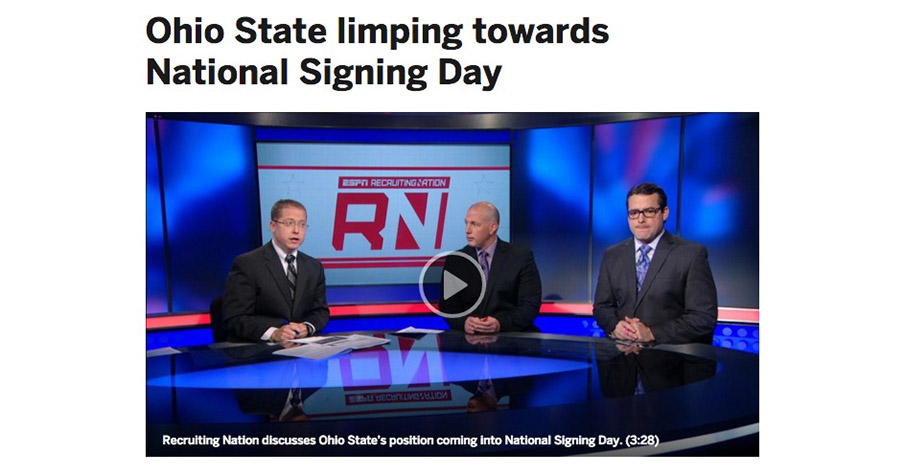 Yes, the Buckeyes waved goodbye to nine underclassmen from the 2015 team, as Michael Thomas, Vonn Bell, Tyvis Powell, Darron Lee, Ezekiel Elliott, Joey Bosa, Jalin Marshall, Eli Apple and Cardale Jones left eligibility on the table to take their talents to the NFL. But Meyer isn't sitting on his laurels and continues to bring in top talent from all around the country.
Oh, and National Signing Day is still 16 days away.