If you follow recruiting at all, odds are you have had Sept. 6 circled on your calendar since early May.
The weekend of the Virginia Tech game promises to be one of the biggest recruiting weekends for the year. Until "The Game," there will be no other game with so many official or unofficial visits. We get you set up with the biggest names on campus for each class.
2015

As Birm told us earlier, a couple of prospects have had to cancel their official visits to Ohio State. This is common when visits are occurring, as games are being switched around and travel is difficult.
Torrance Gibson and Lawrence Cager are the two big names that are no longer visiting this weekend: Gibson's high school game was rescheduled for Saturday and Cager's travel plans got mixed up. They are both hoping to reschedule, most likely for the Michigan game.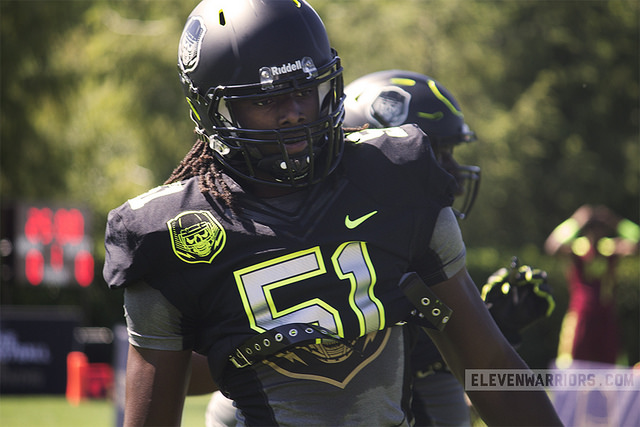 The three biggest names on campus will be Josh Sweat, Damien Harris and Matt Burrell. Sweat, regarded by most as the top recruit in the nation, is taking all official visits before deciding. This visit is going to give Ohio State a better understanding of where it stands with him as he could end up at any of his five finalists. Harris switched his official visit from the Michigan game to this game. Many predict that Harris is going to end up at Ohio State and this visit could be a big reason why.
Matt Burrell is excited to see how the offensive line does against the historic Virginia Tech defense. "I hope to see Coach Warriner and his guys dominate Tech up front," Burrell said of what he is excited for. "I also cannot wait to do the traditional OH-IO with the fans! I hope they know me in Columbus."
Another prospect that Ohio State wants to impress is Jordan Whitehead. The prospect from Monaca, Pennsylvania, is taking his official visit this weekend before deciding in October. This visit, much like Sweat's visit, is intended to give the coaching staff a better understanding of where they stand. Whitehead is excited for the visit.
"I've been there plenty of times," Whitehead told Eleven Warriors. "I am just excited about being around the players and coaches."
Jacques Patrick and Kevin Toliver II are scheduled to come also. For now, the Buckeyes are on the outside looking in at two of the best at their respective positions (running back and cornerback).
2016

The 2016 class is starting to pick up steam and this weekend has a full slate of prospects from this class. Arguably the biggest is the younger brother of star defensive end Joey Bosa, Nick Bosa. Bosa, who is widely considered a heavy Ohio State lean, is making the trek from Florida to Columbus on his own dime. This visit is probably going to push Ohio State closer to securing Bosa's services.
A few Ohio prospects will be there, including DeMario McCall, Jonah Morris, Jonathon Cooper and Brendan Ferns. McCall, one of the fastest prospects in Ohio, is highly regarded as an Ohio State lean. Morris, who might be one of Ohio's most underrated recruits, has been in contact with the coaching staff. He just picked up an offer from Kentucky. Cooper is also considered an Ohio State lean and many people consider him a when not if prospect.
Ferns is making a return trip to Columbus, but he's new to Ohio Stadium. "I have never attended an Ohio State game," Ferns told Eleven Warriors. "To be on the field and to be able to see the whole process. I look forward to seeing the coaching staff interact with the players. There are the men that I may spend four years with so how they communicate with the players is big to me. I'm sure the atmosphere will be what I expect, it's the Buckeyes."
Recently offered Minnesota linebacker Carter Coughlin is also supposed to be in attendance along with five-star Shavar Manuel. Coughlin is considered to be a Minnesota lean because of them being the hometown team and he is also a legacy. Manuel is a Florida State lean.
2017

There are a couple of prospects that are going to be in attendance for this game from the 2017 class. One of these is commit Danny Clark, and another is Todd Sibley. He and Clark are friends, and Sibley is excited to come back to Columbus.
"I'm just excited to go back down and feel the atmosphere of the stadium, see the players up close live and in action," Sibley told Eleven Warriors.
 "First I have a game that same day just four hours before the [Ohio State] game, so hopefully I can get a win and they can get one too," he finished with a laugh.
Clark is excited for the game as well. "I'm not sure who all is going, but I'm sure it will be all big time recruits," Clark told Eleven Warriors. "It is a night game at Ohio State and it is like no other. Once recruits see that, it's a done deal." Got to love Clark's swagger as a recruiter, right?
Another big Ohio recruit attending the game is Westerville South's Marcus Williamson. The 5-foot-10 cornerback is one of the best players in Ohio and is eager to experience a primetime game at Ohio Stadium.
"I am so excited to watch good football in person," Williamson said. "I also cannot wait for the Saturday night atmosphere." If offered, Williamson would most likely have Ohio State on top.
Also in attendance will be athlete Zuriel Sanders, from Akron, Ohio. Sanders was invited by the coaching staff and is hoping to earn an offer with a good performance this season.