You know it's a big event, the place to be when Johnny Manziel shows up, and that's the story from the Elite 11's second session this evening. Manziel, the Cleveland Browns' rookie and former Heisman winning quarterback, was one of a handful of celebrity guests in attendance this evening: fellow Heisman winner Sam Bradford was also on the scene.
One of Manziel's most common conversation partners? Allen, Texas quarterback and Elite 11 participant Kyler Murray, who stole the show during the evening portion of the competition with his pinpoint accuracy and lightning quick release. Murray, a Texas A&M commitment, lacks ideal size for a quarterback at under 6-foot-tall, but what he lacks in size he makes up for with razor sharp precision in other parts of his game.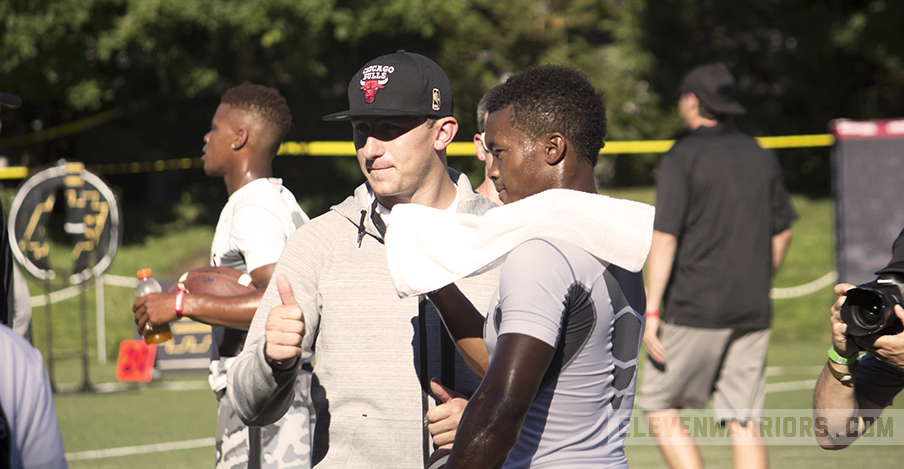 Outside of the Aggies commitment and Manziel, the highlight of the evening session was a group of California quarterbacks, each of whom stood above the crowded competition field tonight with their consistency, their accurate arms and above-average arm strength. Brady White, an Arizona State commit from Santa Clarita threw great passes all night long, consistently finding his receiver in stride, in the hands and with the right velocity and touch. Not the biggest or more physically imposing QB in the bunch, White throws as catchable a ball as anyone on the field and that makes him unique amongst his competitors. 
We discussed him a bit in the AM breakdown, but Alabama commit Blake Barnett was once again very impressive during tonight's second half. At 6-foot-4 and over 200 pounds, Barnett may very well be the most college-ready quarterback in attendance and as the majority of the field exhibited some fatigue this evening in the heat, he stayed cool and collected and kept firing darts as the drills concluded. Nick Saban is getting exactly the type of quarterback he's been successful with for years.
The highly-touted pair of Josh Rosen and Ricky Town, committed to UCLA and USC respectively, were both excellent during tonight's session as well. Tall, strong-armed and upright in the pocket, the two are seasoned beyond their years, handling the pressure of the Elite 11 with ease and showing no signs of stress at the magnitude of the stage. These two should have a number of interesting battles in Southern California over the next few years.