Good afternoon folks, it's recruiting mailbag time. There's a lot of handwringing and confusion because of Ohio State's 2015 recruiting but we'll do our best to dispel a few myths and hopefully shed some light on important questions.
No time for pleasantries, let's dive in.
What is your take on our QB recruitment, has there been some clarity this past week? - BuckGuyFan1
Hey, what do you know? Quarterback Joe Burrow committed to Ohio State just minutes before this piece was set to run. Ignore everything that follows. All is well with the world!
Well, you're not wasting time, are you? Let's get right to it. I was told prior to the start of last week that Ohio State would like to offer another quarterback within "a few days" and that last Monday was a potential "decision day." Clearly, something happened to change some minds because the Buckeyes did not offer Travis Waller, and the Buckeyes did not offer Sheriron Jones, or Joe Burrow, or Tommy Stevens, the four players we've heard the most about. Sources have told me that of those four, Waller and Burrow are the most likely to earn an offer at this point. 
Burrow is planning to camp at Ohio State in early June, but I was told directly that he doesn't have to camp in order to earn his offer, because the Buckeyes have seen enough of him and like his game enough. Waller is saying all the right things, but he needs to solidify plans for a June visit to Columbus before I'm going to believe he's a true option. His situation becomes even murkier this week if by some chance Kyler Murray picks Texas A&M (tomorrow) over the surging favorite Oregon, because if the Ducks miss on Murray it's almost a certainty Waller becomes their next option. If Oregon offers Waller, I'd expect him to head to Eugene, despite contentions that Ohio State is a current favorite. The Ducks have been his favorite for a while.
Torrance Gibson got into trouble this week and was dealt a suspension from his spring game. Is TG showing some warning signs of character problems or does this just seem like an isolated incident? Will this have any affect on our recruitment of him? I know you don't like to speculate on things like this because you're a pro, but his suspension made some waves and I'm just wondering if he's still our guy. Thanks. - AngryWoody
I'll try and answer this as diplomatically as possible, and in pieces. First, yes, Gibson is absolutely still "the guy" for Ohio State despite his recent issues, but they are certainly paying a bit more attention to things. He's young, extremely confident and exceptionally talented, but with that much power - as my uncle Ben Parker told me - comes great responsibility. Gibson needs to focus on his development on the field and off the field and some of that is maturing as a person. He's lived a tough life and he hears day in and day out how he's "not this" or "not that" or that he's the greatest thing since sliced bread and unfortunately he's getting a little chip on his shoulder. It's hard to hear every day how great you are and not believe it. It's hard to be told by everyone that you're the answer to every question and not get indignant when you're questioned yourself.
Torrance Gibson is a really good kid, and he's working through some challenging times and a lot of that is our fault. He can't open Twitter, he can't read a single website without hearing about him and while it's the unfortunate nature of the beast, there's always going to be side-effects and unintended consequences. He's got a solid support system around him however, and from my recent talks with him it's easy to predict that he'll bounce back from this stuff a better person and a better player.
With Hale Hentges committing to Alabama, what are the Buckeye's options for the Tight End position? - Danify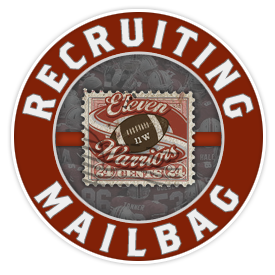 This is becoming a bit of a nightmare for Ohio State, isn't it? A month ago the Buckeyes were in great shape to land Chris Clark or Hale Hentges (or both) and because of that they went away from C.J. Conrad, who has since committed to Kentucky. Hentges committed yesterday to Alabama, and it seems Clark is leaning towards Michigan. Where do the Buckeyes go from here is anyone's guess, but I am sure they'll work even harder to bring Clark back around, knowing that he's been their top-target for months.
If Clark ends up elsewhere, and even before then, don't be surprised to see Ohio State ramp up their recruitment of Jackson Harris and Miles Boykin, although Boykin said recently that Urban Meyer was more interested in him as a wide receiver. New Jersey's Jake Pickard is an interesting possibility as well - and a talented player - but it's clear that this position is not being filled as well as the Buckeyes would have liked it to be.
Urban Meyer said that the staff whiffed on a few recruits in the last couple of recruiting cycles. Do you think that's factoring in to why tOSU only has 1.5 commitments thus far? - DamonBuckeye
I don't think any previous misses are impacting Ohio State's 2015 recruiting class. I think, and I realize it doesn't make anyone feel "better," that the Buckeyes are just going after a different type of kid this year and for whatever reason most of them are not buying what they're selling - yet. Why? If I knew that answer, I'd tell you.
Did two tough losses at the end of last season combined with more SEC dominance instill doubt that Ohio State can "compete?" Maybe, and I am sure that's a common theme recruits are told when bringing up the Buckeyes. Scares about Urban Meyer's health and longevity? Same thing, I am sure. Maybe the Buckeyes just aren't using pretty enough hostesses on visits? Maybe kids who are being coddled by media outlets, social media gurus and handlers just aren't "feeling the love" from a coaching staff that is more about intensity than warm fuzzy feelings? If I knew the answer, I'd tell you. Ohio State is still Ohio State, Urban Meyer is still Urban Meyer and the Buckeyes will still end up with one of the nation's top recruiting classes.
When do you think it's time to grab a couple of local recruits who want to be Buckeyes before they commit somewhere else? I read Fickell visited Nick Conner last week. Do you suppose they gave him a timeline? - AllinOSU
Maybe this will be an unpopular answer, but my job is to answer the questions, right?
Never. The answer is never. It's never time to offer a kid just because he wants to come to Ohio State and is a local player. If the Ohio State coaching staff doesn't feel a player is going to win them national championships, they will not offer them, and they should not offer them. Do I agree with every recruit they offer? Nope, I don't, but they are making offers to kids who they think will win them the most football games. That is how they make their money and how they will keep their jobs and it's easy to live in hindsight.
Are our past two recruiting classes with the depth they have provided negatively affecting this recruiting class? Are recruits looking at the depth chart and seeing it might not be until their junior year before they could play? I know kids are still committing to 'Bama but 'Bama is a proven winner and so far we are not. Does a birth in the playoff change that perception or do we have to win it all? - KGratz
It's funny how often recent history is all that matters, but in recruiting it absolutely is. I'm not suggesting at all that Ohio State's tradition and history doesn't matter, but time sure flies. Think about it, it's been 12 years since the Buckeyes won a national title, meaning that most players being recruited now were no more than 4-5 years old when it happened. That perception is - at least in my opinion - far more relevant than depth charts in most cases. Winners like to play with winners, and 'Bama is a great example of that. Kids are not being scared off, nor should they. Competition is good for the soul, and guys like Saban and Meyer build thriving programs off that ideal.
The fact that the SEC - and "southern football" in general - keep winning national championships, continue to be lauded as "real football" on ESPN and throughout publications everywhere, that's what is slowing down Ohio State and the rest of the Big Ten in general. Until the football program changes that perception by taking back the crystal ball, the Buckeyes are going to have to sell people on the idea that "we need you to stem the Tide," literally.
Is it just me or are a lot of the recruits today playing the coaches all over the country for their moment in the limelight?  Top five lists, top fifteen lists, important announcement in two hours. I'm now looking for the kids who want to play and go to school at The Ohio State University, coaching will make the difference over talent and fat heads. - BuckeyeRadar
It's a terrible, terrible reality, isn't it? But yes, this is the world we live in and it's certainly not going to slow down. Ohio State has extended a scholarship offer to an eighth grader for Pete's sake. Players are guilty of hyping themselves up, coaches are guilty of hyping up players, websites are guilty of hyping up players and coaches. It's an endless circle of self-adulation. There are few players these days who don't want the attention, and the attention is good for the recruiting classes in general, isn't it? The more the players hype things, the more other players take notice. Get used to it, I guess. That's the new age of recruiting.
We keep hearing that we might potentially get commitments from Sh'Mar Kilby-Lane, Van Jefferson, Dre'Mont Jones, etc. What's up with these guys and why haven't any of them committed yet? - AB1993
This is kind of the question of all questions, honestly, although as much as I believe Ohio State is in good shape for Jefferson I don't think he's quite as much of a "lock" as the others. There are a number of players inside of Ohio (Jones, Jerome Baker, Elijah Taylor namely) that could swing the momentum of the recruiting class quickly if they'd commit to Ohio State, but for whatever reason they're just not ready to make their intentions known.
Dre'Mont Jones could literally be any day, but that's been the case since well before the Spring Game in April. What about Liam McCullough? The long-snapper says he's still in regular contact with Ohio State but even he is holding back for the time being.
Kilby-Lane is definitely a player to feel confident about, and Jefferson has always liked Ohio State, but I'm worried about LSU or Georgia as a real threat to the Buckeyes' chances.
Bottom line: there's really no explanation for why these guys haven't made their decision yet other than the fact that it's their decision and they'll make it when they want to. I'd be stunned if Jones, Baker and Kilby-Lane didn't end up in Columbus.
You have Justin Hilliard "Crystal Balled" to Buckeyes here,  but in your article about "Predicting the Defensive Side of the Ball", you left him out. What gives?!  What are you feeling today with the latest news of him moving up his timeline along with the visits and full-court press the staff has given him? - KBonay
I think Ohio State has "started from the bottom" and they're almost "here" when it comes to Hilliard, but there's still some major challenges to landing the St. Xavier star. There's some rumors that the household is divided on their preferences for his matriculation, but I do believe that Justin would rather go to Ohio State or Alabama than Notre Dame, Michigan, or Iowa.
Of course, that means squat.
Hilliard, the nation's top outside linebacker prospect, is going to have to make a decision that's best for him and his family and while the Buckeyes are making a serious push (aided by a budding relationship with freshman Raekwon McMillan) there is work to be done. This is another area where the delay by in-state players like Baker, Taylor and Jones is hurting the Buckeyes, because they'd have a chance to really develop their rapport with Hilliard as future Buckeyes. Right now, I think Ohio State's chances are better than they've been, and I think they'll continue to move up his families list as they forge their own relationships with Urban Meyer and company.