One-star, three-stars or five-stars; here is all you need to know about Pulaski (Tenn.) cornerback Cameron Ordway: since March 1st, the 6-foot-1, 173-pounder has been offered by Alabama, Auburn and Florida State.
"Yeah, it was a bit surprising" Ordway said of the recent explosion of offers. "But it's really great, and I am loving the recruiting process more and more."
Part of the process is spending the spring making some visits to interested colleges, and that's what Ordway did in early March when he visited Alabama and Auburn for their junior days. Each of those trips ended in offers for the Giles County High School star, but the increased interest is a combination of other things, he says.
"I think I've put in a lot of work this off-season," he said, trying to explain why he's become such a hot commodity. "Plus, people have seen my highlight tape and I had a good Rivals.com camp."
That Rivals camp performance earned him an offer from the defending national champion Seminoles, and the analysis from the Rivals.com recruiting team helps shed some light on why.
Ordway is the biggest of the defensive backs on the list, and there were times when he looked like he had a chance to claim the No. 1 spot. His feet are quick, and he is explosive coming out of the break. His change of direction ability is top notch and his length is a plus. That said, his technique was a little off and in one-on-ones he had some inconsistent moments. 
One school that Ordway has not heard as much from as he'd like to is Ohio State, who was at one point near the top of his list because he grew up a fan of the Scarlet and Gray. Tim Hinton, who handles Tennessee recruiting, and new defensive coordinator Chris Ash, have both been in touch, but not recently Ordway said.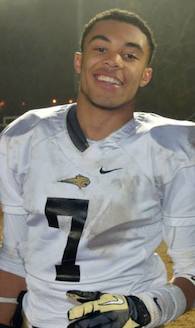 "Coach Hinton was talking to me for a while," Ordway said of the Buckeyes. "He and Chris Ash. Coach Hinton came to visit me at school earlier in the year. I talked to him again like two weeks ago, and he said he's not sure where things are at with me because they don't know me that well."
In order to get to know Ordway better, Ohio State has told him in the past that they'd like to get him on campus for a visit.
"They are definitely a school I'd like to make a visit to," he added. "Just knowing about Urban Meyer, the way he coaches his guys and the way they want to win. I know they've had some playmakers up there, but it seems like they've lost interest."
Whether or not that's the case remains to be seen, but Ordway's interest from other schools is certainly not waning. He lists Ole Miss and Florida State, along with Alabama and Auburn, as the schools he's currently most interested in. He wants the Buckeyes to take notice, as the others have, that he could be an asset to their defensive backfield.
"I'm a player that can bring something special to a teams secondary," he said of why he hopes the Buckeyes stay in contact. "All these other schools have noticed what I can do, so I think I must be doing something special."