Ohio State struck gold in-state, today, as Dublin Scioto 2015 linebacker Nick Conner committed to the Buckeyes.
Conner, who announced his commitment on Instagram, had been waiting for the Ohio State offer, and when it came he didn't hesitate to accept it.
The Conner File
Size: 6-3/225
Pos: Linebacker
School: Scioto (Dublin, OH)
Composite: ★★★★
Composite Rank: 5 (ILB)
The 6-foot-3, 225 pound linebacker has been patient while he's waited, but his confidence has never waned. He believed that Ohio State would recognize that his skills — and the person he is off the field — made him an excellent fit for what Urban Meyer is trying to accomplish in Columbus.
"I know once they get to know me and who I am and how I do things it will work out," Conner told Eleven Warriors. "I know they've been wanting me to continue working on my speed and I have been."
It appears that Conner has shown Meyer and his staff what they needed to see after a mid-week camp performance and he couldn't be happier to be a Buckeye. It's the culmination of years of hard work, with everything pointed to this one moment.
Most likely a true inside linebacker at Ohio State, Conner chose the Buckeyes over offers from Michigan State, Oregon, Kentucky, Illinois, Indiana, Boston College, Cincinnati, West Virginia and others.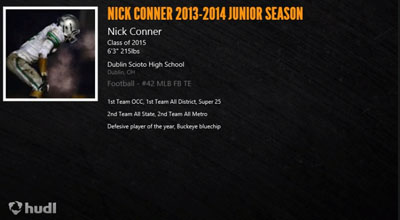 The 8th-ranked player in the state according to OhioPreps.com evaluator Marc Givler, Conner becomes the first of what could be a trio of in-state linebackers to eventually commit to Ohio State.
As a junior, Connor led Dublin Scioto with 119 tackles, including 19 for a loss. He also contributed 5.5 sacks and 3 interceptions for the Irish. 
Conner will add depth to a linebacker corps that currently includes 10 freshmen and sophomores on Ohio State's roster.
The state's top player, Jerome Baker, and the third-ranked player, Justin Hilliard, are each very interested in the Buckeyes and Ohio State continues to pursue them heavily.