The 11W Community Interview is truly of the people, by the people, and for the people. You submit the questions, vote on them, and then we pass the top ones on to the biggest names in the world of Ohio State athletics.
This week's 11W Community Interview heads to the Badlands and puts Sioux Falls, South Dakota offensive lineman Grant Schmidt in the hot-seat.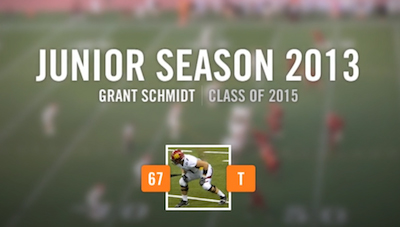 Schmidt, a 6-foot-6, 290-pound lineman, earned a scholarship offer from the Buckeyes in May and became Ohio State's fifth commitment in the 2015 class in the second week of June. That commitment came on the heels of a family visit to Columbus where Grant took part in one of the Buckeyes' one-day camps and toured the campus. 
The first ever player from South Dakota offered a football scholarship from Ohio State, Schmidt shares a bit more about himself and his recruitment in the 11W Community Interview.
---
Can you describe what other kids in North Dakota are like compared to the kids you went against at camp at Ohio State? - ODeez330
GS: I'm assuming that the question is meant for South Dakota (laughs.) Regarding the competition difference, it is surprisingly similar. A gap does exist between the elite of Ohio and South Dakota obviously, but that gap is a lot closer then you'd think, the lineman especially. There are a lot of big, strong, and athletic kids here in Sioux Falls. There are three players — including myself — on the offensive side of the ball at my school that hold division one offers.
How does it feel to go to a school that's in a city with roughly the same population as the entire state of South Dakota? What was your favorite part of Columbus? -  OTrain2416
GS: There is definitely going to be an adjustment. I do live in a pretty large city and I go to a large high school (almost 2500 kids). I believe that this will give me somewhat of an advantage over someone who lives in a very tiny town, but it will be an adjustment. As for my favorite part of Columbus? It's definitely the overall feel, it feels like Sioux Falls in a lot of ways, truthfully. I also really loved this chicken place we went to? Raising Canes I think I is the name.
What is the general perception of Ohio State football in South Dakota? - Killer Nuts
GS: Simply put: elite. It was very big deal for someone from South Dakota to commit to Ohio State. It is very well-known and it's a school that is highly spoken of among the general population.
Most of us have some Ohio connection, thus the reason we follow the program with such passion.  But what made Ohio State your 'dream' school,  being from SD? - KBonay
GS: When I was a very young child I aspired to play college football and I wanted to be in an elite program but still in the Midwest because I value that part of my life, that way of life. So the obvious choice was Ohio State, because it's been the premiere program in the midwest for much of the last 20 years. I also wanted to do something that no one has ever done before from my state.
What do you think will be your biggest challenge once you arrive on campus (on or off the field)?  - BroJim
GS: I anticipate that I will have a lot of challenges to overcome once I am on campus, and a lot of them I probably have no idea what they are yet. One major one I can think of is time-management, which I think is hard for any student-athlete because as an athlete there's always something we have to do in class, the weight room or on the field. Time management is a really important aspect of being successful.
You said that when you received the offer from Ed Warriner you thought everyone was surprised but you. Could you expand on that? What did you know about yourself that others didn't? - EwanJobi
GS:  I think that sounded more cocky then I meant it to (laughs).
In reality, I just woke up that morning for my early workout understanding that I was about to be evaluated by my dream school, so I trusted myself and relied on my foundation and my talents. I try to take a winning and positive attitude into everything I do, because if I went into that morning thinking I didn't have a chance, I would have already sold myself short and that's not how I approach anything in my life.
What will be your approach to strength and conditioning, academics, playbook study, and general competition against other recruits once you arrive on campus in 2015?  Would you enroll early? How would you separate yourself from the rest of the class to gain an advantage? - Cinserious
GS: First off, myself and some of the coaches discussed enrolling early and decided that would not the best choice for me. I have throwing (track and field) in the spring that I would like to participate in. I'm really hoping to throw 190-foot in discus, that's another passion of mine. I know the value in early enrollment, but I don't believe this will stunt my football development at all because I am very diligent about doing what I need to do when no ones watching. I will enjoy my senior year and finish out my obligations to my current teammates in football and track.
What is something you do for fun, or as a hobby, that most people don't know? - ChicagoBuckeye
GS: There's a little tradition I have that me and my friends go to pretty much every movie that comes out. It's something fun I do that doesn't seem very typical of a big offensive lineman or any football players. I am also a very avid reader I love books and get a lot of reading time in online.
Is their a recruits or players that you have got to know over the recruiting process that you could see becoming roommates.  - OSUPawn
GS: Not really yet, but it's still early.  Joe Burrow and I have traded text messages a few times but I'm sure that I will meet some more guys on my official visit. Everyone seems like great guys from what I've seen. I'm excited to be a part of this class and I'm looking forward to getting to know everyone better.
I try to take a winning and positive attitude into everything I do, because if I went into that morning thinking I didn't have a chance, I would have already sold myself short and that's not how I approach anything in my life.
 Are you more Crazy Horse or Mount Rushmore? - Abe Froman
GS: Both are about six-hours away from where I live, but Mount Rushmore for sure. 
I know that a lot of people get all caught up in the rankings and stars and that stuff, but I want you all to know that when you step on the field that stuff means nothing. I haven't personally been to a camp where sports networks were evaluating for over a year because it all seems pointless to me, it's just hype for websites and what matters to me is a coach's evaluation. I got the offer I wanted and it all worked out for the best. Take a look sometime at the guys drafted in the first round and look at what star they where in high school, because recruiting services can't measure heart or motivation or my desire to be the best.  I'm looking forward to being a Buckeye and proving to anyone who doubts me because of "stars" that the coaches at Ohio State know what they're doing.
Thank you all for reading this and Go Bucks!