Let's take it back to the schoolyard.
One hypothetical basketball game for all the marbles, and Eleven Warriors' Griffin Strom and Dan Hope are the two team captains. The players populating the court for this make-believe matchup are, of course, the Ohio State Buckeyes themselves, who officially begin the 2021-22 season next Tuesday at home against Akron.
The first pick was a foregone conclusion, given that E.J. Liddell is a returning first-team All-Big Ten honoree, and Dan received the benefit of a coin toss to land the Ohio State junior and Illinois native as the overall No. 1 in the team draft.
After that, though, the rest of the draft order became considerably more difficult to discern. Multiple Buckeyes are banged up at the start of the season, and young players and veteran transfers alike are still ironing out exactly what their roles will be for Ohio State in the forthcoming campaign.
But alas, Griffin and Dan each built their teams utilizing a snake-format draft up until four players remained on the board.
You can hear the draft unfold as it happened and our full analysis of each pick on this week's episode of Real Pod Wednesdays. Below, you'll find brief analysis of each selection written by the writer who drafted each player, followed by each of our cases for why each of our teams could win this hypothetical matchup, after which you'll be able to vote for whose team you think would win.
The Selections
1. E.J. Liddell, F (Dan)
This was a no-brainer. Among all returning players, Liddell had the most points, rebounds, assists and blocks for the Buckeyes last season. He's Ohio State's most important player on both ends of the floor and the offense will be built around him. On a team that will be relying heavily on young players and transfers to take on bigger roles, Liddell is the sure thing.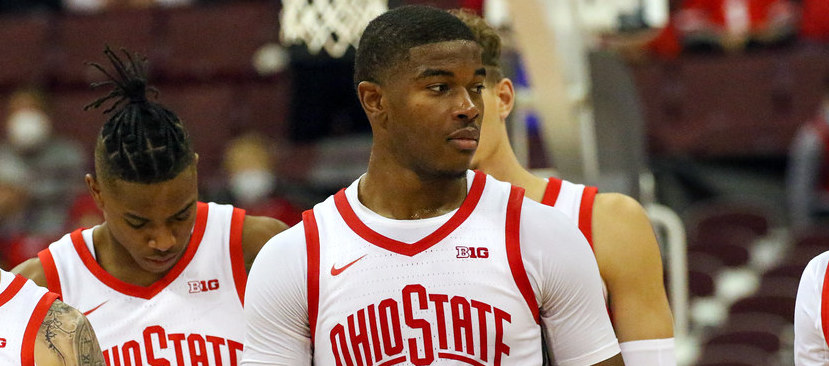 2. Justice Sueing, F (Griffin)
3. Meechie Johnson Jr., G (Griffin)
Dan took the obvious choice at No. 1, but I like the multi-positional versatility I'm getting in a two-way player with Sueing at No. 2. Current health issues aside, the fifth-year senior and team captain can play anything from point guard to power forward, and can fill up a stat sheet on any given night.
Johnson's offensive aggression in Monday's exhibition helped him shoot up my leaderboard this week, as it's evident that the second-year freshman will have a much bigger role on offense for the Buckeyes this year. With Duane Washington gone, Johnson might just fill the void as a fearless go-to scorer more than anyone realized this season.
4. Malaki Branham, G (Dan)
5. Zed Key, C (Dan)
I'm betting on the upside of Branham, who could be the Buckeyes' best player not named Liddell by the end of the season. He's the most highly touted recruit on the roster, and while he'll likely come off the bench initially, I expect him to quickly emerge as one of Ohio State's top scorers. 
Key was impressive as a post scorer and rebounder off the bench last season and appears to be both in better shape and in line to start at center this season. Pairing him with Liddell gives my team the pairing of post players that I believe we'll see on the floor more than any other for Ohio State in 2021-22.
6. Kyle Young, F (Griffin)
7. Jamari Wheeler, G (Griffin)
Scoring be damned, I opted to go with a couple of hard-nosed, defensive-minded vets with my second set of picks. Young's health may be in question yet again, but when we last saw him a year ago, the Canton native was playing the best offensive basketball of his career, and everyone knows the intangibles and toughness he brings to the table.
Wheeler gives me perhaps the best defender and purest floor general on the Buckeye roster, and allows me to steal away Ohio State's top two on-ball guards from Dan. Wheeler should be a starter from Game 1 on, and even if he won't wow you with offense, his ability to facilitate the game and bother the opposition on defense is an invaluable asset.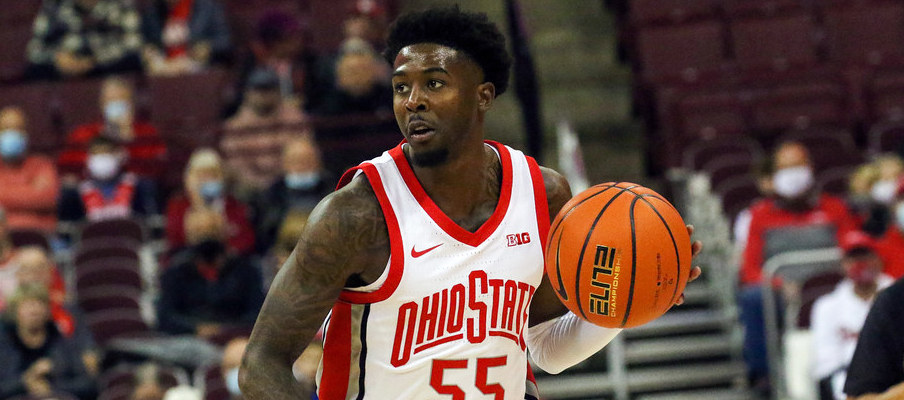 8. Justin Ahrens, F (Dan)
9. Cedric Russell, G (Dan)
Ahrens could be a starter on the wing for the Buckeyes, at least at the beginning of the season if Sueing or Young isn't ready to go, and he's the team's best 3-point shooter, making him a strong offensive complement to the inside scoring ability of Liddell and Key and the slashing ability of Branham.
Russell averaged the most points of anyone on the team who was playing college basketball last season, as he scored 17.2 points per game at Louisiana in 2020-21. He probably won't play a huge role for the Buckeyes right away, as Chris Holtmann has said Russell's still adjusting to playing against better competition, but he's another dangerous outside shooter who could emerge as one of the Buckeyes' top scorers by the end of the year.
10. Eugene Brown, G/F (Griffin)
11. Seth Towns, F (Griffin)
I see Brown falling to No. 10 as a value pick for my roster, as the 6-foot-6 wing has shown this offseason – and in Monday's exhibition, in particular – that he's ready for an increased role on offense. Another player that can play anything from the two to the four based on the lineup, the pairing of Brown and Sueing gives me what could be the two most versatile two-way wings on the Buckeye roster.
Towns must get healthy before he can get off my bench, but the sixth-year vet has a developed offensive repertoire and good length for a multi-positional wing. Towns hit big shots at the end of last season for Ohio State, and Dan's squad could fall victim to the same sweet stroke.
12. Jimmy Sotos, G (Dan)
I was relieved that Griffin allowed Sotos to fall to the 12th pick, giving me the opportunity to add a point guard to my roster after missing out on Johnson and Wheeler. While a shoulder injury cut short Sotos' first season as a Buckeye, he was a productive starting point guard at Bucknell for three years before that and gives my team's backcourt a steady veteran presence who can distribute the ball to the many scorers he'll have around him.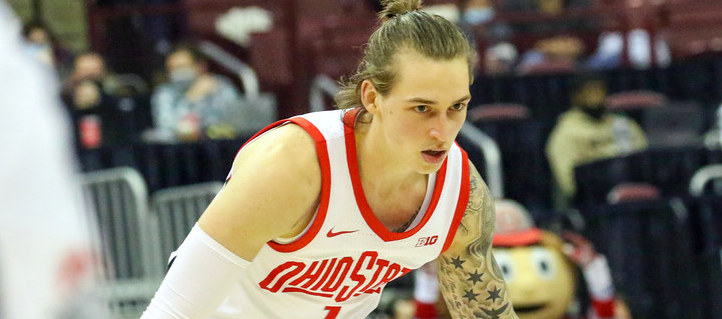 13. Joey Brunk, C (Griffin)
Brunk had an underwhelming outing against Indianapolis, to say the least, but the 6-foot-11 big man could see significant minutes for the Buckeyes this season once he shakes off some rust, and may prove to be another value selection on my roster.
14. Kalen Etzler, F (Dan)
Etzler probably won't play at all for Ohio State this season, as he is planning to redshirt, but that's not to say he doesn't have upside. At 6-foot-8 with lots of length and athleticism, Etzler needs to get bigger and stronger to be truly ready to play in the Big Ten, but nonetheless gives my team a versatile backup forward who can guard numerous spots on the floor. 
15. Harrison Hookfin, F (Griffin)
If nothing else, Hookfin gives me an extra body that Dan doesn't have, and the veteran walk-on has all kinds of experience in the program from the last several years with which to draw from.
Lineup Comparison
| Griffin's Team | Position | Dan's Team |
| --- | --- | --- |
| JAMARI WHEELER (7) | G | JIMMY SOTOS (12) |
| MEECHIE JOHNSON JR. (3) | G | MALAKI BRANHAM (4) |
| EUGENE BROWN (10) | F | JUSTIN AHRENS (8) |
| JUSTICE SUEING (2) | F | E.J. LIDDELL (1) |
| KYLE YOUNG (6) | C | ZED KEY (5) |
| SETH TOWNS (11) | BENCH | CEDRIC RUSSELL (9) |
| JOEY BRUNK (13) | BENCH | KALEN ETZLER (14) |
| HARRISON HOOKFIN (15) | BENCH | N/A |
The Case For Each Team
Griffin
Dan has a clear advantage inside with the pairing of Liddell and Key, to be sure. There's an argument to be made that I should've taken Key off the board with the third pick instead of Johnson, but with he and Wheeler running the show in my backcourt, Dan may have issues at the guard positions. Wheeler will be a pest on defense that Sotos could have all kinds of trouble dealing with, and the jury is still out on what exactly Branham will bring to the table defensively for Team Dan, despite his length.
Sueing and Brown will be difficult matchups for Ahrens and Liddell on defense, even if Liddell could bully Sueing in the paint a bit on the other end, and I'm loving the versatility I get on both ends of the floor at the forward positions.
Young, Towns and Brunk all have rather large question marks attached to their backs at the moment, but the Indiana transfer could allow me to play bigger if Liddell and Key become a problem for Sueing and Young down low. If Towns returns healthy, he figures to provide me some outside shooting off the bench.
Dan may win the vote with flashy names like Liddell and Branham, but I like my chances with some sneaky good matchups in the hypothetical game itself.
Dan
Landing Liddell is a significant advantage for my team right off the bat, and pairing him with Key gives me the best possible combination down low, in my opinion. My team is built to win the rebounding battle and score more points in the paint, while I also expect both Liddell and Key – especially Liddell – to show more range on both sides of the court as they've slimmed down and worked on becoming more complete players this offseason.
If Branham performs up to expectations, my team could very well feature the two best players on the roster. Pairing Branham with Ahrens and Russell on the wing might give my team the three best outside shooters on the roster.
My team is built to score a lot of points, which I think will overcome the slight defensive advantage that Griffin's team has. I'll acknowledge that Griffin's team has the edge at point guard, but I like the way my team matches up at the 2-5 spots while Russell gives me a dynamic sixth man that will give me options in the backcourt and on the wing.
Cast Your Vote