The decision, to some extent, doesn't matter for Meechie Johnson. It's not an all-or-nothing choice.
If Duane Washington Jr. takes his name out of the NBA draft pool and chooses to stay at Ohio State for one more season, then the rising sophomore combo guard will compete to start beside him in the backcourt and will play a significant role in this team's 2021-22 outlook. If Washington leaves, then Johnson would play even more minutes with a clearer path to the starting lineup.
Either way, regardless of whether Washington – who earned an NBA Combine invitation late on Monday night – sticks around or not, Johnson will transform from a sparsely utilized reserve into a key piece of Ohio State's immediate future.
Washington used to refer to Johnson as his "little brother." There'll be nothing little about his role next season in Columbus.
"I'm super excited about the step that Meechie can take as a player, as well," head coach Chris Holtmann said late in April. "A young guy who, I think, bringing him in when we did, I liked that. I felt like that was a good decision at the time and remains a good decision. Hopefully next year will provide some benefits with his experience there."
Johnson, of course, was initially supposed to make his Ohio State debut later this year. At this point a year ago, he had finished rehabbing a torn ACL that had ended his sophomore season of high school basketball prematurely and prevented him from playing at all as a junior, and he was beginning to show out with the Indy Heat in various grassroots events around the midwest. His intention, after the summer session wrapped up, was to play his senior season of high school basketball for his uncle, Sonny, at Garfield Heights.
Then came the fateful call from Ohio State's coaching staff.
A scholarship had opened up in the worst way possible – Abel Porter had decided to medically retire from basketball due to rare heart disease – and Holtmann wanted to find out if Johnson had any interest in coming to Columbus a year early. He initially turned it down, his father Demetrius told Eleven Warriors in December, but after discussing it with his family he changed his mind and jumped at what was ultimately believed to be a "no-brainer."
So in December, after graduating early from Garfield Heights, Johnson joined the Buckeyes – and he did so without expectations of playing much. Essentially, because all winter athletes were offered an additional season of eligibility due to the pandemic, his freshman year was treated as a redshirt season. Development and integration into the program and the college game were the primary goals with eyes on the mid-season enrollment truly helping him the following season.
On Jan. 9, he made his debut, playing four scoreless minutes in a win at Rutgers.
"I can't overstate how hard that is for him to get to campus when he got to campus, go through all of the important stuff with the battery of tests, medical tests, just begin live practice two days ago and then play a top-15 team on the road," Holtmann said after Johnson made his debut.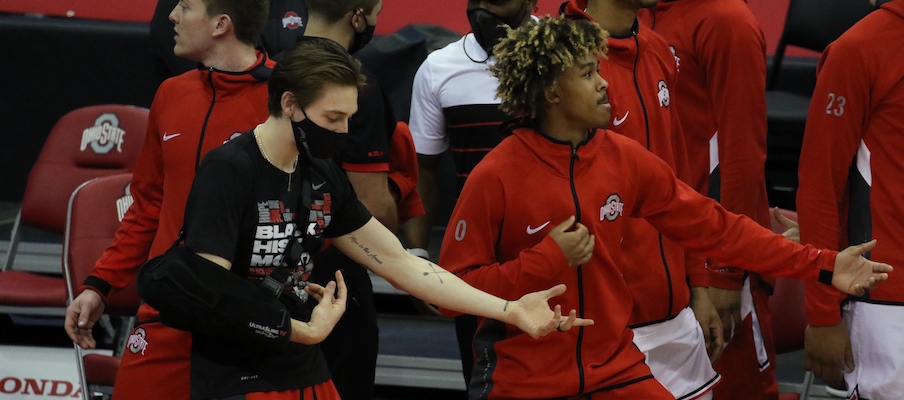 Johnson had his moments during the three in-season months he was a part of the team. He drained a pair of 3s in his first-ever home game, helping beat Northwestern, then played 17 minutes three days later in the six-point win at Illinois. In early February, his six points – on two made triples – were part of an 89-85 road victory at Iowa. 
Belief in himself, his teammates said, was never an issue even though he began college hoops having not played a mostly full season of basketball since his sophomore year of high school.
"That's something I was telling Duane," Justin Ahrens said after one of Johnson's first games. "I think it was after his second 3. I was like, 'He's nice. He's going to be real nice.' You don't see that a lot with freshmen coming in – the confidence he's been playing with. Especially in practice, he's been getting his teammates involved really well as a point guard. And obviously you've seen out there hitting those two big shots tonight, he wasn't scared to let him fly, so that's good for him. He's living up to the moment."
Overall, he played fewer than 100 minutes across 17 games, scoring 21 points, grabbing seven boards and tossing three assists. Johnson spent the season largely in the shadows, gleaning what he could from veteran guards like CJ Walker and Washington and getting up to speed in practices and as a reserve in games.
All of that work was, of course, preparation for what's coming for the 6-foot-2 guard in the 2021-22 season.
Rather than joining the Ohio State program as a green-behind-the-ears freshman, Johnson has first-hand experience of what a season looks like. He's seen the highs and the lows. It'll be different when he's actually the one on the court in those moments, but he won't be going through it all for the first time.
"It's going to be a slow build with him," Holtmann said back in January. "I give him a ton of credit. Excited about his continuing to grow."