The last time Chris Holtmann's team left the court, Ohio State hoops fans were incredulous at what they had just seen. Summit League champion Oral Roberts, which came into the NCAA tournament with a 16-10 record, proved too much to handle. In overtime, Max Abmas and Kevin Obanor pulled off a 75-72 upset, earning the Buckeyes an undesirable spot in March Madness history as only the ninth second-seeded team ever to lose to a 15 seed.
Incredulity was palpable. So, too, frustration.
It was, as athletic director Gene Smith put it in an interview with Eleven Warriors last week, "obviously" the "worst loss" of Holtmann's tenure at Ohio State. Nobody, including Holtmann, would argue with that characterization. 
"That was painful," Smith said.
The first-round defeat prevented the program from making an NCAA Tournament splash, which hasn't happened since the Buckeyes advanced to the Elite Eight in 2013. The highest-seeded Ohio State team in eight years went home without a single March Madness victory. Ohio State has now gone eight years without advancing past the second round of the NCAA tournament.
Yet at least in the eyes of Smith, the Oral Roberts result had a cogent explanation – even if it was one that led to an unfavorable result.
"Most of this is my old age, but I've seen an Oral Roberts situation before in a lot of different places," Smith said on the latest episode of Real Pod Wednesdays. "I remember being on the committee – I got drilled as the committee chair when we put VCU in. They were really, really good, and Oral Roberts the same way. If they were playing at the top of their game, they could have beat almost anybody. I watched our team get beat up in the Big Ten, and I watched our team in that last game and E.J. Liddell getting beat up. Kyle Young wasn't in that game. People forget that; he wasn't in that game. Justice Sueing was putting heating pads on his inner thighs during timeouts of that game. We weren't full force. We weren't. We were crippled. And they were at the top of their game."
Quite plainly, Smith doesn't think the memorable – and infuriating – loss to the Golden Eagles should overshadow the rest of Holtmann's time in Columbus. 
The longtime athletic director who hired him away from Butler hasn't spoken publicly much about the men's hoops head coach over the past couple of years. But he gave rave reviews of Holtmann when speaking last week.
"He's done an excellent job," Smith said. "I think he's done an exceptional job. He's an unbelievable teacher, first and foremost, when you look at him in-game, when you look at him in practice. He's a great teacher. I think he's done an excellent job in that space. And he's an outstanding recruiter of character. The young men who are here and who are coming in this year are exceptional, exceptional people, good academic performers, but they're outstanding players. The roster management has been interesting. You guys will probably pay attention to it. It's going to be interesting this year to see how the roster evolves. His recruiting for '22 is stupid. He's doing a great job. I feel good about where the program is."
When Ohio State moved on from Matta, Smith didn't shy away from touting the high expectations he had for the men's basketball program.
Speaking to Doug Lesmerises of Cleveland.com, he said in June 2017 – shortly after hiring Holtmann – that he believes Ohio State should eventually "be in the hunt" for a Big Ten championship every year, be a top-15 team nationally "all the time," periodically be a top-five team and return to the heights of the Matta era. He said then that the Buckeyes "need to keep it consistent."
Holtmann's teams haven't gotten there yet.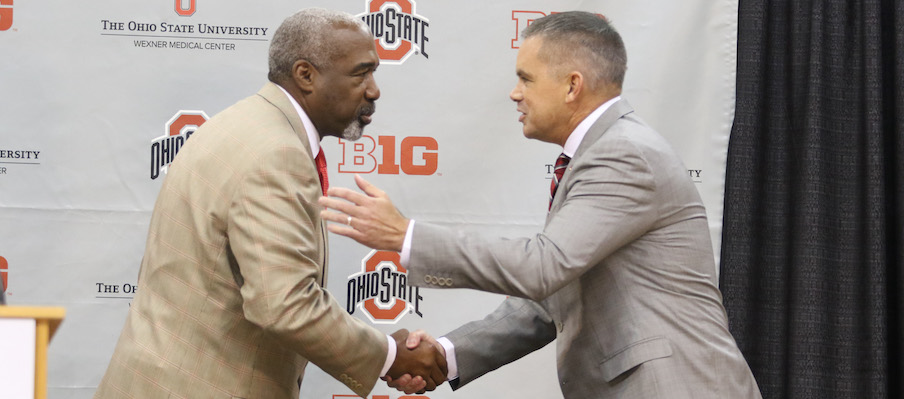 His 2017-18 Buckeyes came the closest to a conference title, finishing tied for second in the regular season, then got bounced immediately by Penn State in the Big Ten tournament. They ended the year at No. 13 in the Associated Press top-25 poll but lost to higher-seeded Gonzaga in the second round of the NCAA tournament. 
The following season was a total rebuild. As Holtmann patched together a lackluster roster, Ohio State went 20-15, somehow pulling out a March Madness berth – which was an accomplishment in and of itself – and managed to pull off a first-round upset of Iowa State before getting beat by Houston.
The third year of the Holtmann era put him at the helm of a reloaded Ohio State team made up almost entirely of guys he recruited and brought in. Expectations, as expected, increased. Improved performances followed. The Buckeyes came out of the gates hot, rising all the way to No. 2 in the AP Top 25 poll with an 11-1 record to start the season before losing six of seven games. Still, they managed to finish strong by winning nine of their last 12 games before the COVID-19 pandemic ripped apart postseason college basketball, ending Ohio State's season just as the postseason began. The Buckeyes finished with a 21-10 record in a four-way tie for fifth place in the Big Ten, a No. 19 ranking in the AP poll and top-10 status by KenPom.
Holtmann remains convinced that the 2019-20 Ohio State team would have won some games that were never played, and Smith agrees.
"I really think if we had gotten in the COVID year in 2020, we would have made a little run," Smith said. "I think that team had some juice in it."
This past year's Buckeyes rose from unranked at the beginning of January to a top-10 team for the duration of February and March, finishing ranked seventh by the AP and 11th by KenPom. They went 21-10 overall and 12-8 in the Big Ten for a second straight fifth-place conference finish. Their roller coaster end-of-year stretch included four consecutive losses to conclude the regular season, a run to the Big Ten tournament final, then a first-round NCAA tournament upset defeat.
Taking all four years into account, Smith thinks Ohio State men's basketball is heading in the right direction. And he believes Holtmann's Buckeyes will reach the levels of success they enjoyed in some of the best years of the Matta era.
"My confidence is in the young men, is in watching him teach, and reality is his recruiting," Smith said. "He's doing a heck of a job recruiting. You did a great job going over his years with the player roster management, but now we're to a point where these are his kids and this is his program. So now it's going to be interesting to watch to see how those puzzles fit. The young man from Akron (Malaki Branham) is a player. He's probably got to get a year under his belt because he's still a puppy, but at the end of the day that kid's going to be special when it's all said and done. I'm really excited about it. I'm probably a little biased because I go to practice more than other people and see what I see."