It has been well-documented that Ohio State has lost a number of its leaders from last season, as Keita Bates-Diop and Jae'Sean Tate participate in the NBA's Summer League while Kam Williams is also trying to make it as a professional basketball player. 
Andrew Dakich is sticking around as a graduate assistant coach, but the team is clearly C.J. Jackson's to run now, as the lone senior with significant playing time left on the roster. 
Jackson has said during the offseason that he believes Ohio State can take a leadership by committee approach in 2018-19 if needed, but the Charlotte, N.C. native has decided to at the very least take one specific young Buckeye under his wing during the offseason. 
Speaking to the media on June 13, Jackson said he has spent extra time with sophomore Kyle Young this summer in an effort to bring the best out of the Massillon, Ohio product. 
"I am really trying to harp and stay on Kyle Young. I go to the gym with him and text with him all the time, maybe just grab a bite to eat because I really think he can help us this year," Jackson said. "I tried to explain to him that, 'It's your team as well. This year can be what you make it.'"
After committing to Butler, Young came back to the Buckeye state last offseason when head coach Chris Holtmann was hired away from the Bulldogs to come to Columbus. With the likes of Bates-Diop and Tate in front of him on the depth chart, Young played sparingly as a freshman, averaging 8.6 minutes per game in 25 appearances. His best game came against Michigan on Dec. 4, when he played 21 minutes and collected six points and four boards off the bench in an 81-72 win over the Wolverines. 
Despite his limited playing time, Jackson said he sees a lot of potential in Young, who has often been described as one of the better overall athletes on Ohio State's roster. 
"I just don't think he understands what he can bring to the table. I don't think he understands how good he is sometimes," Jackson said. "With guys like that, you just want to be like a bug in their ear and tell them to keep coming. Those days where it gets hard or he doesn't feel like it, those are the days that you really push him. If you keep doing it consistently, he will trust you."
Jackson has been in a similar situation to Young while at Ohio State. A junior college transfer, Jackson came to Columbus with less fanfare than Young and struggled at times in his first season with the Buckeyes, struggling with his shot and turnovers.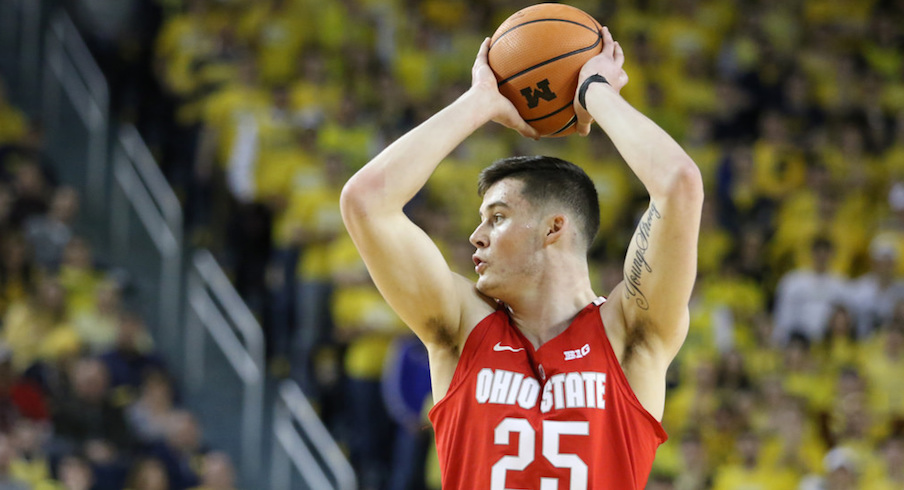 Much like he is pushing Young now, Jackson said Tate and the coaching staff pushed him in his early days at Ohio State, helping him become the player he is now. After a rough first season with the Buckeyes in which he averaged just 5.6 points per game, Jackson became OSU's second leading scorer last season (12.6 ppg) and improved his three-point shooting percentage from 32.1 percent to 37.9 percent. He also improved his free-throw percentage by nearly 12 percent, jumping from a 67.3 percent shooter to a consistent 79.2 percent from the stripe.
"When I first got here, I didn't always have confidence in myself, especially through the bad times, and those are the times you need other people to pick you up and show you how you can improve," Jacksons said. "That is what I try to harp on (Young) about."
Young is expected to make a much bigger impact on Ohio State's program this season, and is a candidate to earn a starting role with both Bates-Diop and Tate gone. If he can take the necessary steps with Jackson's guidance, he could potentially be poised for a breakout season.