During Ohio State's 69-68 loss to Penn State on Friday in New York City, the Buckeyes went through a stretch where its senior leader Jae'Sean Tate was not on the floor. As it turns out, it wasn't just foul trouble that kept Tate on the bench against the Nittany Lions. 
Speaking on his radio show Monday evening, Chris Holtmann said Tate was held off the floor for extended minutes in order to create space offensively for Keita Bates-Diop to get more clear looks at the basket down the stretch. 
"We could not score efficiently when we had Kaleb (Wesson), Jae'Sean and Keita in there together," Holtmann said. "They were loaded up on J.T. and Kaleb and there wasn't enough space to work on the floor. The reason we put more three-point shooting out there, was we just couldn't consistently score and Keita had more opportunities to drive or make plays when we had that group together."
Tate played just 19 minutes against the Nittany Lions, scoring 10 points and hauling in seven rebounds. He played just seven minutes in the second half however, as Ohio State went with its smaller lineup that left him on the bench. 
It wasn't just spacing that kept Tate from getting more minutes against Penn State however, as the senior picked up his fourth foul with 7:50 to play in the game, with Ohio State trailing 54-49. He did not check back into the game until the final possession, which ended on a C.J. Jackson three-point shot that fell short, as Penn State held on for a one-point victory. Holtmann mentioned on his radio show that the final play had Tate as the No. 1 option, as Ohio State wanted to attempt a long inbound to the senior, however the Nittany Lions double-teamed him, forcing the ball into Jackson's hands. The Buckeyes attempted a similar inbounds on the final play of the first half against Indiana in the season finale, as Tate left a left handed hook just short.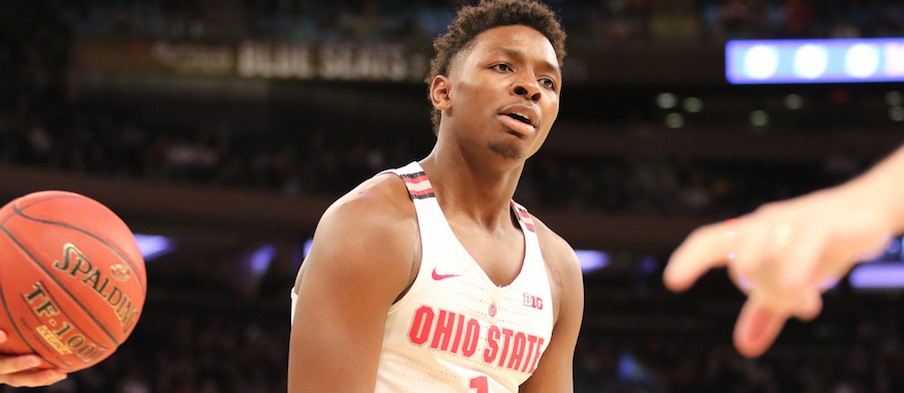 Holtmann said Monday that he has had conversations with Tate about controlling his emotions late in games, as they can sometimes lead to unnecessary fouls. 
"He would have played late if he wasn't in foul trouble, with the exception that we were rolling offensively with that group. They were playing 10 feet off of Jae'Sean," Holtmann said. "For him, it's a lot of keeping your emotions in the right place. Those fouls came out of emotion and frustration. We will show it to him in film and remind him that we had to take him out in the first half because he had two, and sit him for a long while in the second half because he had four."
When Ohio State has gone small this season, with or without Tate, it has had its fair share of success. Against No. 3 Purdue, it was Kaleb Wesson that was parked on the bench while older brother Andre contributed big minutes in a 64-63 upset victory that saw Andre Wesson pour in a career-high 13 points in addition to providing stellar defense on Boilermaker big man Isaac Haas. 
"What happened is we started to move bodies a little bit more, and then our guys just played. It opened a lot of stuff. You saw Andre get an and-1 on a drive. You saw C.J. get a drive and opportunity, Kam drive and get an opportunity. We got some things in transition. Then you saw Keita move and drive and make plays."
The downside to Ohio State's small lineup is defensively, the Buckeyes give up size on the wing and on the interior. Holtmann said that giving up defense for offense is the primary concern moving forward with the smaller squad on the floor. 
"That's what you're playing with as a coach in your mind. You're saying 'OK, we are going to lose some defensive stuff with having less size,'" Holtmann said. "As a coach you're saying, 'We've got to find a balance here. Fortunately, Andre was in there and gave us some good minutes offensively and defensively. But you do lose a little bit when we're not playing our power lineup, defensively."
Holtmann and his staff will have plenty of time to tinker with its lineups as Ohio State will have nearly two weeks in between games before playing in the NCAA Tournament. The Buckeyes will learn their tournament fate on Sunday at 6 p.m. during the selection show on TBS.