We're nearing the end of June (!) which means there's just over a month until August which means there is almost one month until Ohio State opens up fall camp for the 2016 season. The Eleven Warriors Offseason Mailbag is here in the meantime to bridge that gap.
---
With Friday Night Lights around the corner, do you expect any 2018 commitments happen? — Toad1204
There are a few names to keep an eye on here and the three most popular would be Emory Jones, Jackson Carman and Jaelen Gill. I think only Jones is likely to commit this early in the process, though. I believe Carman and Gill will end up committing to Ohio State, but it may not happen this summer, but I think there's a strong chance Jones commits by the time Friday Night Lights rolls around.
There is also a pair of in-state linebackers that could pull the trigger: Dallas Gant and Christopher Oats. I'd guess Oats would be more likely to commit at this stage than Gant, who has picked up recent offers from Michigan State and Notre Dame in addition to the Buckeyes.
So, to answer your question, yes, I'll guess Ohio State will get at least one commit in the 2018 class — its first — leading up to or at Friday Night Lights.
Best guess as to how many years Jim Harbaugh will be coaching at Michigan? — Seattle Linga
I'm of the belief Harbaugh will be at Michigan for some time. I don't know that he's ready to jump back to the NFL back yet — if ever. With that said, he has a track record of burning people out, but I wonder with all of the turnover in college football — both players and staff — if that will really matter for him at Michigan.
I personally hope Harbaugh stays at Michigan for as long as Urban Meyer's tenure lasts at Ohio State. I think it's great for the rivalry and great for college football.
Do you think Nick Bosa transitions to defensive tackle ever and would it be this year? — 82Spencer
A full-time defensive tackle? Maybe not, but it's possible. He'll definitely see some snaps on the interior of Ohio State's defensive line throughout his career and yes, I believe that it could start this year. He's a little bit shorter than Joey was and a bit more compact, so I think he can be quite effective as an interior lineman. He'll start out at defensive end, but it wouldn't shock me at all if he ends up sliding to defensive tackle as his career progresses.
If Raekwon gets injured, hypothetically of course, who is his replacement at middle linebacker? — Browns88
This is difficult to answer because both Nick Conner and Justin Hilliard were held out or limited during spring practice due to injury so Ohio State's depth chart is a little bit out of whack. However, you're correct when you say the Buckeyes are thin in the middle.
The starters are McMillan, Dante Booker and Chris Worley and, right now, the "fourth" linebacker appears to be Jerome Baker. So, if McMillan were to get hurt I think there's a possibility Booker slides to the middle and Baker and Worley play on the outside even though that puts two guys somewhat out of position. 
Conner and Hilliard are options, sure, but it's too hard to say right now where they stand in the pecking order since both were hurt. Luke Fickell has also stated multiple times he has no fear if he had to play either Joe Burger or Craig Fada despite the fact both are walk-ons.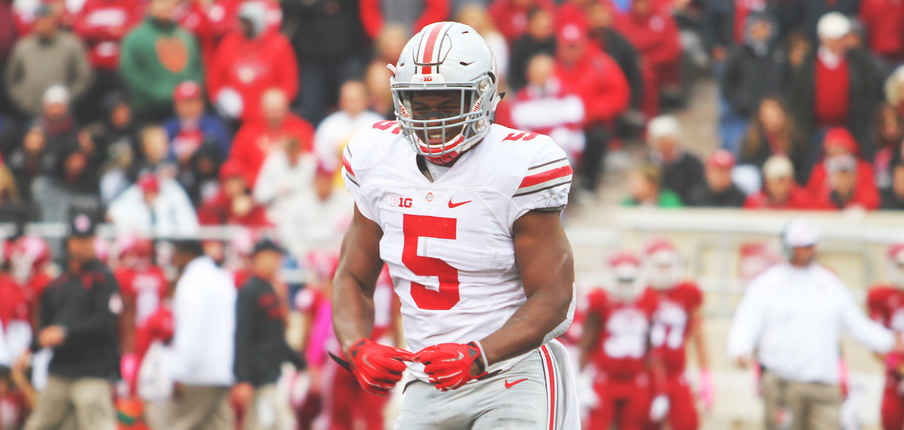 How big do we think this class will really be, and is it possible/likely/standard that the staff has tough conversations with good, hard-working kids and lets them know that if they want playing time, it's not coming at Ohio State? — Neo
I'm under the impression the 2017 class will be at least 20 players, but it can't be much larger. I'll say it has a max size of 22, but I'd expect it to be around 20. I don't think all of the current commits will stick and I think we've discussed the potential grayshirt options with a couple of current commits, as well. 
There is going to be roster attrition and that's something Ohio State fans need to keep in mind when they're celebrating all of these five-star commitments. With each one, that likely means another player currently on the roster will be on his way out after this season.
The Buckeyes have five seniors and could lose four or five players early to the NFL Draft. Add those to some guys who won't be given their fifth year of eligibility and you're around 13 or 14 spots open — which accommodates the current commits. There's likely going to be a transfer or two and some guys could be given medical hardship, as well. But still, it's going to be a challenge to create 20 roster openings.
So yes, expect very tough conversations to take place at the end of this season so Ohio State can make way for future players in the 2017 class. It will certainly be interesting to follow how Urban Meyer and Co. get down to the 85 scholarship mark after this year is over.
Considering the inexperience at tight end, would the staff considering using a third tackle for blocking instead of an inexperienced tight end? — AwlinBrutus
This was actually a question asked to Urban Meyer last year in relation to Ohio State's third tight end behind Nick Vannett and Marcus Baugh. And yes, Meyer said should the Buckeyes be forced to use a third tight end for any reason that Jamarco Jones would have actually been that guy to block at the point of attack.
Baugh is the only tight end on the roster with experience and Rashod Berry moved to defensive end so right now the backup options are A.J. Alexander (who redshirted last year), Jake Hausmann, Luke Farrell or Kierre Hawkins — all true freshmen. 
It's my belief that the staff will pick one of those three true freshmen to compete with Alexander for the backup role while the other two will redshirt. There will be at least two tight ends in the fold, but yes, there's potential for an offensive lineman to be third in line there just to be used as a blocker.
Ohio State is a nine-point underdog in Norman: Fair or absurd? — KBonay
As of right now, I'm not going to pick Ohio State to win that game, but nine points seem like an awful lot so that line is a little surprising to me. A lot can change between now and then, but if I were a betting man [I'm not] I'd probably take the points there.
Who starts at QB in 2017? — BuckeyeMan
J.T. Barrett. But if he opts to leave after this season I'll say Joe Burrow gets the first crack at the starting job in 2017.
Some people are reading more into the Chris Jent hire than just a good assistant with college and NBA coaching experience. Do you think there is more here than meets the eye? — NavyBuckeye91
I assume that means you're asking about a "coach-in-waiting" situation and that's a fair question. It's entirely possible Ohio State brought Jent back to succeed Thad Matta whenever Matta decides to move on. I'm not sure how many more years he will continue to coach because of his health issues, but I'm of the belief it will not be all that long.
I believe Matta will coach at Ohio State as long as he wants to and I would not be surprised at all if Jent were the man to replace him — whenever that may be.
 Why is ketchup the best condiment? — OSU_Alum_05
Ranch is the best condiment followed closely by barbecue sauce.