Ten years ago this week, The Ohio State University did a pretty smart thing by hiring Thad Matta to coach the men's basketball team.
Yes, it's been 10 years already. Time does fly when you're having fun (read: winning).
Ohio State basketball has been transformed under Matta into a perennial power and a national destination for top athletes. Where the Buckeyes once struggled just to make the NCAA tournament and finish in the upper half of the conference, it is now deemed a disappointment when Ohio State fails to reach at least the Sweet 16.
In his 10 seasons so far, Matta has been more than impressive. Matta has led Ohio State to a 275-83 record (108-48 in conference play). His team has reached the NCAA tournament eight times, with five (including four straight) Sweet 16 appearances, two Final Fours and the 2007 national championship game.
Under Matta, Ohio State has: 
Five regular season conference titles
Four B1G tournament titles and reached the final three other times—and was one possession from another one last year
An NIT Tournament Championship (2008)
Two Big Ten Players of the Year (Terence Dials, Evan Turner)
10 first-team All-B1G selections
Three conference Freshman of the Year selections
Three Big Ten defensive POY picks
Three B1G Sixth Man award winners
Six All-America selections
Three B1G COY awards
Nine NBA draft picks—seven in the first round.
10 20-win seasons
Three 30-win seasons
Not too shabby.
Matta is also second on the school's all-time list for wins and with 22 more in 2014-15, he'll pass even the legendary Fred Taylor's mark of 297. His career winning percentage of .768 is the highest in school history by anyone who coached at least 25 games (sorry Thomas Kibler, even though your 22-2 mark from 1909-10 was impressive).
ESPN.com recently named Matta among its Top 50 Coaches, albeit a bit low, at No. 20. There are more decorated coaches and guys who have won more titles, but there are not 19 guys out there with a better resume and track record. Sure, ESPN's rankings are based on right now and not their careers, but it's still hard to fathom 19 guys more on top of their game than Thad. It's not a shortcoming on his part that Jared Sullinger and Deshaun Thomas weren't around in 2013-14 to make a title run.
Thanks to Matta, Ohio State fans now whine and complain at anything less than a Big Ten regular season (or tournament) title, a run to at least the Sweet 16, and at least one player on the all-conference first team or at least the third All-America team.
The following is a year-by-year walk down memory lane in the Thad Matta era.
2004-05

In Matta's first season, the Buckeyes won 20 games, going 20-12, with an 8-8 record in Big Ten play. Ohio State finished sixth in the B1G, but was ineligible for postseason play. Wins that season included an 81-69 victory over 14th-ranked Iowa, a 72-46 thumping of Michigan, and this gem on March 6, 2005:
2005-06

A 79-69 overtime win over Butler early in the year was an omen of good things. Ohio State vaulted from sixth in the Big Ten to a league regular-season title. Matta led the Buckeyes to a 26-6 (12-4) mark. The Buckeyes swept Michigan and beat Penn State and Indiana in the Big Ten Tournament before bowing out to Iowa in the final. Ohio State reached the NCAA tournament and dispatched Davidson 70-62 before being overwhelmed by Georgetown, 70-52. Dials was named B1G POY and Matta was the league's coach of the year.
2006-07

The Thad Five arrived and promptly went HAM. The Buckeyes went 35-4 (15-1), winning the both the league's regular season and tournament championships. Ohio State toppled rival Michigan, Purdue and Wisconsin en route to the B1G tournament title in Chicago, winning all three games by double digits. In all, the Buckeyes beat That Team Up North three times during the year.
At NCAA tournament time, Ohio State crushed Central Connecticut State (78-51) and squeaked past Xavier (78-71) the first weekend. The Buckeyes narrowly avoided the usual trip-up against an SEC opponent in the Sweet 16, beating Tennessee 85-84. Then they beat down Memphis, 92-76 to reach the Final Four. Ohio State avenged the previous year's Georgetown loss in Atlanta, winning 67-60 before losing their shooting legs against Florida in the title game. Poor three-point shooting (sound familiar?) was the biggest difference in the 84-75 loss, despite Greg Oden playing like a man possessed.
Oden and Mike Conley Jr. were All-B1G first teamers and the big man was the conference Freshman of the Year, Defensive POY and a first-team All-American. Matta repeated as COY and Daequan Cook took home sixth man honors. Oden, Conley and Cook all went in the first round of the ensuing NBA Draft.
2007-08

As expected, Ohio State took a step back after its run to the title game and the subsequent loss of several key players. The Buckeyes went 24-13 (10-8) and finished fifth in the conference. Key wins over Syracuse (79-65), Florida (62-49) and Michigan (65-55) provided salve for the wounds.
Michigan State knocked Ohio State out of the B1G tournament in the first game, 67-60, and the Buckeyes didn't get called on Selection Sunday. Matta instead took them on a dominating run through the NIT, beating UNC-Asheville (84-66), California (73-56), Dayton (74-63), Mississippi (81-69) and UMass (92-85). Jamar Butler was a first-team all-conference selection and Kosta Koufos was drafted in the first round by Utah.
2008-09

Ohio State went 22-11 (10-8), tying Penn State for fourth in the conference. It was a bit disappointing after a 9-0 start which included wins over Miami (FL), Notre Dame and Butler. But the Buckeyes did manage to sweep Michigan and went on a run in the conference tourney. Matta's bunch dropped Wisconsin (61-57) and Michigan State (82-70) before losing to Purdue (65-61). The Buckeyes returned to the NCAA tournament, but fell in double-overtime to Siena, 74-72. Evan Turner was a first-team All-B1G pick and an honorable mention All-american, William Buford was the conference's FOY, and B.J. Mullens won the sixth man award. In a surprise move, Mullens turned pro and went in the first round of the NBA Draft.
2009-10

Matta returned to the top of the Big Ten with a 29-8 (14-4) record, winning both conference titles. That record may have improved if not for Turner injuring his back on a dunk and missing a month. Ohio State finished strong, winning 10 of its last 11 regular season games. The Buckeyes began the B1G tourney with a 69-68 win over Michigan on this Turner bomb, taking two of the three meetings on the year. After a double-OT thriller over Illinois (88-81), Ohio State thumped Minnesota, 90-61 for the trophy in Indy. The NCAA run began with a 68-51 win over UC-Santa Barbara, followed by a 75-66 win over Georgia Tech. Tennessee ended Ohio State's run in the Sweet 16 in a heartbreaker, 76-73.
Turner was a first-team All-American and All-B1G selection, the Big Ten POY, and the second overall pick by Philadelphia in the NBA Draft. Matta was named Big Ten COY for the third time.
2010-11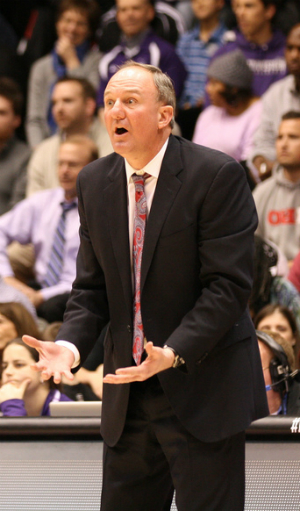 Ohio State stayed atop the league, going 34-3 (16-2) behind freshman Jared Sullinger. Matta's Buckeyes won their first 24 games to start the year, including a 58-44 road win over Florida State in the Big Ten/ACC Challenge. Ohio State again swept Michigan and won at Indiana, iowa, Illinois and Minnesota, cruising to the regular season conference championship. The Buckeyes dispatched Northwestern (67-61), Michigan again (68-61) and Penn State (71-60) to grab the league tournament crown. Matta led Ohio State past UT-San Antonio (75-46) and George Mason (98-66) before a stunning loss in the Sweet 16 to Kentucky (62-60) in the worst-shooting night of Buford's career. (This loss still haunts my dreams.) Sullinger was the league's top freshman and was picked to the first team All-American and All-B1G teams. Aaron Craft won the sixth man award. Jon Diebler became the league's all-time three-point king doing things like this and Portland selected "Threebler" in the second round.
2011-12

Matta was forced to share the B1G regular season crown with Sparty and Michigan after a 31-8 (13-5) campaign, but it felt ok, because this helped make that happen. The Buckeyes destroyed Duke, 85-63 in the B1G/ACC Challenge and even finally won a game at the Kohl Center, beating Wisconsin 58-52. Ohio State took down Purdue (88-71) and Michigan for the second time in three games (77-55) but narrowly lost to Sparty (68-64) in the Big Ten Tournament final. 
Then Sully and company went on a run in the big dance. The Buckeyes took out Loyola (78-59), Gonzaga (73-66), Cincinnati (81-66) and Syracuse (77-70) to win the East Regional and advance to the Final Four. Ohio State had a rematch against Kansas in the Final Four in New Orleans—a Sullinger-less team had fallen 78-67 at Kansas in December. The Buckeyes led with under two minutes to play, but lost 64-62. Sully was again an All-American and All-B1G first teamer and turned pro, going to Boston in the first round. Aaron Craft won defensive POY honors
2012-13

Matta and the Buckeyes fell just shy of a 30-win season, finishing 29-8 (13-5) on the year, just one game behind league-winning Indiana. But Tom Crean's net-cutting party took place after Ohio State's 67-58 win in Bloomington on Senior Day. Despite settling for second in the regular season, the Buckeyes captured the conference tournament crown, toppling Nebraska (71-50), Michigan State (61-58) and Wisconsin (50-43), led by tourney MVP Craft.  Ohio State failed to defeat any worthy non-Big Ten opponent in the regular season, but the NCAA would be a different story.
After an easy win over Iona (95-70), the Buckeyes needed this shot by Craft to sink Iowa State (78-75) in the round of 32. The following weekend, LaQuinton Ross took his turn as hero, draining this three to beat Arizona (73-70) in the Sweet 16. A third Final Four for Matta's Buckeyes wasn't in the cards, as tournament darling Wichita State finished the game stronger than Ohio State to win 70-66. Deshaun Thomas and Craft were first-team All-B1G performers—Thomas was also a second-team Sporting News All-American and the AP gave him third-team honors—and the San Antonio Spurs drafted Tank in the second round of the NBA Draft. 
2013-14

Last season was considered a "down" year by the standards Matta set at Ohio State. The Buckeyes rolled to a 25-10 (10-8) mark, good only for fifth in the conference. Wins over No. 17 Marquette (52-35) and Maryland (76-60 in the B1G/ACC Challenge) and a stunning comeback win over Notre Dame at Madison Square Garden (64-61) highlighted a 15-0 start to the season. A skid of five losses in six games, including a home loss to Penn State (71-70) brought expectations back to reality.
Six wins in the next seven games seemed to turn things around, but Ohio State fell at Penn State (65-63) and at Indiana (72-64). Then, weirdly, the Buckeyes beat No. 22 Michigan State (69-67) on Senior Day. Ohio State found itself playing on the Thursday of the B1G tournament for a change, but dispatched Purdue (63-61) in an annoyingly close game, and squeaked past Nebraska (71-67) before coming up a hair short against Michigan (72-69) in the semifinal. The string of close games continued into the NCAA tournament, with the Buckeyes falling 60-59 to Dayton in the round of 64. Craft earned his second defensive POY award and one of the most popular players of Matta's tenure departed with fellow senior Lenzelle Smith Jr. and underclassman Ross.
---
It's been a phenomenal run for Matta's first 10 years and outstanding recruiting classes the next few years hint at more good things to come. Hopefully you've enjoyed what you've seen, because Matta has raised the bar for what Buckeye basketball could be and had been for many years. Here's to another decade of greatness.