At Ohio State, the 2015 calendar presented plenty of chances for the Buckeyes to win championships. Often, the teams given those opportunities came through to offer a bunch of memorable performances.
Let's take a glance back at the year that was.
---
11. The Birth of Kelsey Mitchell, The Star
A true freshman and the biggest piece of second-year women's hoops coach Kevin McGuff, Mitchell tore through not only the Ohio State, but national record books to close out the 2014-15 season.
She became the first freshman to ever lead the nation in scoring (24.9 points per game), scored an Ohio State and Big Ten record 873 points and nailed an NCAA record 127 3-pointers. Mitchell was named Big Ten Co-Player of the Year and the unanimous recipient of the Big Ten Freshman of the Year award, in addition to earning second-team All-American honors by the Associated Press. She was also semifinalist for the Naismith Award. The Buckeyes narrowly fell in the second round of the NCAA Tournament to North Carolina behind a depleted roster.
Did we mention she was just a freshman?
For an encore, Mitchell's already tied a school record for points in a game with 42 last month and plays like this one are a regular thing in her second season of college basketball.
10. Non-Revenue Sports Domination
The football team wasn't the only program to win a title this season at Ohio State.
The Buckeye pistol team won its second straight national title, the women's rowing team dominated its way to its third consecutive crown, synchronized swimming took home its 29th overall national title and the wrestling team won its first-ever team title (more on them in a bit).
Even the men's soccer team won the Big Ten regular season championship with a 3-1 defeat of archrival Michigan in the final game of their conference slate. Its the program's fourth Big Ten crown overall, and first since 2009.
Not a bad bit of success for those scarlet and gray squads you don't normally follow.
9. Ezekiel Elliott's Banner 2015 Campaign
Whenever Ohio State's offense struggled this year, it was always a smart move to turn and hand the ball to No. 15.
Elliott led the Big Ten with 1,672 rushing yards and 19 touchdowns in 2015, far and away the best player on the offense. As a result, he grabbed Big Ten Offensive Player and Running Back of the Year honors, in addition to taking home the Silver Football as the conference's best player.
A 17-14 slip up against Michigan State Nov. 21 — where Elliott only carried the ball 12 times for 33 yards — kept Ohio State out of the Big Ten Championship Game and likely doomed the running back's chances at winning the Heisman Trophy. He finished eighth in the voting, but is set to leave the program second on the all-time rushing list behind only Archie Griffin.
8. Braxton Miller Announces Return to College Football
Elliott isn't the only man on this list to own a Silver Football — Miller, the fifth-year senior quarterback turned H-back, has two.
After a year on the sideline recovering from a torn labrum in his throwing shoulder, Miller made the position switch and saw his first action in more than 20 months Labor Day Night at Virginia Tech. He didn't disappoint.
That nutty, video-game like 53-yard touchdown scamper broke the Internet and loudly announced Miller's return to the sport. He later added a 54-yard touchdown catch and run from Cardale Jones as the Buckeyes enacted revenge on the Hokies in Blacksburg, Virginia.
Pretty terrific for a dude playing an entirely new position.
7. Thad Matta Becomes Ohio State Basketball's All-Time Winningest Coach, Later Reaches 300 Wins
Ohio State head coach Thad Matta's up-and-down 2014-15 season reached one of its highest points came March 12 in the second round of the Big Ten tournament in Chicago when the Buckeyes topped Minnesota, 79-73, to move on to the quarterfinals.
The win over the Gophers was significant because it was Matta's 298th win as head coach at Ohio State — more than any other coach in the history of the program. He accomplished the feat in just 11 seasons.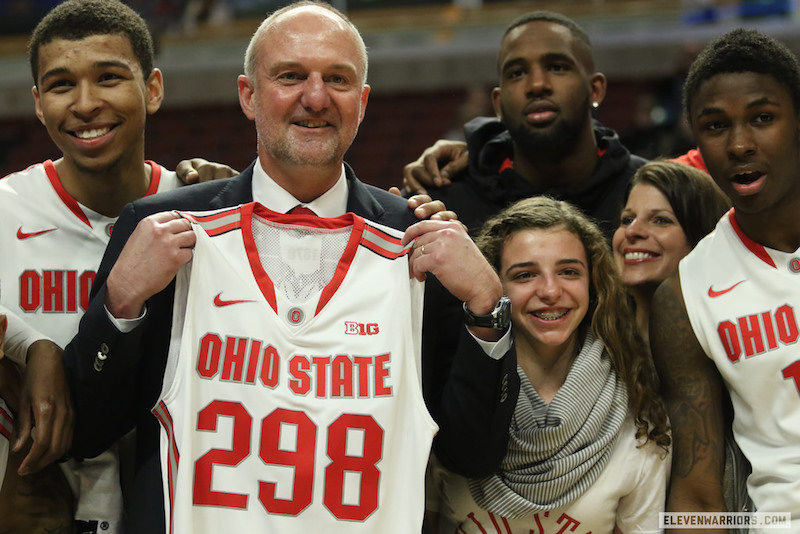 After the win, Matta talked about what the feat meant to him.
"You know, I think from the standpoint of and I've said this – nobody ever remembers the past," he said. "Nobody remembers when we came in or what we took over in this program with sanctions and visits and postseason bans and all that stuff.  You know, I've always said this: I give credit to Matt Marinchick, Tony Stockman, and Brandon Fuss-Cheatham. They were our first senior class and they kind of helped us set the tone."
"I think, personally, for me, the people it probably means the most for me is my wife and my two daughters," Matta continued. "Because I've gone probably, well, going on eight years with a disability, and they're the ones that have suffered the things that I can't do as a father – I can't do as a husband.  And they've never wavered.  I have some really, really bad days in terms of coming home after games and they've got to help me get my shoes and socks off, and for them to stay the course with me, it means a heck of a lot more to me for them than it does for myself."
Matta got win No. 300 in Ohio State's season-opener this year, a 76-54 win over Mount St. Mary's. His career record with the Buckeyes is 304-99 (.754) and his overall career record is 406-130 (.757). Matta's .757 career winning percentage is fifth among active coaches.
6. Jim Harbaugh is Welcomed Back to the Ohio State-Michigan rivalry
Michigan entered its annual regular season finale with Ohio State 8-3 and, like the Buckeyes, with an outside chance at winning the Big Ten East Division. A victory for Jim Harbaugh that day coupled with a Michigan State loss against Penn State would complete a rejuvenation of the program for the coach in his first season.
Neither happened.
Ezekiel Elliott and J.T. Barrett ran roughshod over a once proud Michigan defense for 351 of their team's 369 rushing yards, Joey Bosa knocked out Jake Rudock on a sack then later intercepted a pass thrown by backup Wilton Speight and the Wolverines left Michigan Stadium on the wrong side of a 42-13 final.

Positive vibes were everywhere in Michigan upon Harbaugh's arrival to take over a middling program, but the beatdown served as a prime example of just how far ahead Urban Meyer is — right now — in the rivalry. Welcome home, Jim.
5. The Rise of D'Angelo Russell
D'Angelo Russell came to Ohio State as the crowned jewel of Thad Matta's 2014 recruiting class. A five-star prospect hailing from Louisville, Kentucky, Russell came to Columbus with high expectations and was likely to be the face of the Buckeyes' program for at least two seasons.
But nobody expected him to be that good.
Russell starred at Ohio State during his freshman season. He led the Buckeyes in scoring (19.3 points per game) and rebounding (5.7 per game) and was second on the team in assists (5.0 per game). He helped guide Ohio State to a 24-11 mark and an 11-7 record in the Big Ten. The Buckeyes knocked off VCU in the opening round of the NCAA tournament before falling to second-seeded Arizona in the Round of 32. 
He was the Big Ten's Freshman of the Year and a first-team all-conference and All-American selection. It was clear, almost from Day 1, Russell was cut from a different cloth.
"I just told myself whoever was guarding me, I was going to destroy them," he said after scoring 32 points in a 58-point win over Sacred Heart.
As the season progressed, Russell's NBA Draft stock soared. He went from two-year minimum player to first round pick then to a lottery selection and ultimately a top-five lock within months. His ability to score coupled with his marvelous passing capabilities made him a dream NBA prospect for most.
In the end, Russell wound up declaring for the NBA Draft after one season. He was selected No. 2 overall by the Los Angeles Lakers. He left Ohio State having one of the most successful freshman seasons in school history.
4. Wrestling Wins First-Ever Team National Championship
It took 94 years, but Ohio State at long last captured its first team wrestling championship in March 2015. The Buckeyes topped perennial favorite Iowa by 18 points in the final standings, led by a pair of individual title winners in Logan Stieber and Nathan Tomasello. Kyle Snyder was national runner-up.
Head coach Tom Ryan has had the program mostly on an upward trajectory since his arrival prior to the 2006-07 season and it culminated with a victory over his alma mater in the finals. The team finished 13-4-1 overall on the season and had multiple All-Americans.
This season, the team is off to a 3-1 start in its title defense.
3. Logan Stieber Wins Fourth National Championship
Tom Ryan always spoke on how more people have walked on the moon than won four individual wrestling national championships. Logan Stieber became the fourth wrestler ever to earn that distinction with his pure destruction of Edinboro's Mitchell Port in the first place match.
Stieber, who came to Ohio State on the tail of winning four consecutive high school wrestling national championships, owned the 141-pound weight class once again this past season. Ryan describes him as a "ninja" on the mat, but can add just about every laurel to his description of his former pupil.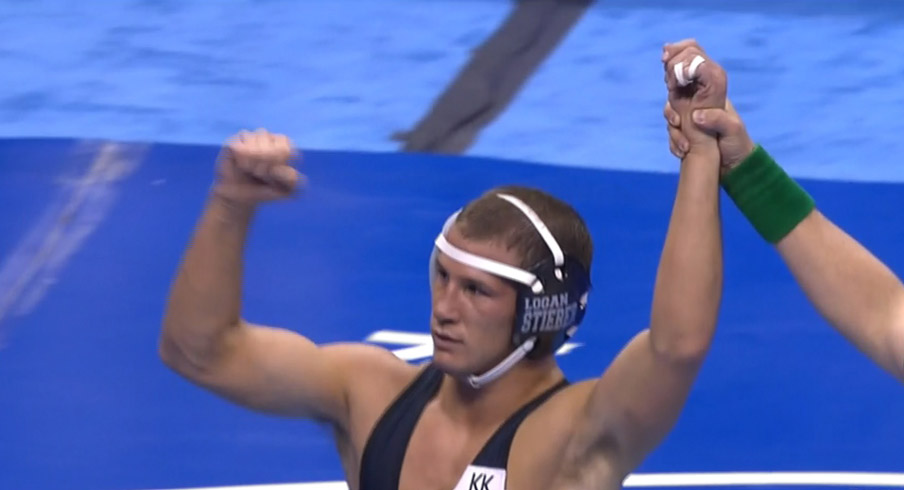 Stieber took home Big Ten Male Athlete of the Year honors in June (the fourth Buckeye ever to win), won the Dan Hodge Trophy as the nation's top wrestler and finished his incredible Ohio State career on a 50-match win streak that dated back to December 2013. His collegiate record was 117-3. So yes, he has more national titles than losses.
Simply: Don't mess with Logan Stieber. You'll lose — badly.
2. Ohio State Tops Alabama, 42-35, in Sugar Bowl
On the heels of Ezekiel Elliott's 85-yard scamper in the fourth quarter, Urban Meyer and the Buckeyes unseated Alabama and the SEC atop the college football world New Year's Day.
The victory solidified Ohio State as worthy of making the College Football Playoff, as it did when it received a No. 4 ranking following a 59-0 shellacking of Wisconsin in the Big Ten Championship Game. The Sugar Bowl was part of the 2014 football season, but happened on the first day of 2015 and gave Buckeye fans something to smile about all offseason — regardless what would happen 11 days later in the national championship game against Oregon.
Cardale Jones firmly cemented his place as a legend in Ohio State lore, teaming up with Elliott, Meyer and Tom Herman to decimate the vaunted Crimson Tide defense for 537 total yards in the victory. The Buckeyes trailed 21-6 at one point in the game, but never quit and Tyvis Powell's interception in the end zone of Blake Sims as time expired gave Meyer his biggest win at Ohio State up to that point.
What more can you say? The Buckeyes were steep underdogs seemingly all season, after losing Braxton Miller 10 days before the opener and then J.T. Barrett a few months later against Michigan. They weren't supposed to be able to hang with Alabama.
Until they did.
1. Ohio State Dispatches Oregon, 42-20, to Win Inaugural College Football Playoff
Enough said, right?
The football program's eighth national championship came on a night where the Buckeyes turned the ball over four times against a team that housed the 2014 Heisman Trophy winner, Marcus Mariota and still won by three touchdowns.
Mariota did his best to keep the Ducks close early, but eventually his team was overwhelmed by an Ohio State team dead set on finishing an incredibly improbable run to become national champions.
The win finished a historic three-game postseason stretch that included a 59-0 humiliation of Wisconsin in the Big Ten title game and a 42-35 win against No. 1 Alabama in the Sugar Bowl. All three postseason victories came against teams that had Heisman finalists — and it didn't matter. Nothing was stopping the Buckeye train.
Meyer again reached the zenith of college football and put the Buckeyes back on top in just his third season in Columbus.
Not bad for a team that lost two Heisman-caliber quarterbacks before and during the season.