Gene Smith happily recalls the time he had a full head of hair and was trying to make it in the world of collegiate athletics, when amateurism took on an entirely different meaning.
"I've been doing this for over 30 years. I didn't get to where I am because I knew it 30 years ago. I was at age 29 as an AD and I was absolutely stupid," Smith, Ohio State's Vice President and Director of Athletics, said in an exclusive one-on-one interview with Eleven Warriors May 14. "Now I understand some things so when I see a new AD come in, I want to make sure that there's some things you gotta think about that you go through."
Smith's career in athletic administration spans across the continental United States, from Eastern Michigan, Arizona State and Iowa State finally Columbus. He's been around and much like anything, the collegiate model of student-athletes continues to evolve.
"Things are so different. I've moved away from the amateurism," Smith said. "I never call our athletes amateurs anymore."
The battle between the NCAA and compensation for student-athletes gained traction in recent years, particularly with former UCLA men's basketball player Ed O'Bannon's push for individuals to profit off their likeness in things like jersey sales and video games. U.S. District Judge Claudia Wilkin ruled against the NCAA in August, saying it violated antitrust laws for what major college football and men's basketball players can receive for participating.
"It is only fair that your own name, image and likeness belong to you, regardless of your definition of amateurism," O'Bannon said in an August. "Judge Wilken's ruling ensures that basic principle shall apply to all participants in college athletics."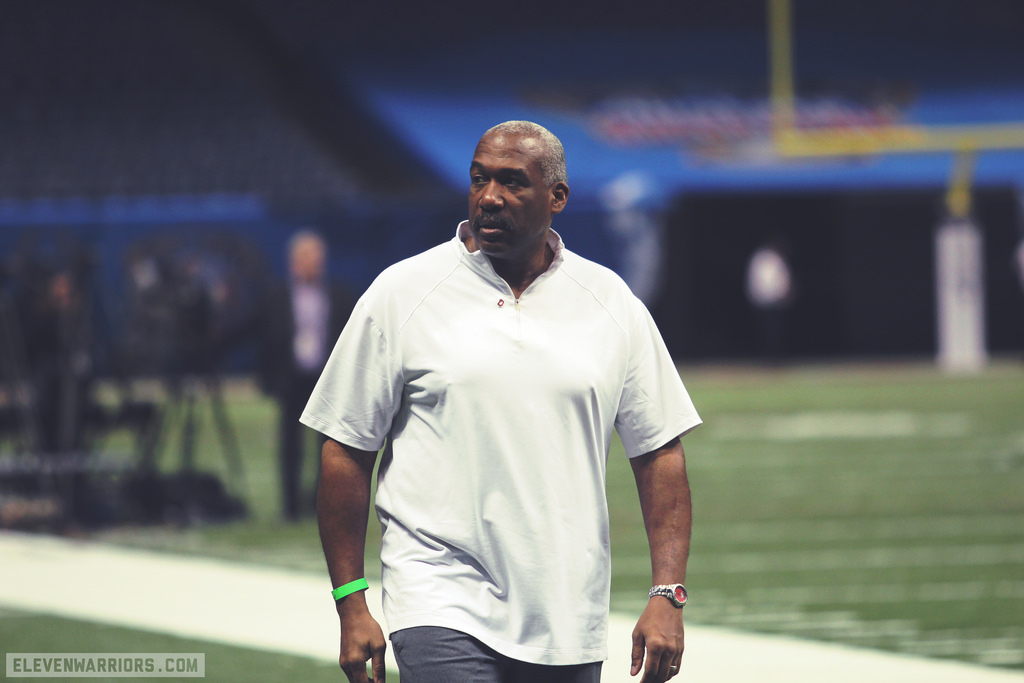 Former players have been receiving checks from the NCAA as a result, but the institution is appealing the decision. It's a crucial time in the realm of college sports, and how things churn forward will always be tied back to the final verdict. Schools aren't ready to give up the power that allows them to advertise ticket sales based on a player's potential.
Smith recognizes the groundbreaking work of O'Bannon and others, and isn't blind to the opulent opportunities athletes at places like Ohio State enjoy daily.
"I think the lawsuits out there are interesting. The O'Bannon case, hopefully we'll have a final ruling sometime this year," Smith said. "How we end up on the likeness issue, that could redefine everything. It really could. That's major. It's crazy times."
He continued: "The reality is, you gotta stop calling them amateurs. It is a collegiate model and we're not pros yet. They're not. Will they be? Sure. Some of them. So I've kind of moved to that and what's fortunate for us, which is a challenge for all the other schools, we're fortunate enough we can put the resources around them to make that work."
Smith oversees one of the largest, most powerful athletic departments in the country at Ohio State, with endless resources. For example, the football team utilizes head coach Urban Meyer's connection with bigwigs like Cleveland Cavalier owner Dan Gilbert, restaurant tycoon Cameron Mitchell and others to maintain it's "Real Life Wednesdays" program. Further, 14 players spent Wednesday shadowing at Chase Bank.
Even Smith had a player shadow him recently, spending the morning with Adolphus Washington before sitting down with Eleven Warriors last week. The program also has other professionals like nutritionists and psychologists — "12 years ago, I never thought I'd have a sports psychologist for a football player," Smith says — work with the team on all levels. That wouldn't happen if the athletic department wasn't so massive.
"You think about that and I told (strength coach) Mickey (Marotti) and Urban and those guys, what you're doing to help make them understand why it's important not to go eat at certain places and consume certain things at different times of years, I think it contributes to their ability to stay healthy," Smith said. "We can do that, other places, that worries me. Other places can't do that. We get thrown in with the aggregate and that's a problem."
It's issues like health, the importance of good sleep and life after sports that are changing the way universities look at the student-athlete model, Smith said. Education differs than what it did 30 years ago.
It's no longer just books and tests, it's understanding why things happen in the real world. It's the reason student-athletes aren't quite pros yet.
"They're in a collegiate model where you have a responsibility to educate. You have your academic piece, which is different than the pros, you have your academic piece and it's a responsibility there that we all have to make sure that they get their degree," Smith said. "Then you have the education piece. The game, to win, to be the best athlete you can be in football to win championships, but the other educational part is the life lessons in that sport."