Alright, final installment of this All-Buckeye Pro Team. If this squad were to play against a similar dream team from other schools, our starting group of specialists might just give us a leg up.
Punter
"Tom" seems to be the prevalent name among NFL punters from Ohio State, but the best of all from our beloved University doesn't share the nomenclature.
First Team
Horace Gillom (1947-1956 Cleveland Browns)
There has never been a better punter than Horace.

Paul Brown
Special teams was a facet dominated by the Cleveland Browns in the late-1940s and early to mid-1950s. It was a crucial phase that helped spearhead the team's efforts in winning six titles spread evenly between the AAFC and NFL in only a decade. The lethal tandem of Browns specialty was led by two former Ohio State players, who each take the first team slot at their respective positions on this list. The first of those two was Horace Gillom, the team's punter.
Plain and simple, Horace was a dominant punter in his era. While most guys stood at 10-12 yards behind the snapper, he was the first to move to the standard fifteen utilized today and still led the league in yards per punt three times with the 3-5 yard head start others had. While the stat wasn't recorded, his net must have been high as well:
With Horace, he would kick it so high that by the time guys got down, the ball was coming down, so most guys had to fair catch.

Former Teammate and Browns running back Sherman Howard
Gillom made his lone pro bowl in 1952, but there would likely be more appearances if the AAFC had had such a thing.
Second Team
Tom Tupa (1988-1991 Phoenix Cardinals, 1992 Indianapolis Colts, 1994-1995 Cleveland Browns, 1996-1998 New England Patriots, 1999-2001 New York Jets, 2002-2003 Tampa Bay Buccaneers, 2004 Washington Redskins)
It wasn't until his sixth season that he assumed the full role of being his team's punter, but after that it was a long and consistent NFL career for Tom Tupa before a career ending injury in 2004. His punts totalled 37,482 yards, good for 35th all-time for the pros, and he did it at a 43.2 yard per punt clip. To his credit is also a Super Bowl ring with the 2002 Tampa Bay Buccaneers, a pro bowl appearance, and a selection to the first team all-pro squad. He played a total of 220 games in his career.
As for something more miscellaneous, Tupa scored the first ever NFL two-point conversion in 1994:
Kicker
Outside of the two kickers on this list, there has only been one pro starter at the position from Ohio State. The player on the first team is a legend many of you probably already knew would top this list, however.
First Team
Lou "The Toe" Groza (1946-1959, 1961-1967 Cleveland Browns)
When there is a rule named after you enforced by professional football, you know you've made it. Groza was easily the best kicker of his era, and is one of just four placekickers inducted into Canton. He made nine pro bowls. He was selected first-team all-pro four times. And at the time of his retirement, Groza was the NFL record holder in field goal attempts, field goals made, extra point attempts, extra points made, single season field goal percentage (his 23 for 26 in 1953 was a record that stood for 28 years), longest field goal in a championship game (52 yards in a 1951 Browns loss, record stood for 42 years), and games played.
I mentioned the tandem of special teams supremacy Groza formed with fellow former buckeye Horace Gillom for the Browns, but with a career that began in 1946 and extended through 1967 Groza added an additional NFL title to his resume in 1964 as well as a 1946 AAFC crown to give him a total of eight professional football championships.
Second Team
Mike Nugent (2005-2008 New York Jets, 2009 Arizona Cardinals, 2009 Tampa Bay Buccaneers, 2010-2016 Cincinnati Bengals, 2017-Present New York Giants)
Nuge may not have lived up to his initial billing (a kicker drafted in the second round should be at the top of the league for the majority of his career, honestly), but he has done a decent job in the NFL for the majority of his career to date. As a Bengals fan, 2016 was a bit painful, but outside of that year he's been rather solid.
Nugent is 236 for 292 on field goals in his time playing professional ball (80.8%, 22nd among active players). Before the extra point was moved back he was 98.6% in that discipline, since the additional thirteen yards were tacked on his career efficiency has dipped to 96.9%. He is tied for the pro record for field goals in a half, kicking five in the first 30 minutes for the Bengals in a game against Baltimore in 2014.
Returnman
Since returner typically is not listed as a primary position on a football roster, this is the only spot on the entire team where a player could potentially appear a second time. A total of nine former buckeyes have returned an NFL kick or punt for a touchdown.
First Team
Ted Ginn (2007-2009 Miami Dolphins, 2010-2012 San Francisco 49ers, 2013, 2015-2016 Carolina Panthers, 2014 Arizona Cardinals, 2017-Present New Orleans Saints)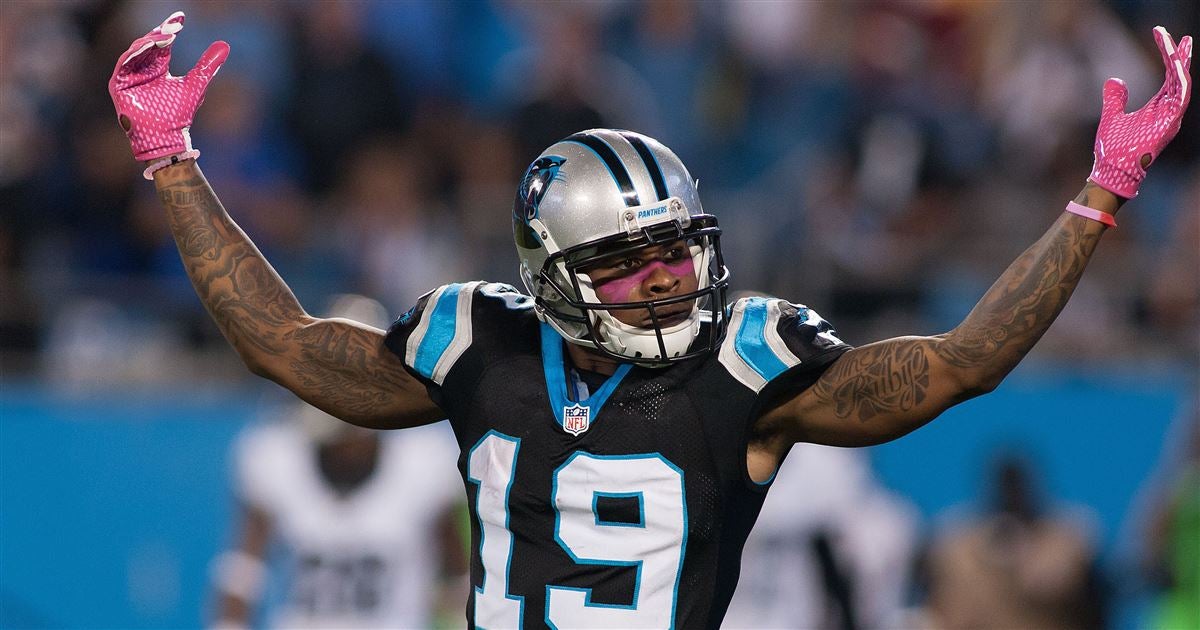 Ginn has made a very good living at football's highest level primarily specializing in kick and punt returns. His 9,339 combined yards in the two disciplines rank 12th all time in the full history of pro football. Four punts and three kicks have been run all the way back by Ginn. He averages 10.5 yards per punt return.
The Cleveland Glenville product holds a pro football record that perhaps never will be broken. In week 8 of 2009 against the New York Jets, Ginn ran not one, but two kickoff returns back for a touchdown. What makes it a near impossible-to-break record is that both returns were at least 100 yards.
Second Team
Joey Galloway (1995-1999 Seattle Seahawks, 2000-2003 Dallas Cowboys, 2004-2007 Tampa Bay Buccaneers, 2009 New England Patriots, 2010 Washington Redskins)
If you are the eighth fastest guy in NFL history you can probably return a kick or punt well. Teams with Galloway in their possession took advantage on punt returns as he ran five boots back for scores over the course of his career, and averaged 9.6 yards per return of a punt. He totalled 1,349 yards of punt returns.
Honorable Mention
Tom Skladany (1978-1982 Detroit Lions, 1983 Philadelphia Eagles) - Punter
Skladany's carer was shaping up to be a really good one before it ended in injury during the 1983 season. Before his back failed him, Skladany made a pro bowl, was elected to a first-team all-pro squad, had over 12,000 total punt yards, and averaged 42.1 yards on his kicks. On a side note, he was the first player ever to miss an entire season holding out over a contract, not playing for the Browns following their draft of him in 1977.
Tank's All-Buckeye Pro Team - Offense

| Position | First Team | Second Team |
| --- | --- | --- |
| Offensive Tackle | Jim Parker, Orlando Pace | Jim Tyrer, Dick Schafrath |
| Offensive Guard | William Roberts, Doug Van Horn | Rob Sims, LeCharles Bentley |
| Center | Nick Mangold | Tom DeLeone |
| Quarterback | Mike Tomczak | Kent Graham |
| Running Back | Eddie George, John Brockington | Matt Snell, Pete Johnson |
| Wide Receiver | Cris Carter, Paul Warfield | Joey Galloway, Terry Glenn |
| Tight End | Dante "Gluefingers" Lavelli | Bob Shaw |
Tank's All-Buckeye Pro Team - Defense

| Position | First Team | Second Team |
| --- | --- | --- |
| Defensive Tackle | Bill Willis, Dan Wilkinson | Ryan Pickett, Johnathan Hankins |
| Defensive End | Jim Marshall, Will Smith | Keith Ferguson, Alonzo Spellman |
| Inside Linebacker | Randy Gradishar, Chris Spielman | Pepper Johnson, A.J. Hawk |
| Outside Linebacker | Jim Houston, Stan White | Bob Brudzinski, Mike Vrabel |
| Cornerback | Dick LeBeau, Antoine Winfield | Nate Clements, Shawn Springs |
| Strong Safety | Jack Tatum | Donte Whitner |
| Free Safety | Tim Fox | Malcolm Jenkins |
Tank's All-Buckeye Pro Team - Special Teams

| Position | First Team | Second Team |
| --- | --- | --- |
| Punter | Horace Gillom | Tom Tupa |
| Kicker | Lou "The Toe" Groza | Mike Nugent |
| Returnman | Ted Ginn | Joey Galloway |
Sources: pro-football-reference.com, profootballhalloffame.com, wikipedia.org, others.