Visitors List (Subject To Change)
May 24th
Core 6 Day
May 31st
15 DT Tim Settle (Manassas, VA)
'15 DB Cameron Ordway (Pulaski, TN)
June 1st
'15 RB Natereace Strong (East Saint Louis, IL) - tentative
'15 WR Alex Ofodile (Columbia, MO)
'15 DE Terry Beckner Jr. (East Saint Louis, IL)
'17 WR Jeff Thomas (East Saint Louis, IL)
July 25th (Friday Night Lights)
'15 LB Shaq Quarterman (Orange Park, FL)
Scout $ - Kentucky On Top For Conrad '15 OH TE CJ Conrad
Kentucky way out in front. Will camp at TTUN, Sparty & maybe Penn State. Will not camp at Ohio State.
BN$--Ohio State Visit Impresses DeBerry '15 VA LB Ricky DeBerry
Ricky and his family loved everything about tOSU. He says Coach Johnson has been the most honest and upfront recruiter he has met. No timetable for a decision but he says he will definitely be back to Columbus.
247$--Burrell On Meyer: 'That's My Man' '15 VA OL Matthew Burrell
Matthew will not list favorites yet but says he loved tOSU and obviously has a great relationship with Coach Meyer.
247$--Clark Battle Now Likely Down To Two Schools '15 CT TE Chris Clark
Chris loved everything about tOSU and says he thinks his decision is down to tOSU and Michigan. He wants to visit both in June with his Mom before deciding.
247 $ - Two Visits Locked In For Kirk '15 AZ ATH Christian Kirk
Releasing Top 5 in August and will decide after his officials in December. Texas A&M and Ohio State will definitely get officials, with UCLA & USC being possibilities as well. Has a great relationship with Coach Meyer & Coach Smith and had that at home feeling when he visited.
247 $ - Three schools standing out early for Top 50 LB Jerome Baker '15 OH ATH Jerome Baker
Florida, Ohio State & Tennessee.
Rivals $ - Buckeyes laying the ground work for super OL '16 WI OL Ben Bredeson
Recaps his visit & being offered by Coach Meyer. Ohio State is one of his top schools & he'll return in the summer.
Newly Offered: '15 VA ATH AJ Turner
Recruiting Updates: Alabama Rolls, Burrell, Clark, DeBerry, Edwards and More (11W)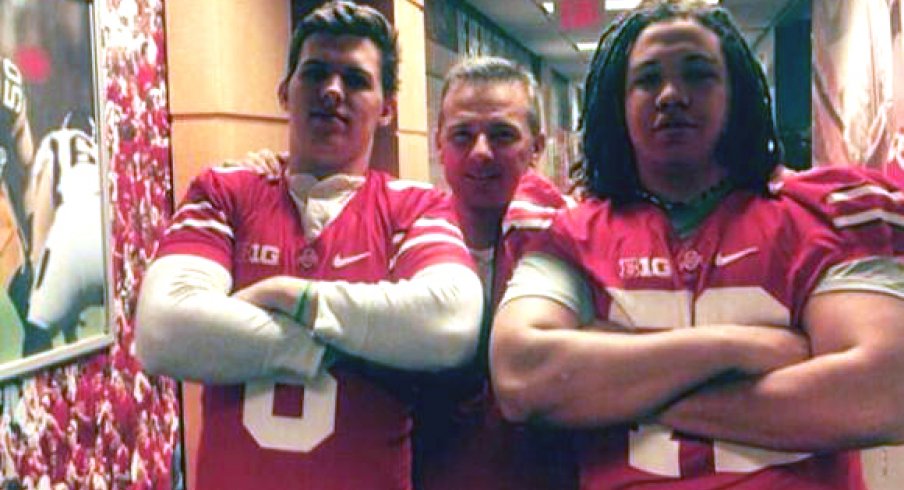 Welcome to the holiday edition, folks. I am sure you're all busy today doing family stuff so I won't bore you with introductions, because we all know one another, right? Here's what you need to know about this weekend's happenings in alphabetical order.
ALABAMA AND AUBURN annihilate
I've seen good recruiting days. Ohio State has had good recruiting days, I mean, just a little over a year ago Kyle Trout, Parris Campbell and eventual decommit Lawrence Marshall all committed to Ohio State within ten minutes of each other. That said, what Alabama did yesterday borders on the absurd.
Nick Saban collected commitments from two five-star players (CB Minkah Fitzpatrick and WR Calvin Ridley,) two four-star players (DB Shawn Burgess-Becker and LB Leo Lewis) and will likely add another commitment from wide receiver Jovon Durante, who is currently committed to West Virginia. Not bad for a Saturday in Tuscaloosa. Oh yeah, huge Buckeye target Damien Harris was on hand for this commit-fest as well, but as of now he's fought off the urge to commit to O.J. Simpson (joke explanation here.) The Tide now have 13 commitments for 2015.
cont...
Four-star QB Kai Locksley indicated communication with Ohio State was lacking, but Buckeyes make his top 10: Buckeyes recruiting (Plain Dealer)
COLUMBUS, Ohio – Ohio State seemed to be trending downward in the recruitment of four-star quarterback prospect Kai Locksley of Baltimore (Md.) Gilman, but the Buckeyes made his most recent cut.
Though Locksley told Cleveland.com in a recent interview that communication had been lacking with Ohio State - which seemed to indicate the two parties were veering into separate directions - the Buckeyes remain alive.
Locksley released his top 10 on Saturday, and Ohio State was listed with Auburn, Miami (Fla.), Virginia Tech, Maryland, Texas, Oregon, Mississippi, Florida State and Baylor.
Rated by Rivals.com a four-star prospect and the No. 10 dual-threat quarterback in the class, Locksley also has offers from Alabama, Michigan State, Tennessee and others.
cont...
Elite '17 OT Josh Myers clicks with fellow sophomore Danny Clark at Ohio State's spring game, holds Buckeyes offer: Buckeyes recruiting (Plain Dealer)
COLUMBUS, Ohio – When Josh Myers roamed Ohio State's sidelines before the spring game, he found himself naturally drawn to sophomore quarterback Danny Clark, the Buckeyes' first oral commitment in the 2017 recruiting class.
"It was just nice to talk to someone who is in the same situation I'm in because I haven't really met anybody that is as young as me and in the same situation," Myers told Cleveland.com in a recent phone interview. "It was nice to talk to him and see how he goes about it and whatnot."
What is Myers' situation?
He's a sophomore offensive lineman from Miamisburg, Ohio, who is quickly becoming one of the most coveted prospects in the country. Myers has scholarship offers from Cincinnati, Illinois, Kentucky, Michigan and he most recently added ones from Ohio State and Florida.
cont...
Ohio State recruiting: State Secrets, 4/21 - Ricky DeBerry, Matthew Burrell, Chris Clark visit (LGHL)
The Buckeyes had quite a few top prospects on campus over the weekend. Find out who, plus which future Buckeye ballers participated in all-star events and much more.
Just like one week ago, the Ohio State football team had a group of top prospects on campus over the weekend. Class of 2015 standouts Ricky DeBerry (Richmond, VA/St. Christopher School), Matthew Burrell (Woodbridge, VA/ C.D. Hylton) and Chris Clark (Avon, CT/ Avon Old Farms) are just a few of the talented recruits to highlight the list of visitors on Friday and Saturday.
Not just two of the top prospects in Virginia, but the entire country, both DeBerry, a 6'2 245-pound linebacker, who could also line up at defensive end on the next level, and Burrell, a 6'7 290 offensive tackle, hold numerous scholarship offers from many of the same programs, including OSU, Alabama, Florida, Penn State, Virginia Tech and quite a few others.
Clark, a one time North Carolina commit, is high on Michigan and Ohio State, and checked out UM before heading to Columbus for his visit at OSU. A big target at 6'6 and almost 250 pounds, Clark, who plays tight end, isn't just a blocker, but also displays great route running and soft hands.
cont...