Visitors List (Subject To Change)
This Weekend
'10 TX C Chad Lindsay (Alabama Transfer)
'15 TE Chris Clark (Avon, CT)
'15 OL Matthew Burrell (Fredericksburg, VA)
'15 LB Ricky DeBerry (Richmond, VA)
'16 DE Khalid Kareem (Farmington Hills, MI)
'16 OL Ben Bredeson (Hartland, WI)
May 24th
Core 6 Day
May 31st
15 DT Tim Settle (Manassas, VA)
'15 DB Cameron Ordway (Pulaski, TN)
June 1st
'15 RB Natereace Strong (East Saint Louis, IL) - tentative
'15 WR Alex Ofodile (Columbia, MO)
'15 DE Terry Beckner Jr. (East Saint Louis, IL)
'17 WR Jeff Thomas (East Saint Louis, IL)
July 25th (Friday Night Lights)
'15 LB Shaq Quarterman (Orange Park, FL)
Important Visitors Highlight Recruiting Weekend (11W)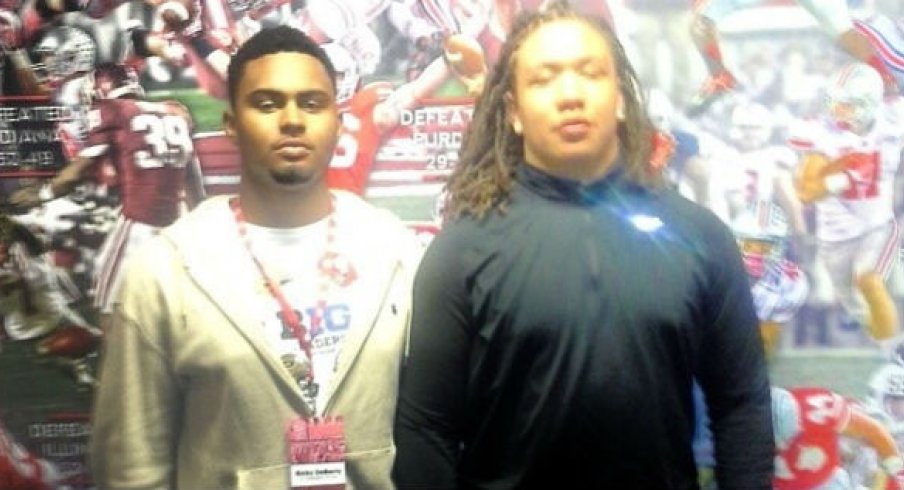 Broken record alert: it's another big recruiting weekend for Ohio State.
Meyer and company's method for recruiting has made virtually every weekend an important one for recruiting. Rather than having designated junior days, the staff attempts to host a few prospects every weekend. While there aren't many prospects visiting this weekend, the quality certainly outweighs the quantity as the Buckeyes have a handful of elite prospects in town.
Meanwhile, there is some big news about the Buckeyes' top QB target and one of OSU's defensive back targets has committed elsewhere.
cont...
State nixes Green's bid to play again at Central Catholic High School (BCSN)
Convinced he would have had a competitive advantage over his opponents and his teammates, the Ohio High School Athletic Association will not bend its age rules to let Central Catholic standout linebacker Chris Green play sports his senior season.
The decision, announced in an April 3 letter signed by OHSAA assistant commissioner Roxanne Price, effectively ends the high school athletics career of Green, the 2013 defensive player of the year in the Three Rivers Athletic Conference.
Green's family and his school fought for an exemption from the age limit, addressing in a letter to the OHSAA the many hardships that contributed to Green missing several days of school and failing the fourth grade.
cont...
Ohio State recruiting: State Secrets, 4/18 - Previewing the weekend (LGHL)
Yesterday was relatively quiet when it comes to Ohio State football recruiting, but there is plenty to talk about as Urban Meyer and his coaching staff are hosting yet another big weekend for visitors. I'll get you ready for the weekend ahead and more. Let's get started.
Another big weekend on tap
We have yet another big weekend for visitors on tap for the third consecutive weekend. This weekend could be the biggest as almost all of the visitors are top players in the 2015 class.
Things got started yesterday when Richmond (VA) St. Christopher's School defensive end/linebacker Ricky DeBerry and Woodbridge (VA) C. D. Hilton offensive tackle Matthew Burrell arrived on campus with their families. Both are ranked as top 100 recruits in the 247Sports Composite rankings and will have the red carpet rolled out for them this weekend.
cont...
Ohio State recruiting: Previewing the weekend of visitors (LGHL)
There are going to be quite a few elite prospects on campus for visits this weekend. Unlike the past couple of weekends, this weekend's list is comprised of mostly top players in the 2015, who all have scholarship offers from the Scarlet and Gray.
We'll get you ready for the big weekend on visitors on hand. Let's get started.
DT Elijah Taylor, Cincinnati (OH) Moeller
The state of Ohio's top defensive tackle was on campus yesterday and is finishing up his trip to Columbus today. He received a scholarship offer a couple of weeks ago and is pretty interest in the Buckeyes. Other notable offers include Notre Dame, Michigan State, Tennessee, Miami, and many others.
Ohio State definitely has a chance, but not as good a chance as they have with most other in-state players. It will be tough to beat out Notre Dame in this race. His former teammate (class of 2014) defensive tackle Daniel Cage signed with the Fighting Irish a few months ago. He's also pretty interested in Michigan State and Tennessee. This visit is a big one for the Buckeyes as they hope to move up to the same level as Notre Dame on his list.
cont...