Visitors List (Subject To Change)
This Week
'10 TX C Chad Lindsay (Alabama Transfer)
April 17th
'15 DT Elijah Taylor (Cincinnati, OH)
April 18th-20th
'15 QB Brandon Wimbush (Jersey City, NJ) - tentative
'15 WR Van Jefferson (Brentwood, TN)
'15 TE Chris Clark (Avon, CT)
'15 LB Ricky DeBerry (Richmond, VA)
May 24th
Core 6 Day
May 31st
'15 OL Matthew Burrell (Fredericksburg, VA)
15 DT Tim Settle (Manassas, VA)
'15 DB Cameron Ordway (Pulaski, TN)
June 1st
'15 RB Natereace Strong (East Saint Louis, IL) - tentative
'15 WR Alex Ofodile (Columbia, MO)
'15 DE Terry Beckner Jr. (East Saint Louis, IL)
'17 WR Jeff Thomas (East Saint Louis, IL)
Scout $ - Lane Talks Standouts '15 TX DB Jaylon Lane
Ohio State, Texas A&M, Oklahoma, Oklahoma State, Notre Dame & LSU.
Rivals Video $ - RCS New Jersey: Minkah Fitzpatrick '15 NJ DB Minkah Fitzpatrick
Alabama leads with interest in Florida State, Georgia & Ohio State. Has an upcoming visit to Alabama & says a commitment is possible. Also mentions wanting to visit Ohio State, Florida State & Georgia again before a decision over the summer.
Rivals $ - Ohio State visit 'amazing' for Florida prospect '15 FL ATH Chandler Cox
Ohio State is now one of his favorites & plans on returning in the summer.
Spring Game a Recruiting Success Despite No Commitments (11W)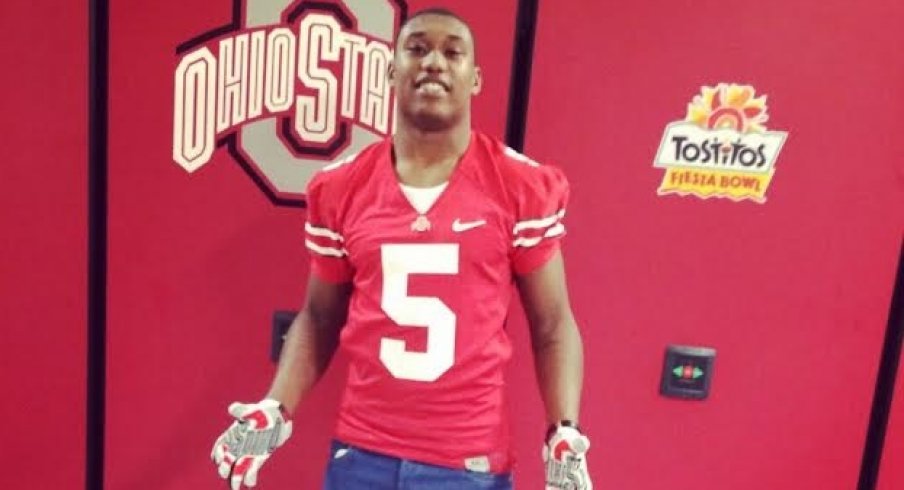 The Buckeyes hosted a multitude of top targets for yesterday's spring game. While many were hopeful that Ohio State would walk away with at least one commitment, that isn't the case, at least not yet. Dre'Mont Jones admitted he was close to committing and Sh'Mar Kilby-Lane had a great time as well. Kilby-Lane also spent some time with another certain linebacker from Florida.
While coming away from Saturday with no commitments is a bit disappointing, I wouldn't count out the possibility of Jones and/or Kilby-Lane committing at some point this week. We're beginning to near "commitment season," the time of year when many kids commit, so it shouldn't be too much longer before the commitments start coming in waves. That's the funny thing about recruiting - you get several commitments in a short amount of time and then things are quiet for a while. Things are quietest before the storm, as they say, and get ready because it won't be much longer before the rain hits.
With that out of the way, there's a bunch of pretty significant news from this weekend to get to.
cont...
Dre'Mont Jones Loves Ohio State (11W)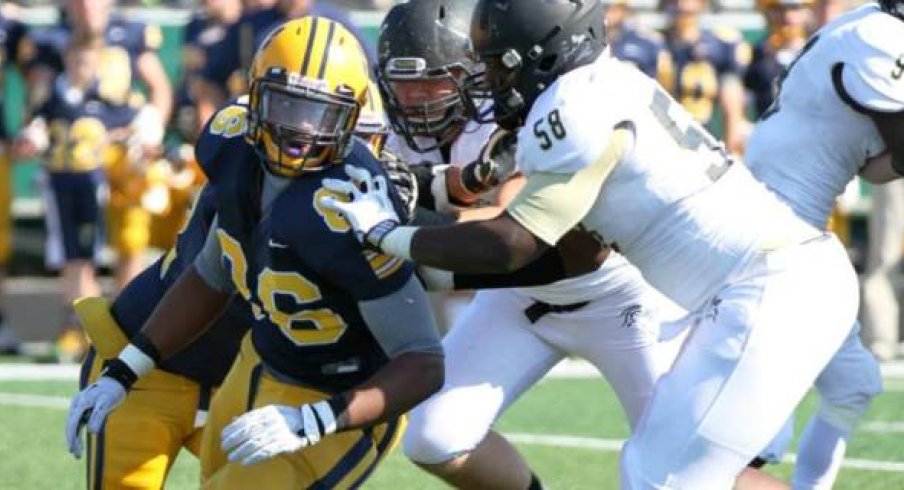 Cleveland St. Ignatius defensive end Dre'Mont Jones visited Ohio State this weekend and remains very high on the Buckeyes. Did he think about committing? "Yes," he said. Overall, the visit went "really well" for Jones.
Dre'Mont visited Ohio State a couple of weeks ago, during which he got to meet Archie Griffin. After that visit, Dre'Mont said that Ohio State had set the bar high, after this visit he said that the Buckeyes have distanced themselves from his other top schools - Notre Dame and Michigan.
So, why no commitment if the Buckeyes are the clear leaders? Dre'Mont said that he wanted to check out his other top schools a bit more before making any final decisions. Dre'Mont visited Michigan a couple of weeks ago, after which he told me that the visit "went great." Michigan currently sits at a distant second in his recruitment, with Notre Dame third.
cont...
Kilby-Lane: Buckeyes Move To Big Lead (247 Sports)
Urban Meyer and the Ohio State staff rolled out the red carpet for 4-star linebacker Sh'mar Kilby-Lane (Hallandale, Fla./Hallandale), and while Kilby-Lane did not commit to the Buckeyes, it was a very positive trip for both Kilby-Lane and the OSU staff. It was a trip Kilby-Lane made with his mom, his uncle, and Hallandale coach Dameon Jones.
"Everything went well," Jones said. "He liked everything. He grew up liking Ohio State, but this was his first time seeing OSU. He enjoyed himself."
When asked what impressed his star linebacker the most, Jones said there were a number of things.
"The facilities, going to the spring game, 65,000 people there, I wouldn't say there was just one thing," Jones said. "He was with the players. I think he spent the most time with Darron Lee – that's the one I remember. But he was with a lot of them."
cont...
Ohio State recruiting: State Secrets, 4/14 - Visits, Trevor Thompson commits, Chris Clark decommits from North Carolina (LGHL)
Ohio State had plenty of recruits on campus Friday and Saturday, plus Thad Matta landed another big man. Get all the latest Buckeye recruiting news from over the weekend.
All spring long, Urban Meyer and company have been hard at work trying to not just get the Bucks ready for the upcoming season, but also in recruiting. In the last month alone, OSU has hosted many talented prospects, and that certainly didn't change over the weekend.
On Friday, Meyer and staff had class of 2015 standouts Sterling Jenkins, Chandler Cox and 2016 offensive lineman Michal Menet on campus. Jenkins, a name that most Buckeye fans are well aware of by now, returned to Columbus to check out OSU before heading back to Pennsylvania to attend the spring game over at Penn State.
Recently naming the Bucks and Nittany Lions as his top two over a long list of scholarship offers, Sterling, a 6'8 300-pound offensive tackle, surprised some by not giving a pledge to his home state squad on Saturday, who many believe are the team to beat for his commitment.
cont...
Ohio State recruiting: Chandler Cox recaps visit (LGHL)
The spring game isn't the only big recruiting event going on this weekend as Urban Meyer and the Buckeyes hosted a couple of big time visitors today, just a day in advance of the annual spring exhibition
One of the two class of 2015 visitors on campus who has an offer from the Buckeyes was Apopka (FL) fullback/athlete Chandler Cox, who was offered about a month ago.
It was the first ever trip to Columbus for Cox and he had some really good things to say about the trip, which lasted only four or five hours.
"I got to see all the the facilities. The weight room, training room, practice field, locker room, and I got to try on the gloves and jersey," Cox said. "That was pretty awesome seeing that. Then I sat down with Coach Meyer and talked to him for a little while."
cont...
Ohio State recruiting: Sterling Jenkins recaps OSU, Penn State visits (LGHL)
There were a lot of prospects on hand for yesterday's spring game, but there were also a couple of visitors on campus last Friday the day before the spring game.
One of Friday's visitors was Pittsburgh (PA) Baldwin offensive tackle Sterling Jenkins, who was making his first trip to Columbus since taking in the Ohio State-Indiana game last November.
Jenkins enjoyed his recently visit to Ohio State and might be back again before making a decision sometime before his senior season.
"Mostly it was just talking to Coach (Ed) Warinner, Coach (Larry) Johnson, and Coach (Urban) Meyer," Jenkins said. "Then we saw the practice, talked with some of the commits, and signees who were there. Then we got something to eat and left."
cont...
Ohio State recruiting: Dre'Mont Jones enjoys OSU visit but leaves without committing (LGHL)
Going into the visit, many people (including myself) thought there was a solid chance the Buckeyes could score a commitment from Cleveland (OH) St. Ignatius defensive end Dre'Mont Jones, who has been leaning pretty heavily towards the Buckeyes since picking up an offer a little over a month ago.
Jones had a very good time at the Ohio State spring game, but left Columbus without committing to the Buckeyes as he still wants to see some other schools before making a decision.
"Yes, of course (I thought about committing)," Jones said. "They're really high on my list; they're my number one choice, so I did want to commit, but I wasn't too sure if I was ready. I still want to look at the other two schools I really like."
During the visit, he got to spend some time with Ohio State head coach Urban Meyer and defensive coordinator Luke Fickell.
cont...