Visitors List (Subject To Change)
Weekend of Spring Game (April 11th-13th)
'15 DB Ben Edwards (Jacksonville, FL) - commit
'17 QB Danny Clark (Massillon, OH) - commit
'15 TE Chris Clark (Avon, CT)
'15 OL Sterling Jenkins (Pittsburgh, PA)
'15 LS Liam McCullough (Columbus, OH)
'15 DE Dre'Mont Jones (Cleveland, OH)
'15 LB Sh'mar Kilby-Lane (Hallandale, FL)
'15 LB Darrin Kirkland Jr. (Indianapolis, IN)
'15 LB Joshua McMillon (Memphis, TN)
'15 ATH Chandler Cox (Apopka, FL)
'16 OL Tommy Kraemer (Cincinnati, OH)
'16 OL Michal Menet (Reading, PA)
'16 DE Nick Bosa (Fort Lauderdale, FL)
'16 DE Jonathon Cooper (Gahanna, OH)
'17 RB Todd Sibley (Akron, OH)
'17 OL Josh Myers (Miamisburg, OH)
'17 ATH Richard LeCounte (Hinesville, GA)
HOOPS - C Trevor Thompson (VaTech Transfer)
April 18th-20th
'15 QB Brandon Wimbush (Jersey City, NJ) - tentative
'15 WR Van Jefferson (Brentwood, TN)
'15 LB Ricky DeBerry (Richmond, VA)
May 24th
Core 6 Day
May 31st
'15 OL Matthew Burrell (Fredericksburg, VA)
15 DT Tim Settle (Manassas, VA)
'15 DB Cameron Ordway (Pulaski, TN)
June 1st
'15 RB Natereace Strong (East Saint Louis, IL) - tentative
'15 WR Alex Ofodile (Columbia, MO)
'15 DE Terry Beckner Jr. (East Saint Louis, IL)
'17 WR Jeff Thomas (East Saint Louis, IL)
Keyshawn Johnson Jr. Opens Up on Ohio State Visit: 'It's a Good Fit for Me' (Bleacher Report)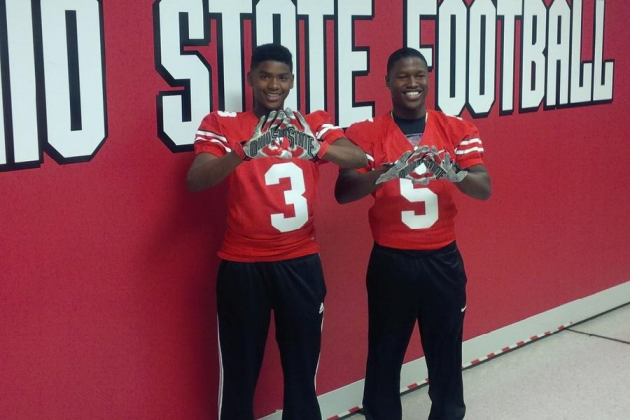 Keyshawn Johnson Jr. is just a high school freshman, but a flurry of early scholarship offers have quickly accelerated his recruiting process. The Southern California wide receiver spent Wednesday at Ohio State with his father, former NFL Pro Bowler Keyshawn Johnson Sr.
They watched Buckeyes coaches and players go about their business on the practice field and in meetings. It gave Ohio State head coach Urban Meyer an opportunity to showcase his program for the suddenly coveted Mission Viejo (Calif.) High School standout.
"I loved the atmosphere," Johnson Jr. told Bleacher Report. "It's a good fit for me."
His father also approved.
cont...
Will the Ohio State Buckeyes Land 5-Stars Christian Kirk and Torrance Gibson? (Bleacher Report)
Ohio State landed one of the top 2014 recruiting classes and are already rolling on the 2015 class. Urban Meyer and the Buckeyes are heavily recruiting the No. 1 dual-threat quarterback Torrance Gibson and the No. 3 wide receiver Christian Kirk.
cont...
Ohio State recruiting: State Secrets, 4/10 - Josh Myers to visit, new rankings (LGHL)
Highly-touted '17 OT Josh Myers will visit for the Spring Game on Saturday. Plus, Keita Bates-Diop and Jae'Sean Tate pick up their fifth stars from ESPN and more.
The Spring Game is right around the corner and the Buckeyes will have many recruits on campus to check it out. Yesterday, we learned of a new name that will be in Columbus on Saturday to check it out. Also, the Buckeyes had two prospects from the state of Kentucky on campus yesterday.
The big news Wednesday is big-time '17 OT Josh Myers will be visiting the Buckeyes this weekend to check out the Spring Game in Columbus. The Miamisburg High School lineman picked up an offer from the Buckeyes back on March 27th. The 6'5, 275-pound freshman has already piled up offers from major programs including Florida, Michigan, Tennessee and a handful of others. Myers previously visited Ohio State the day after he picked up the Buckeye offer.
Ohio State also had a few visitors checking out the campus on Wednesday. Starting with '15 QB Reese Ryan of Lexington Catholic in Kentucky. The three-star signal-caller has been the recipient of two offers thus far, which came from Louisville and Illinois. Among the programs showing interest in the pro-style quarterback are Kentucky, Purdue, Tennessee and Vanderbilt. Reese currently sits at 6th overall in the blue grass state and 486th in the country for the 2015 class.
cont...
Sterling Jenkins, Sh'mar Kilby-Lane highlight Ohio State spring game weekend visitors list: Buckeyes recruiting (Plain Dealer)
COLUMBUS, Ohio – The biggest spring recruiting day of the year for Ohio State is always the annual spring game, and again Urban Meyer will have some influential prospects in Columbus during the weekend.
Here's a list of the top visiting prospects:
• Pittsburgh (Pa.) Baldwin OT Sterling Jenkins (2015) – Rated by Rivals.com the No. 6 offensive tackle in his class, Jenkins racked up nearly 20 scholarship offers, including ones from Arizona, Georgia, Michigan, Pittsburgh, Tennessee and others. But Jenkins recently told Cleveland.com that he has narrowed down his list to two programs – Ohio State and Penn State. Jenkins plans to be in Columbus on Friday, the day before the spring game, then will visit Penn State's Blue & White Game the following day.
cont...