Visitors List (Subject To Change)
Tomorrow
'17 WR Keyshawn Johnson Jr. (Mission Viejo, CA)
'17 DB Darnay Holmes (Newbury Park, CA)
Weekend of Spring Game (April 11th-13th)
'15 DB Ben Edwards (Jacksonville, FL) - commit
'17 QB Danny Clark (Massillon, OH) - commit
'15 OL Sterling Jenkins (Pittsburgh, PA)
'15 LS Liam McCullough (Columbus, OH)
'15 DE Dre'Mont Jones (Cleveland, OH)
'15 LB Sh'mar Kilby-Lane (Hallandale, FL)
'15 ATH Chandler Cox (Apopka, FL)
'16 OL Tommy Kraemer (Cincinnati, OH)
'16 OL Michal Menet (Reading, PA)
'16 DE Nick Bosa (Fort Lauderdale, FL)
'16 DE Jonathon Cooper (Gahanna, OH)
'17 RB Todd Sibley (Akron, OH)
'17 ATH Richard LeCounte (Hinesville, GA)
HOOPS - C Trevor Thompson (VaTech Transfer)
April 18th-20th
'15 QB Brandon Wimbush (Jersey City, NJ) - tentative
'15 WR Van Jefferson (Brentwood, TN)
'15 TE Chris Clark (Avon, CT)
'15 LB Ricky DeBerry (Richmond, VA)
May 24th
Core 6 Day
May 31st
'15 OL Matthew Burrell (Fredericksburg, VA)
15 DT Tim Settle (Manassas, VA)
'15 DB Cameron Ordway (Pulaski, TN)
June 1st
'15 RB Natereace Strong (East Saint Louis, IL) - tentative
'15 WR Alex Ofodile (Columbia, MO)
'15 DE Terry Beckner Jr. (East Saint Louis, IL)
'17 WR Jeff Thomas (East Saint Louis, IL)
Top 6 for Rivals100 ATH Shawn Burgess-Becker: #Alabama #Florida #FSU #LSU #Miami #OhioState. #Bama on top. @AndrewJBone
— Blake Alderman (@MistaAlderman) April 5, 2014
BN$--Cool OSU Visit For Top Michigan RB '15 MI RB Mike Weber
Michael enjoyed the visit and says tOSU will definitely be one of his official visits.
BN$--Conner Returns To Ohio State '15 OH LB Nick Conner
Nick enjoyed his time with the coaches and is fine with camping and earning an offer.
BN$--OSU A Top Choice For Texas DB '15 TX DB Jaylon Lane
Jaylon has two dozen offers including Ohio State, Texas A&M, LSU, Notre Dame, Oklahoma, Louisville, Ole Miss, and Boise State. He is very excited about tOSU and says the Buckeyes will definitely be in his top 5.
Scout $ - Commitment Watch For Kilby-Lane? '15 FL LB Sh'mar Kilby-Lane
Sh'mar's head coach confirms he'll be visiting for the Spring Game with his family & head coach. Bill believes Ohio State is the team to beat.
Scout $ - Clark Feels Welcome At Ohio State '15 VA OL Austin Clark
Had a great trip & Ohio State is one of his top schools. Plans on cutting his list to 6 or 7 in the next few weeks & Ohio State will definitely make that list. Wants to visit again & plans on deciding before his season.
BN$--Do Buckeyes Now Lead For OT Clark? '15 VA OL Austin Clark
Austin says he was tempted to commit but will wait until summer to hopefully make his decision. He loved the fan support at practice and is very excited about tOSU.
Scout $ - Latest on Wimbush '15 NJ QB Brandon Wimbush
Might visit Ohio State on the weekend of 4/18. Says Ohio State is recruiting him the hardest.
BG$--Kraemer lands big offer '16 OH OL Tommy Kraemer
Tommy enjoyed his visit to Columbus and his time with Coach Meyer. tOSU is definitely near the top and he has no other visits planned.
Scout $ - Sam Bruce names top five '16 FL WR Sam Bruce
Florida State, Miami, Ohio State, Florida, Oregon. Friends with Johnnie Dixon & talks to him regularly about Ohio State.
Newly Offered: '15 GA DB Micah Abernathy
Christian Kirk
Updates on Austin Clark, Nick Conner, and More (11W)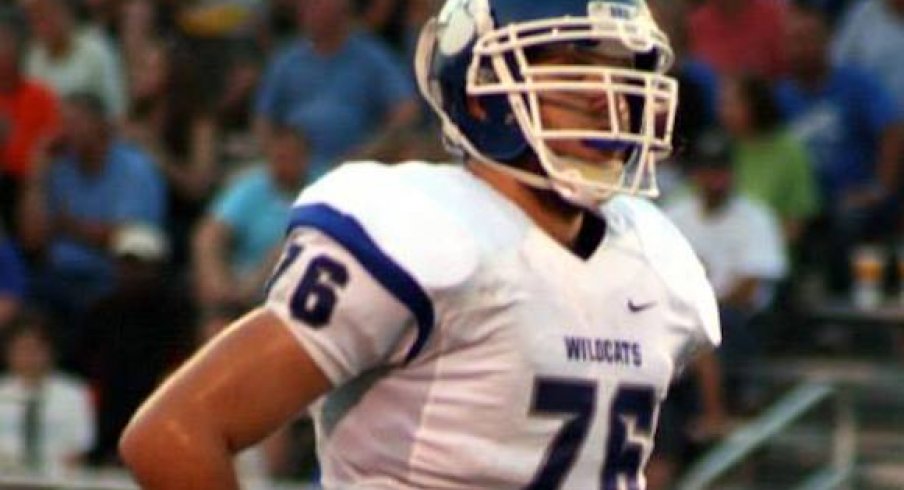 Another busy weekend at Ohio State gave another handful of Ohio State targets a chance to see Urban Meyer's program up-close-and-personal. Some have been to Ohio State before, but the Buckeyes' recruiting efforts don't ever slow down with just one visit.
In this afternoon's recruiting recap we'll examine how those key visitors enjoyed their trips to Columbus. We'll also discuss what to expect as we head into the spring's ultimate recruiting weekend, the Ohio State Spring Game.
cont...
Ohio State's Spring Game Will Bring Several Top Prospects to Town (11W)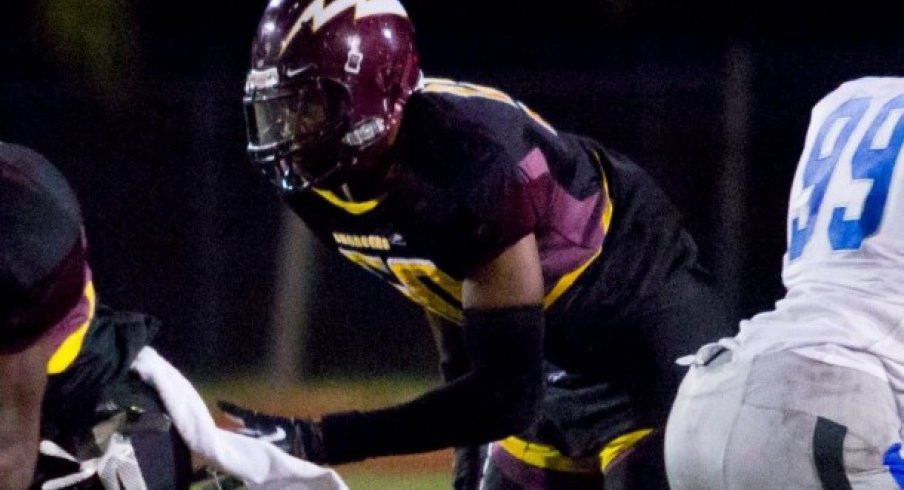 It has been a while since Ohio State has picked up a football commitment. Buckeye fans are becoming restless after watching Penn State's recruiting terror, which has elevated them to the nation's third highest rated class.
Near this time last year, Urban Meyer and company had already secured commitments from seven high school prospects in the 2014 recruiting class. Today, the Buckeyes have only three commitments for their 2015 class. That number could soon grow, if things go well this weekend.
The list of visitors for Saturday's Spring Game continues to grow and will continue to grow throughout the week as prospects decide which spring game they will attend. The yearly event is typically the biggest recruiting weekend of the spring, although the Buckeyes have already had plenty of visitors for their spring practices.
cont...
Once a top QB target for Ohio State in the 2015 class, Kai Locksley says communication now lacking: Buckeyes recruiting (Plain Dealer)
COLUMBUS, Ohio – Kai Locksley, once one of the top quarterback targets for Ohio State in the 2015 recruiting class, recently released his top 15.
But the Buckeyes are trending downward. That could be voluntarily.
Though Locksley's recruitment is picking up steam quickly – he recently received offers from Texas and UCLA to bring his total up to nearly 25 – communication with Urban Meyer and the rest of the Buckeyes staff has diminished.
cont...
Ohio State recruiting: State Secrets, 4/8 - Trevor Thompson cuts list, nears decision (LGHL)
Monday brought good news for Thad Matta and the Ohio State basketball team as Virginia Tech transfer Trevor Thompson tweeted out a final cut of teams that he would consider before making his final decision in the next couple of weeks. The 6'10, 210-pound Thompson has been recruited by the Buckeyes and other top programs since he gave word that he would be transferring out of Virginia Tech and has cut his list down to three schools. Indiana, Ohio State, and Purdue are the teams Thompson is still considering.
Matta and his staff have already taken in another transfer, former Temple player Anthony Lee, but would still welcome Thompson with open arms. Thompson was recruited by Purdue coming out of high school, but it's still an open competition between the aforementioned schools. During his freshman season at Virginia Tech, Thompson averaged 5.0 points per game and 4.7 rebounds per game in 16.2 minutes while also starting 10 games for the Hokies.
cont...