Visitors List (Subject To Change)
Tomorrow
'15 TE Hale Hentges (Jefferson City, MO)
April 5th
'15 OL Austin Clark (Lexington, VA)
'17 OL Emani Mason (Detroit, MI)
April 10th
'16 OL Michal Menet (Reading, PA)
Weekend of Spring Game (April 12th)
'15 DB Ben Edwards (Jacksonville, FL) - commit
'15 OL Larry Wells (Kenton, OH)
'15 OL Sterling Jenkins (Pittsburgh, PA)
'15 DE Dre'Mont Jones (Cleveland, OH)
'15 DE Jonathon Cooper (Gahanna, OH)
'15 LB Nick Conner (Dublin, OH)
'15 LB Sh'mar Kilby-Lane (Hallandale, FL)
'16 OL Tommy Kraemer (Cincinnati, OH)
'17 ATH Richard LeCounte (Hinesville, GA)
HOOPS - C Trevor Thompson (VaTech Transfer)
April 18th
'15 TE Chris Clark (Avon, CT)
'15 LB Ricky DeBerry (Richmond, VA)
May 24th
Core 6 Day
May 31st
'15 DB Cameron Ordway (Pulaski, TN)
June 1st
'15 RB Natereace Strong (East Saint Louis, IL)
'15 WR Alex Ofodile (Columbia, MO)
'15 DE Terry Beckner Jr. (East Saint Louis, IL)
'17 WR Jeff Thomas (East Saint Louis, IL)
Scout $ - Another new offer for Lane '15 TX DB Jaylon Lane
Impressed with Coach Ash, who extended the offer. Wants to visit.
Rivals $ - Top two for R250 OL Prince '15 MD OL Isaiah Prince
Maryland & Florida lead, with interest in Auburn & Ohio State. Has built a relationship with Coach Johnson.
24/7 $ - 5-star Lodge names Leader, Top 3 '15 TX WR DeMarkus Lodge
Favors LSU followed by Ole Miss and Clemson...Florida, Texas A&M, Ohio State, Baylor and Texas recruiting him very hard.
24/7 $ - Gabe Megginson Talks About Return Visit To Ohio State '15 IL OL Gabe Megginson
Enjoyed his visit and spent a lot of time with several coaches including Ash, Warinner and Meyer...no list or leaders but says OSU is up there.
Scout $ - Trio Rise To The Top? '15 TN OL Drew Richmond
Video interview from the Nike combine...hoping to get an invite to The Opening...talks about what he wants to improve on going into his senior year...recently spent a weekend at Ole Miss...has been to Memphis recently and thinks they are a team on the rise...talks about the family atmosphere at Tennessee...plans to announce 9/9 but will still take visits...looking for a family atmosphere.
Newly Offered: '15 TX WR Carlos Strickland
Newly Offered: '15 TX DB Jaylon Lane
Megginson Recaps Buckeye Visit (11W)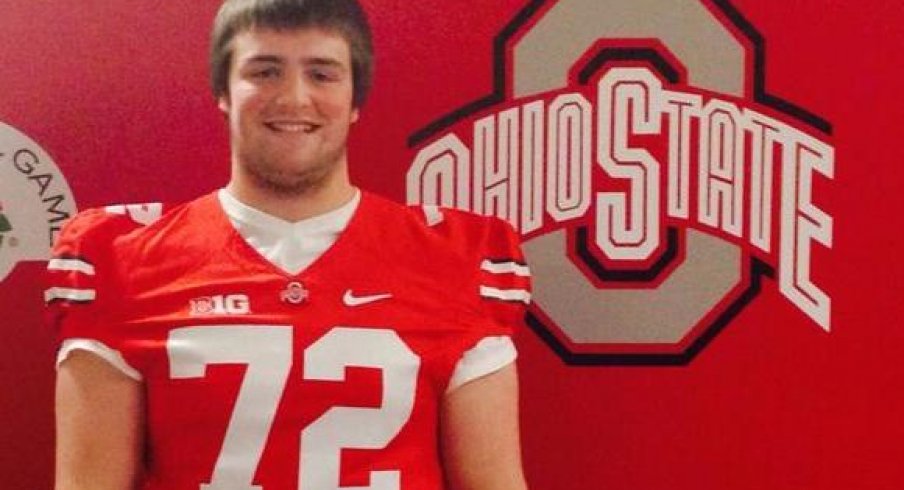 Today was the nicest day of the year so far in Columbus and Jacksonville (Ill.) offensive lineman Gabe Megginson took in the sights and sounds of Ohio State. A visitor to last summer's "Friday Night Lights" camp, the 6-foot-5, 295 pound Megginson visited Ohio State with his mother.
Offered in mid-February, Megginson and his family are in the middle of a road trip that will take them to Ohio State, Penn State, North Carolina State. A planned stop at Louisville won't end up happening on this trip. The Buckeyes' Chris Ash has been the lead recruiting for Megginson up to this point.
"The best part of today was just seeing all the tradition," Megginson told 11W. "The team has so much confidence and the work ethic of the staff and players really stood out to me."
cont...
Ohio State recruiting: Gabe Megginson recaps OSU visit (LGHL)
2015 offensive tackle Gabe Megginson recaps his visit to Ohio State.
Coming off another busy weekend of recruiting, there are a couple of players expected to be on campus this week in order to watch a spring practice.
It wasn't too busy today as far as visitors go, but the Scarlet and Gray did host a pretty big visitor in the form of Jacksonville (IL) offensive tackle Gabe Megginson, who received an offer from the Buckeyes a month or so ago.
For Megginson, it was his first trip to Columbus since participating in Ohio State's second annual "Friday Night Lights" camp last July. He had a great time on his return visit to OSU.
cont...
Ben Edwards sets return visit to Ohio State, will visit Auburn, too (LGHL)
2015 safety commit Ben Edwards is set to return to Ohio State this month and will be visiting Auburn, too.
A couple of months ago, we reported that Jacksonville (FL) Trinity Catholic safety and Buckeye commit Ben Edwards would be taking visits to a couple of other schools, but was still solid in his commitment to Ohio State.
Some good news emerged today as Edwards told me he was likely going to be making a return visit to Columbus for Ohio State's spring game on April 12th. It will be his first time on campus post-commitment as he hasn't visited since last summer. He will also likely visit Auburn for their spring game on April 19th, then also North Carolina at some point this spring or summer.
"(I'm) just looking forward to being around the coaches and players," Edwards said. "(Also) watching the defenses are doing and getting a feel for things."
cont...
Ohio State recruiting: State Secrets, 4/2 - Ruben Flowers talks visit, Jaylon Lane offered (LGHL)
See what 2016 Lima Senior wide out Ruben Flowers had to say about his Saturday visit to OSU, which 2015 commit will visit for the spring game and how D'Angelo Russell looked at the last McDonald's All-American Game practice, plus more.
You might have already known about Urban Meyer and the football program hosting recruits such as David Robbins, Chris Green, Jabari Greenwood, Darius Fullwood and Tyler Gerald on Saturday, but another visitor might have slipped through the cracks.
After being invited by OSU tight end coach,Tim Hinton, class of 2016 wide receiver Ruben Flowers, of Lima Senior, also made the trip to Columbus for the Buckeyes spring practice. "It was a great visit." The 6'4 180-pound sophomore told Land-Grant Holy Land of his quick stop to the Capital City. "I was impressed with the intensity of the players at practice. Lots of speed. I met with some coaches but, I had to get back for track practice."
Flowers, a tall and speedy wide out, was named Special Mention All-Ohio after catching 62 passes for 826 yards and 13 touchdowns last season. Even after his impressive campaign, Ruben has yet to receive his first scholarship offer, but is gaining plenty of interest from most of the Mid American Conference, and Big Ten foes Illinois and Michigan.
cont...
Ohio State recruiting: Jaylon Lane talks OSU offer (LGHL)
2015 defensive back Jaylon Lane talks about receiving an offer from the Buckeyes.
While the Ohio State coaching staff isn't offering as many prospects as they were a couple of months ago, they've still given out a handful over the past couple of weeks.
Yesterday they offered Nacogdoches (TX) cornerback Jaylon Lane, who has been blowing up"over the last week or so. He has also recently received offers from the likes of Oklahoma, Texas A&M, Kentucky, LSU, Notre Dame, Louisville, and a couple of other schools. All of this is in the wake of his decommittment from Ole Miss a couple of weeks ago.
When he called Ohio State co-defensive coordinator/secondary coach Chris Ash, he received some news that got him pretty excited.
cont...