Visitors List (Subject To Change)
Today
'15 LB CJ Stalker (West Chester, OH)
March 17th
'16 ATH Demetris Robertson (Savannah, GA)
March 21st-22nd
'15 RB Larry Scott (Hubbard, OH)
'15 TE Chris Clark (Avon, CT)
'15 OL Simon Stepaniak (Hamilton, OH)
'15 OL James Daniels (Warren, OH)
'15 LB Josh Barajas (Merrillville, IN)
'16 OL Sean Foster (Mundelein, IL)
March 29th
'15 OL David Roberts (Glenelg, MD)
April 4th
'15 TE Hale Hentges (Jefferson City, MO)
April 10th
'16 OL Michal Menet (Reading, PA)
April 12th - Spring Game
'15 QB Brandon Wimbush (Jersey City, NJ)
'15 OL Larry Wells (Kenton, OH)
'15 LB Sh'mar Kilby-Lane (Hallandale, FL)
'15 DB Minkah Fitzpatrick (Jersey City, NJ)
'16 OL Tommy Kraemer (Cincinnati, OH)
Hearing top schools now for CT TE Chris Clark are #Buckeyes #UNC #ArizonaState with #Kentucky #Vols and #Arizona close. #NotreDame fading.
— Mike Farrell (@rivalsmike) March 7, 2014
BN$--Dawgs still in contention for Clark '15 CT TE Chris Clark
Chris says he wants to see as many SEC schools as possible and he wants to compare tOSU to those schools. He says the Buckeyes are recruiting him the hardest.
Rivals$--5-star DB recaps southern swing '15 NJ DB Minkah Fitzpatrick
Minkah loved visits to Georgia, Florida State, Florida and Miami. He plans to see more schools and still is not ready to narrow anything down.
Scout$--Lewis Blown Away By OSU '15 DC DB Marcus Lewis
Marcus says not only was he ready to commit on the spot, but his parents were also sold on tOSU. He loves everything about the program and school.
247$--Top 2016 Prospect Talks Recruiting '16 MD DL Rahshaun Smith
Shaq has transferred to St. Frances Academy and has backed off his top three in order to look at every school. He says tOSU remains high on his list and he is building a relationship with Coach Johnson.
Scout $ - Kraemer Talks Blue Devils & Buckeyes '16 OH OL Tommy Kraemer
Recaps his visit to Duke's Spring Game. Visiting Ohio State for the Spring Game & is being recruited by Coach Coombs.
Buckeyes Look to Tap Into Virginia Pipeline in 2015 (11W)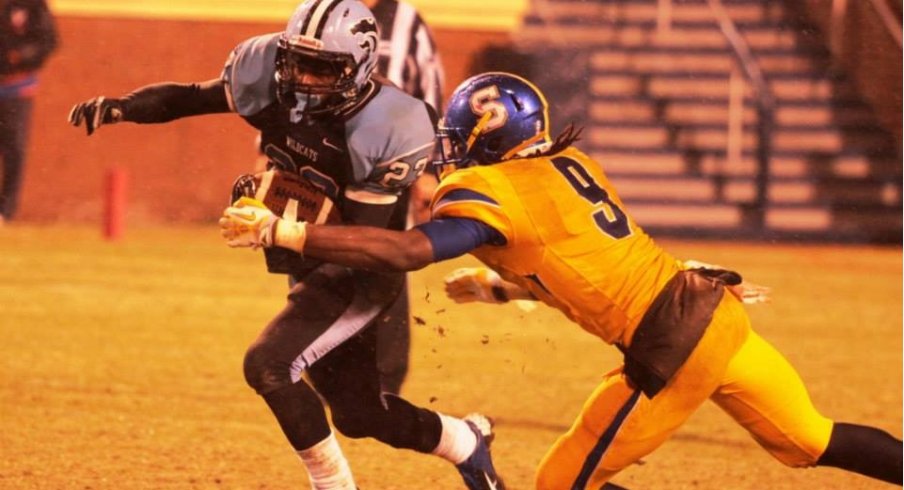 We're continuing with our series of checking out Ohio State's top targets in some of the key states for 2015 recruiting. We've already looked at Ohio, Florida, and Maryland/DC. Today, we're going to stay on the east coast and take a look at the top targets in Virginia.
Virginia is loaded with top talent and is a great place for Ohio State to cherry pick recruits. Like Maryland, the in-state programs haven't been competing or recruiting at an elite level for a few years now, so there is a great opportunity for the Buckeyes to establish themselves here. Additionally, Virginia is one of Big Ten Recruiter-of-the-Year Zach Smith's target areas. The Buckeyes have had some recent success recruiting Virginia - landing Jalyn Holmes while being in the final running for Derrick Nnadi and Derrick Green.
This year could be the year that the Buckeyes break through and make inroads in Virginia. In fact, Ohio State has a pretty good shot with each of the top four players in the state, all of whom are top 100 players nationally. So let's get to it, these are Ohio State's top targets in Virginia for 2015.
cont...
Ohio State recruiting: State Secrets, 3/7 - Van Jefferson closing in on a decision, 2 new offers (LGHL)
Land-Grant Holy Land brings you up to date on the latest happenings in the recruiting world.March has arrived and football recruiting is officially in full swing.
There were multiple prospects on campus last weekend and two more recruits were on campus for yesterday's spring practice. We'll get you caught up on all of the latest happenings in the world of Ohio State football recruiting.
Jefferson closing in on decision
Brentwood (TN) Ravenwood wide receiver Van Jefferson is one of Ohio State's top targets at the wide receiver position for the 2015 class. When I spoke to the standout receiver a couple of weeks ago, he told me that he wasn't sure when he was going to announce a college decision as he still wanted to see which other schools would offer him. He has since picked up offers from Clemson, Kentucky, and South Carolina and now has an idea of when he would like to announce his decision.
I briefly spoke with the Brentwood, Tennessee product last night and he told me he is "trying" to get some more visits in so he can announce his decision at the end of March or sometime in the month of April.
While there are no set visit dates right now, Jefferson would like to go on a "big trip" to tour the college he would like to see before making his announcement.
cont...
Ohio State recruiting: Forecasting 2015 running backs (LGHL)
Land-Grant Holy Land previews the running backs the Buckeyes will be recruiting in the 2015 class.
Urban Meyer and his staff didn't take a pure running back in the 2014 recruiting class, so it will be a priority to land one in the 2015 class.
None of the running backs Ohio State has at the top of their board are close to a college decision, but they are firmly in the mix for many of the nation's best at the position.
Today, Land-Grant Holy Land is going to forecast the Buckeye's 2015 class when it comes to the running back position. We'll take a look at the players who are on top of the staff's board and examine the chances Ohio State has at landing those recruits. We'll close things out by naming a couple of under-the-radar guys that could eventually emerge onto the Buckeyes' recruiting radar.
cont...