Taj Griffin named a top 5 in no order of Oregon, Ohio State, Florida State, Clemson & USC
Scout $ - No Rush for Simmons '15 VA LB Jahvoni Simmons
Wants to visit Ohio State, Miami, Wisconsin & Tennessee. Calls Ohio State Linebacker U and speaks highly of Coach Meyer.
Scout $ - Junior Tight End Talks Buckeye Offer '15 TN TE Jackson Harris
Calls it a big offer and says Coach Hinton has been recruiting him for awhile. Was also told OSU is taking two TEs.
BN $ - Buckeyes Continue to Chase Settle '15 VA DT Tim Settle
By Gleitman...has recently visited VT and Clemson and has trips planned to Tennessee and UVA...wants to get back to OSU with his father to see the academics side of things...says he will likely take all five officials and announce at the Under Armour Game.
24/7 $ - Big visits on deck for 5-star OT Martez Ivey '15 FL OL Martez Ivey
Visiting Alabama on Friday and Auburn on Saturday...grew up a Gator fan and says they would be in his top group along with Auburn, Alabama, Florida State, LSU, Ohio State, South Carolina and Oklahoma.
BN $ - Megginson Lands Ohio State Offer '15 IL OL Gabe Megginson
By Gleitman...offered by Coach Ash and has been high on OSU since he camped last summer...also has offers from the likes of Wisconsin, Michigan State, Ole Miss, Missouri, and Nebraska.
Border to Border: Get to Know Dayton Defensive End Jeffery Pooler (11W)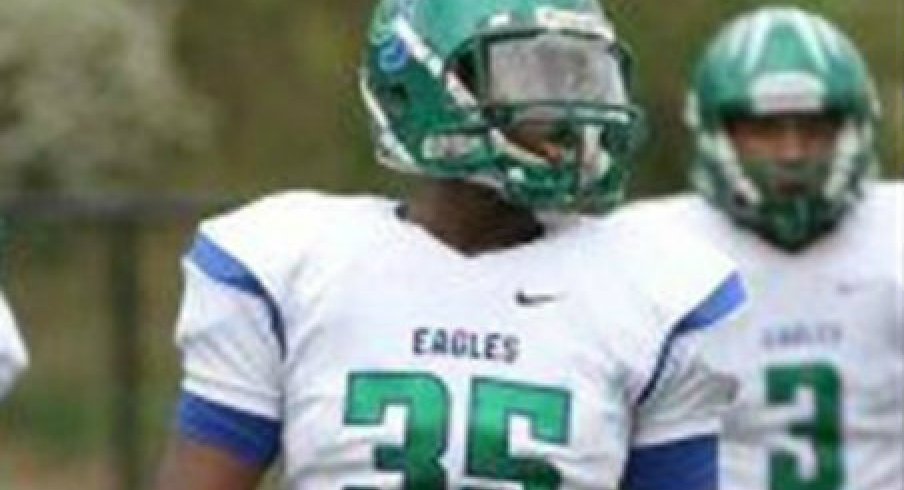 Jeffery Pooler cannot yet legally drive a car without an adult, but that hasn't prevented him from drawing interest from numerous colleges. While he is only a sophomore, Jeffery has already taken visits to Cincinnati, Ohio and Ohio State. It appears he could be a prospect to watch in Ohio's 2016 recruiting class.
The six-foot-three, 230-pound defensive end stars on the gridiron for Dayton Chaminade Julienne, a Catholic school that plays in division five. Pooler held his own on the defensive line with 57 tackles, 3 sacks and 2 forced fumbles during his sophomore campaign. He will look to improve those totals during his junior season, as he looks to develop into one of Ohio's top prospects.
This past season, the Eagles ended their season with a 6-5 record after a first round playoff exit. Some may remember back to Javon Ringer leading the Eagles to a State Championship before ultimately signing with Michigan State.
cont...
Wrapping up the 'Best of the Midwest' Combine (11W)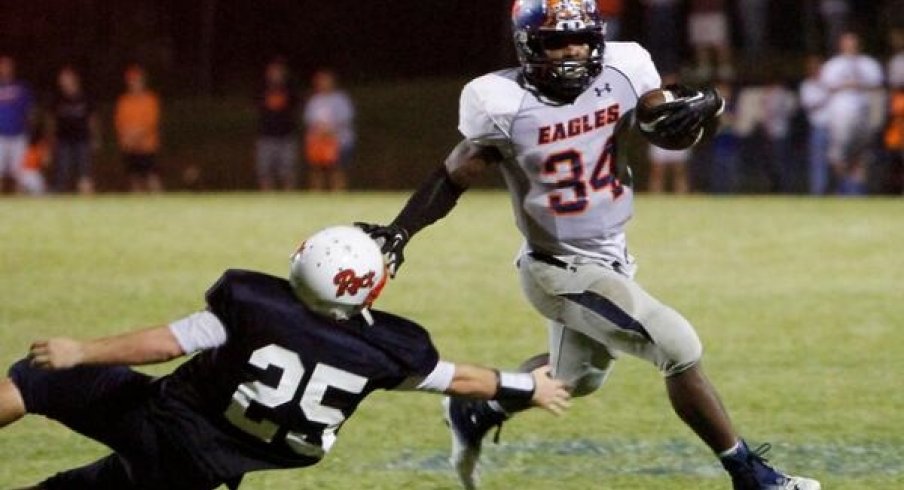 The 'Best of the Midwest' combine is an annual event held in Indianapolis to showcase the top talent in the midwest. Marshon Lattimore, Erick Smith, Terry McLaurin, Lonnie Johnson and others highlighted the event last year, which produces several future Buckeyes. It also gives many under-the-radar prospects national exposure and a chance to show what they can do. This year's event was as good as advertised, with a handful of top 2015 prospects and a slew of future stars.
Damien Harris stand out
Damien Harris is good, he's really good. Sporting Michigan gloves, he ran a 4.34 in the 40 (hand-timed) and dominated linebackers both in pass-blocking and as a route-runner. The coaches running the event named him MVP of the running backs and 247Sports named him the combine's top overall prospect. Meanwhile, he told Steve Wiltfong of 247Sports that his recruitment is pretty much a two-horse race between Ohio State and Michigan and he likes both schools a lot.
cont...
Not your normal freshman (Scout)
VALDOSTA, Ga. - Richard LeCounte has an offer list that is piling up, so that right there is not normal for a freshman. His play on the football field is not normal for his age either...
If you did not know Richard LeCounte was a high school freshman, you would think he is a rising senior.
LeCounte attended the MVP Camp in Valdosta, Ga. Sunday and he left as the Top Underclassman.
The coaches and many of the people on the field that afternoon could not believe he is only a freshman.
The defensive back out of Hinesville (Ga.) Liberty County wowed all that saw him in one way or another Sunday at the camp. If it was not with his one-handed grab during the drills, it was with how he processed the coaching or his speed out of his breaks.
He turned heads and he did it with a quiet confidence while taking all the coaching in.
"I love the MVP Camp," said LeCounte. "I came last year and I fell in love with it. I love the competition, the coaching, and just how it made be better.
"I worked on what I struggled with last year in the off-season and it really helped me. I have learned a lot in two years and I just sit back, listen to the coaches, take it all in, then when it is my time, I take that and shine."
cont...
Ohio State recruiting: State Secrets, 2/19 - 4 new offers (LGHL)
The Ohio State football program sent out a few offers yesterday, one of them being to four-star running back Eric Swinney. Since Urban Meyer became the head man, the Buckeyes have had success recruiting the state of Georgia and there's a chance that Swinney could be the next good one out of SEC territory. Swinney checks in a 5'10 and just under 190 pounds. He holds a plethora of offers with Ole Miss, Florida State, Auburn, Georgia, and Tennessee all near the top of his list at the moment. Obviously t's early in the recruiting process and there's time to make up the ground needed. If Ohio State wants a chance to land Swinney, they'll have their hands full along with some of the other top programs in the country.
cont...
Ohio State recruiting: 2015 WR Alex Ofodile talks offer (LGHL)
See what four star class of 2015 wide out Alex Ofodile has to say about receiving an offer from the Buckeyes.
Last month while out on road tracking down future Buckeye football players, Ohio State assistant coach Tim Hinton stopped by Rock Bridge High School in Columbia, Missouri to speak with the coaches of class of 2015 four-star wide receiver Alex Ofodile.
While at Rock Bridge, Hinton let it be known exactly how high he was on the 6'3 185-pound playmaker. "He (Hinton) said that the coaching staff as a whole hasn't looked at my film, but he has and he said he recommended they offer me." Alex told Land-Grant Holy soon after Hinton stopped by.
Almost a month later that has become a reality, as the Buckeyes finally dished out a scholarship offer to Ofodile last night. "I talked to Coach Hinton last night." Alex said of which staff member broke the offer news to him. "It feels real good to have that offer." He added. "They recruit at a high level and to be considered that high level of a player is a what I've worked for."
cont...
Ohio State recruiting: Gabe Megginson, '15 OT, talks offer, decision timetable (LGHL)
Newly offered offensive lineman Gabe Megginson talks about his offer from Ohio State and overall interest in the Buckeyes.
Ohio State continued its run of offering offensive lineman in the 2015 class earlier today when they extended a scholarship offer to Jacksonville (IL) offense tackle Gabe Megginson.
The 6'5, 295-pound tackle holds scholarship offers from almost every school in the Big Ten with the headliners being Wisconsin, who is probably the team to beat right now, Michigan State, Penn State, and the Buckeyes. He also has offers from Ole Miss, Missouri, and many other division one schools.
He received his offer from the Buckeyes today when he was told to call new Ohio State co-defensive coordinator Chris Ash, who is his main recruiter right now.
"My head coach told me to call Coach (Chris) Ash," Megginson said. "I called and that's when he offered me."
Megginson was very excited to receive an offer from one of the top schools in the nation and is very interested in the Buckeyes at this point in his recruitment.
"I am very interested," Megginson stated. "I love the success, I love the facilities, the coaches, and the swagger they bring to the field. I really love it all."
cont...