Missouri. South Florida. Kansas. Kansas?!
Yes, the Jayhawks, whose offense was coordinated by one Ed Warinner (and passing game coordinator Tim Beck), lit the Big 12 and college football world on fire in 2007. The three teams listed above all navigated themselves to a No. 2 ranking in the AP Poll at one point during the season. Only one of them, the Tigers, ended the year in the top five.
This fall marks 10 years since Rich Rodriguez, Pat White and Steve Slaton nearly led West Virginia to the top of our glorious sport, right before the coach bolted for Michigan in the middle of the team's Orange Bowl preparations. For all its fallacies and deserved negative attention, the BCS system got weirder and weirder with each passing week in 2007.
It ended with Florida quarterback Tim Tebow winning the Heisman Trophy on a 9-4 team, at the time the most losses Urban Meyer had ever endured as a head coach. He lost his bowl game too, a 41-35 defeat to the Michigan Wolverines in Lloyd Carr's final game before Rodriguez took over.
Kansas-Missouri was the most hyped game of the year. Stanford was bad. The Cardinal went 4-8 in Jim Harbaugh's first season but beat Pete Carroll and No. 1 USC in the Coliseum as a 41-point underdog. Yeah.
California and Boston College joined those listed in the intro as teams to come out of nowhere and eventually be ranked No. 2 by the AP. Combined record of the Golden Bears, Eagles, Bulls, Jayhawks, Tigers and Mountaineers in 2016: 28-34.
The debate over who was the season's "best" team still rages to this day. A two-loss LSU team won the BCS National Championship with a 38-24 victory over Ohio State, who backed into the matchup after mayhem surrounded them. Everyone lost ahead of the Buckeyes in the rankings as the Big Ten champions sat idle for weeks without a conference title game in place.
Unbelievable things happened every week as the calendar flipped to November and beyond, a sheer reminder of how beautiful the sport can be at any given moment and why it demands your attention. Let's relive some of those unforgettable moments.
Nick Saban Lost on Chickenshit Saturday
Ramzy wouldn't coin the term until eight years later but the annual SEC tradition of scheduling cupcakes the game before rivalry weekend persisted long before. Sure, 2007 was Nick Saban's first year at Alabama and he inherited a team that finished under-.500. But the now all-powerful Crimson Tide lost to Louisiana-Monroe 21-14 on its own turf.
The loss was the third in four games for Saban and thankfully is still recognized by the NCAA. The Tide finished 7-6 in 2007 and defeated Colorado in the Independence Bowl but lost its first five victories to NCAA sanctions stemming from an investigation that found student-athletes received improper benefits that involved the distribution of textbooks. Seriously, 2007 was bizarre.
The Team Crowned National Champion Lost in Triple Overtime (Twice)
LSU, led by quarterback Matt Flynn — who stepped in for No. 1 overall NFL Draft pick Jamarcus Russell — Outland Trophy (and pretty much every other defensive award) winner Glenn Dorsey, running back Jacob Hester and a bunch of other ridiculously talented players, the Tigers rolled into Lexington as the No. 1 team in the nation. The only 1 they left with was the mark in the loss column after a 43-37 defeat in a game LSU led by as many as 13 points. By the way, Kentucky was ranked as high as No. 8 twice throughout the 2007 season. Yes, that Kentucky.
LSU rallied, beat Auburn, Alabama in Tuscaloosa and then Louisiana Tech (eye roll) to get back to No. 1 after Illinois Juiced Ohio State in Columbus.
The Tigers then hosted Darren McFadden, Felix Jones, Peyton Hillis and Arkansas in Death Valley. Three overtimes later, they had lost again. That game featured a touchdown pass from McFadden to Hillis, a strike from Flynn with under a minute left in regulation on fourth down that tied it and almost 100 combined points. LSU's play-by-play radio guy said the team's national title aspirations were "over" after the 50-48 defeat.
LITTLE DID HE KNOW.
Kansas and Hawaii Were The Only Teams to Finish With Fewer Than Two Losses
Think about that. You probably remember the Rainbow Warriors coming to Ohio Stadium two seasons ago and losing 38-0 when the Buckeyes played on a short week. June Jones led Hawaii to the Sugar Bowl after an undefeated regular season that saw Colt Brennan rip through the WAC. Georgia owned them in New Orleans 41-10, a game that saw the Warriors commit six turnovers was decided before the fourth quarter began.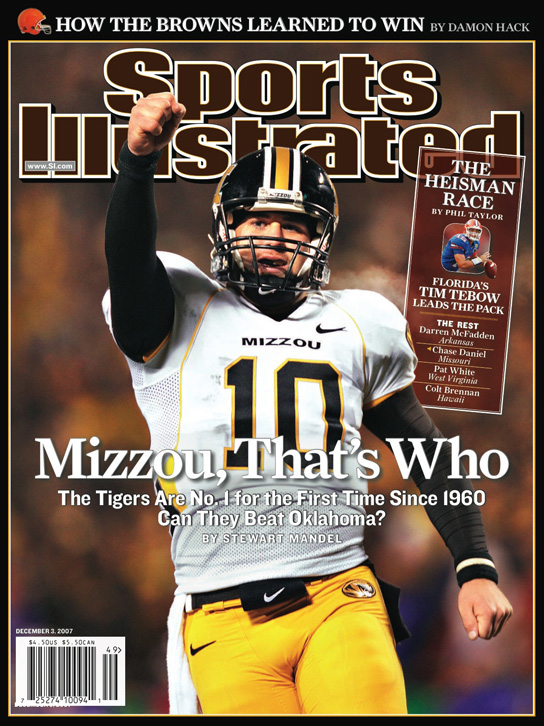 Kansas entered the Nov. 24 #banger with Missouri undefeated and ranked second in the AP Poll. The Tigers were slotted third, with Chase Daniel throwing darts all over the field on the way to a 10-1 record.
The Border Showdown took place at Arrowhead Stadium in Kansas City and the Jayhawks trailed by 21 points at the start of the fourth quarter. A furious rally led by quarterback Todd Reesing ended with Daniel as the victor. The difference: Kansas missed two field goals early in the game and the Tigers made two in the final quarter. Daniel completed 40-of-49 passes for 361 yards and three touchdowns and Missouri won 36-28 after a late safety.
College Gameday made the trip to Kansas City and at the time its 2 million viewers were the highest ever in the show's history. More people also watched that game than Ohio State's 14-3 defeat of Michigan in Ann Arbor.
Kansas ended its season 12-1 after a 24-21 win over No. 5 Virginia Tech in the Orange Bowl. Wild times, indeed.
The Big Ten Network Debuted in the Grandest of Fashions
Jim Delany and the Big Ten launched their own television network on Aug. 30, 2007. Two days later, this happened:
It needs to be noted that Appalachian State was an FCS powerhouse, winning the national title in 2005, 2006 and 2007. The Mountaineers made the jump to FBS ahead of the 2014 season, one in which Michigan got a bit of revenge in a 52-14 blowout against App State.
But it will never, ever trump what happened seven years earlier when an FCS school upset the preseason No. 5 team in the country 34-32.
Notre Dame, Nebraska and Miami (FL) All Finished Under .500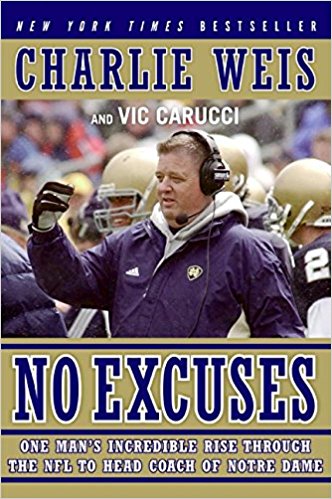 Notre Dame, fresh off a combined 19 wins over the previous two seasons under new coach Charlie Weis — who was rewarded possibly the worst contract in college football history in October 2005 because he beat Pittsburgh, Michigan and a then-ranked Purdue but lost by three to Michigan State and No. 1 USC with players he didn't recruit — fell off the map in 2007. The Fighting Irish went 3-9 after Brady Quinn, Jeff Samardzija and Darius Walker left, replaced with Jimmy Clausen (lol), Golden Tate and James Aldridge.
Nebraska and Miami both went 5-7 in what was Randy Shannon's first of four years as head coach of the Hurricanes and Bill Callahan's last of four as the head man of the Cornhuskers. The three programs ran college football in previous decades and the string of mediocrity in 2007 isn't all that surprising considering how the three of them haven't sniffed a national title since. Under Brian Kelly, Notre Dame is the only one who played for one, and that didn't end well.
Still, three college football blue bloods combining to go 13-23 over the course of one season is as noteworthy as it is rare.
Losses Came Out of Nowhere Late in the Season
As previously referenced, Illinois and Juice Williams came to Columbus and beat No. 1 Ohio State by a touchdown. Ron Zook's best win as Fighting Illini head coach earned his team a trip to Pasadena to play a stupidly talented USC team in the Rose Bowl. Congrats, Illinois! You beat the No. 1 team in the country. The end reward is playing a team swimming with 5-star recruits and eventually had 10 selections in the 2008 NFL Draft (eight in the first two rounds). Good job!
That is how wild the end of the 2007 season wrapped up. Kansas and Missouri moved up to No. 2 and No. 3 after Oklahoma lost to Graham Harrell and Texas Tech in Week 12 and Oregon's season went down the drain with Dennis Dixon's torn ACL. Ohio State's loss to Illinois put LSU back at No. 1 before McFadden and Co. blew that up.
Missouri moved to No. 1 in the AP Poll after it beat Kansas, followed by future Big 12 member West Virginia. All the Mountaineers had to do was beat a 4-7 Pittsburgh team to stay in the conversation for the BCS title, while Missouri had to enact revenge on Oklahoma. Neither happened.
Pittsburgh eked past West Virginia 13-9 in a terrible game that included five turnovers, 408 total yards of offense combined between the two teams, three missed field goals and 10 punts. Meanwhile, Oklahoma raced by Missouri 38-17 in San Antonio in the Big 12 title game.
LSU beat Tennessee for the SEC Championship as Ohio State sat at home and watched without a conference title game to play. The BCS did not respect an 11-1 Kansas team that lost to the best opponent it had faced all year, so once again the Buckeyes and Tigers found themselves back atop the rankings. Which leads us to...
LSU Beats Ohio State 38-24 to Win BCS Title
Ohio State had a chance at redemption after its awful showing against Meyer and Florida the year before in the national championship game. The Gators punked Troy Smith and Co. in the desert after the quarterback's Heisman Trophy season but Jim Tressel's crew got another shot at winning it all because of the chaos that went down the final two weeks of the regular season.
Ohio State led 10-3 at the end of the first quarter then allowed a trio of touchdowns like rapid fire to trail by 14 at intermission. Todd Boeckman threw an interception, Ryan Pretorius had a field goal blocked and the Buckeyes committed numerous penalties that extended drives in the second quarter. They also couldn't block Ricky Jean-Francois, who returned following essentially a year-long suspension for academic reasons in the SEC Championship Game a month earlier.
The sophomore defensive end blocked Pretorius's 38-yard field goal attempt, tallied six tackles, including 1.5 for loss and half a sack. Chris Wells ran for 146 yards and a touchdown but it wasn't nearly enough as Ohio State allowed 31 unanswered points in the loss. To make matters worse, Austin Spitler missed blocking a punt in the third quarter and instead got whistled for roughing the kicker, which gave LSU a fresh set of down and led to another score. Game over.
So ended the oddest college football season in recent memory, with the SEC reigning supreme once again and Ohio State's struggles against the nation's top conference continuing.
Who knows what the 10th anniversary of that glorious year has in store for us this fall. But is comforting to know that it will not disappoint, however, because it never does.